Dear Boys… A memory of Christmas 2015
Dear Boys,
Another fabulous Christmas has been and gone and now we are looking straight in the eye of a new year, which is already filled with so much promise, excitement and gratitude. I just wanted to take the time though boys to write about our Christmas so that as it starts to fade from your memories you will be able to look back at this letter and remember.
The Build Up to Christmas
The build up to Christmas for us was hectic, we had just moved into our fabulous new home but everything was in chaos, the house was still half full of boxes and we seemed to be constantly trying to unpack and sort (just as we are now still). We'd had a few awful bugs which went through us all (literally) However we did manage to fit in some lovely Christmas activities though which included a trip to Winter Wonderland (an indoor theme park) and also breakfast with Father Christmas at a forest school.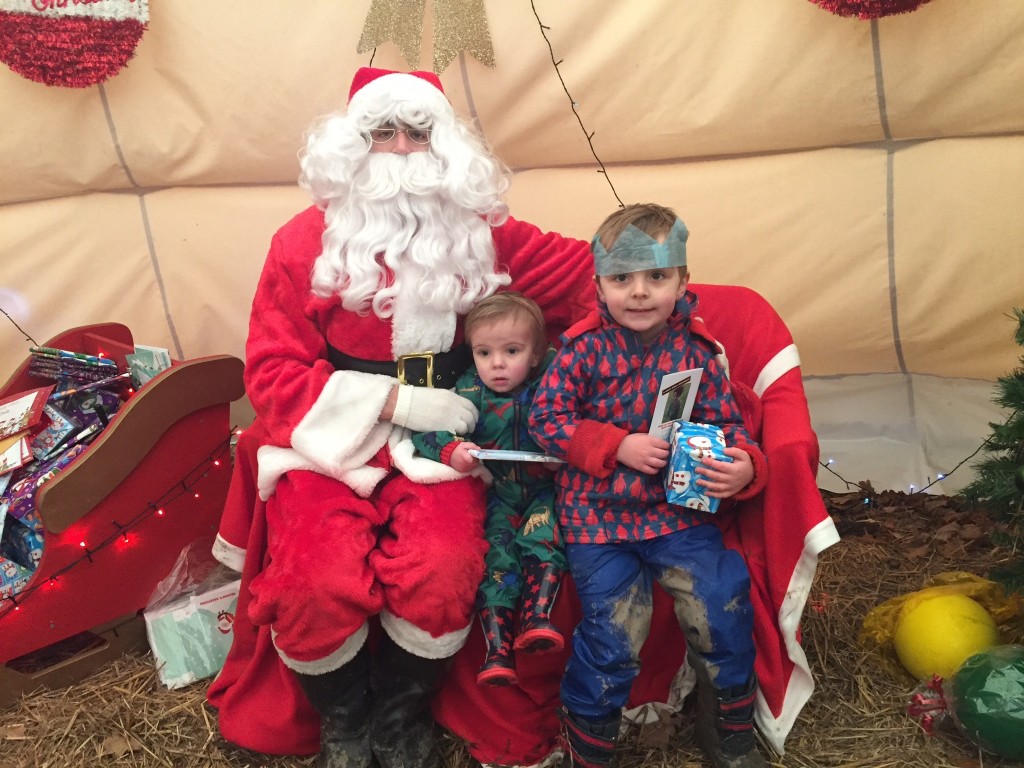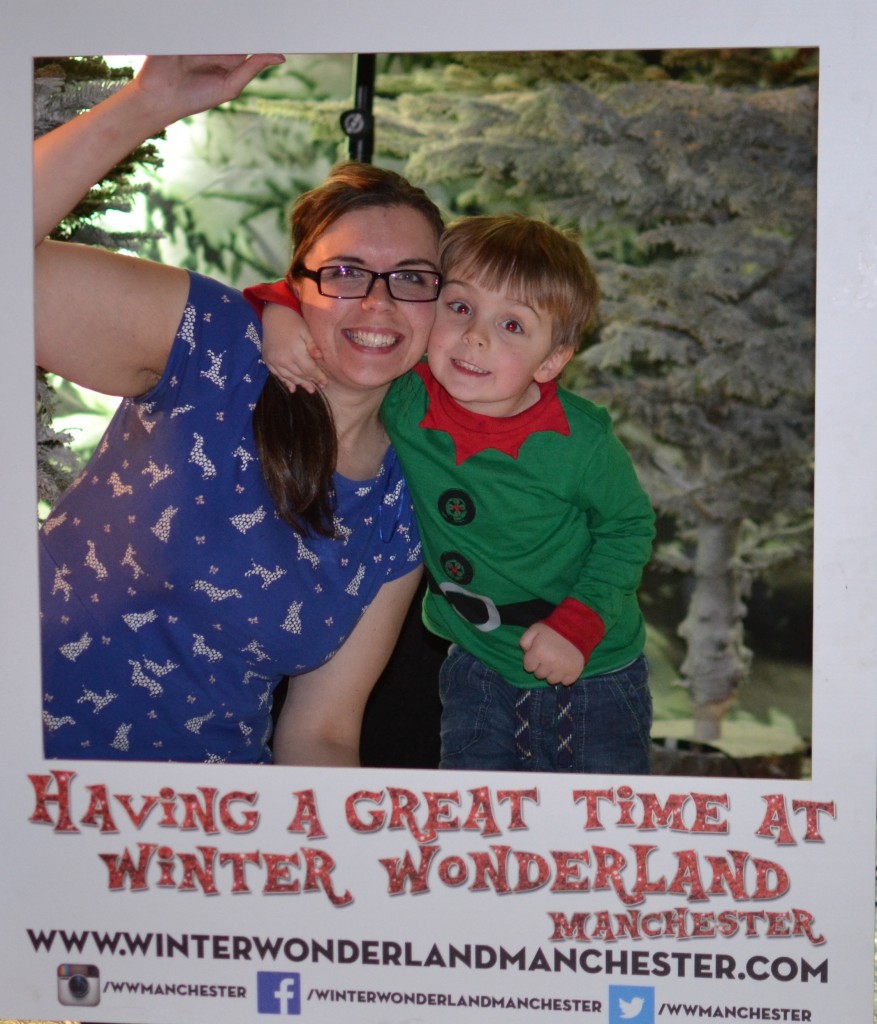 Christmas Eve
Christmas Eve started early (as it always does with you two, one day I hope you will sleep later than 5am!) and we went downstairs to find that the elf had gone back to the North Pole but had left a Christmas eve box for you both.
The box had new pj's (which is a tradition now in our house) for you both, a couple of books which I get out every year as I think they are lovely Christmas books. There was also the Muppets Christmas Carol dvd as that's the one I always hold back to watch on Christmas eve as a family. It's something I always did with my mummy when I was living at home so I like to carry that on. I'd also put in some hot chocolate, that we could have with the film and some minion popcorn which I know the boy would love. Lastly there was a Christmas jigsaw which I thought would be fun to do, as it turned out I ended up doing it on my own and some reindeer slippers for the boy. I didn't get any for Flixster as he just doesn't keep them on long enough. Then at the back I slipped in the usual Father Christmas plate and some reindeer food.
During the day on Christmas eve we just spent time together as a family, daddy had to spend most of the day in the garage building your play kitchen as we hadn't had time to do it before. I took Flixster out for a walk for his nap to a local mill shop where I went to look for some Christmas place mats as I realised we didn't have enough for the next day.
As it started to get dark I could feel the excitement building, the boy wanted to get the reindeer food out on the lawn, so we had made you both some tea, put the new pj's on and stood at the front window scattering the food from the window onto the grass, which was followed by drinking hot chocolate and watching the muppets Christmas Carol.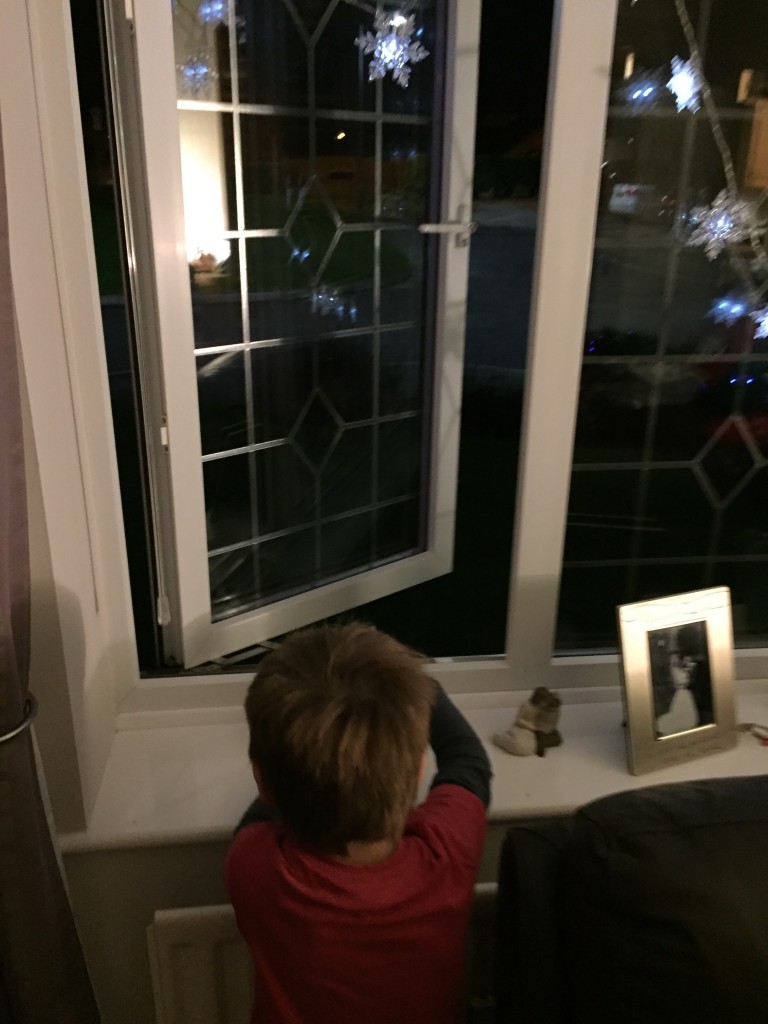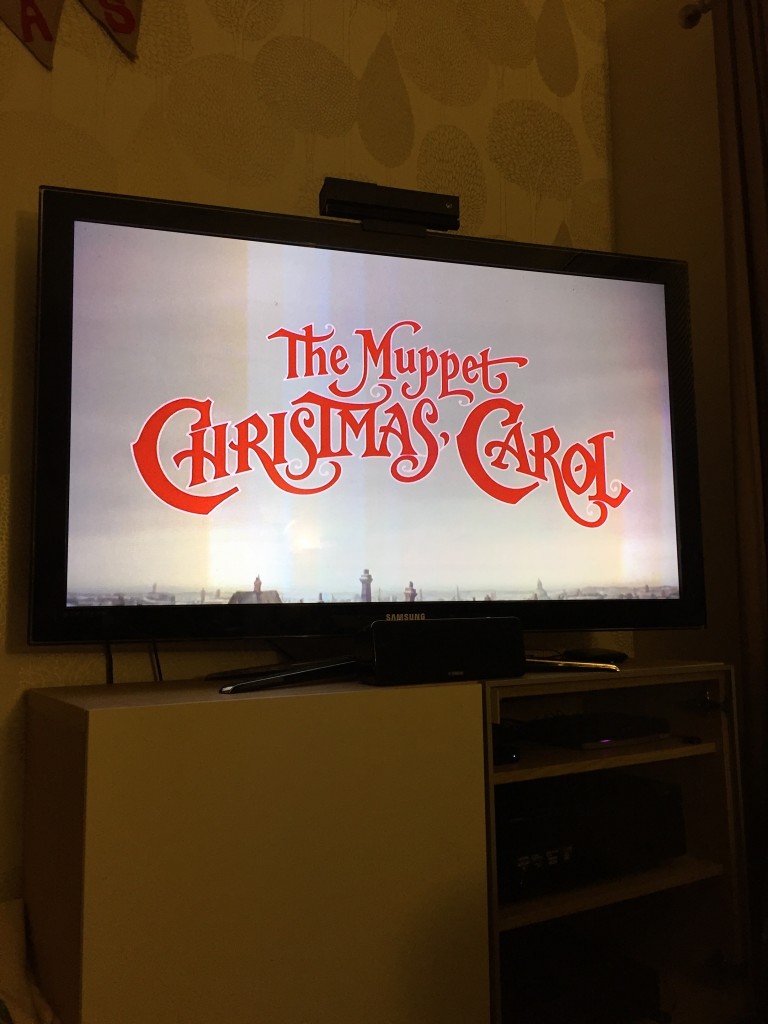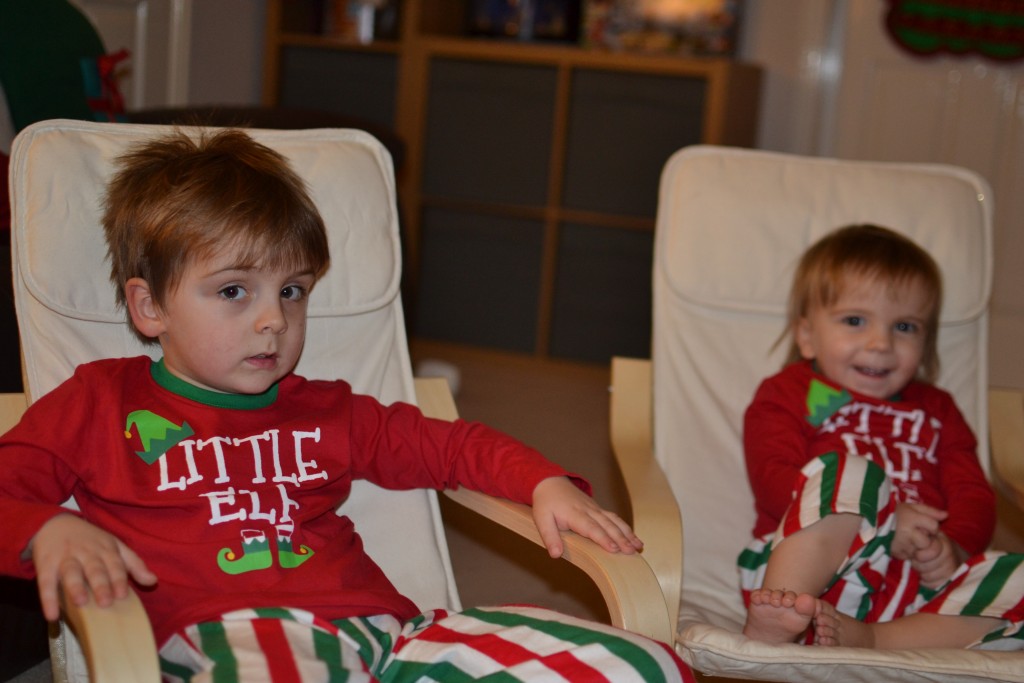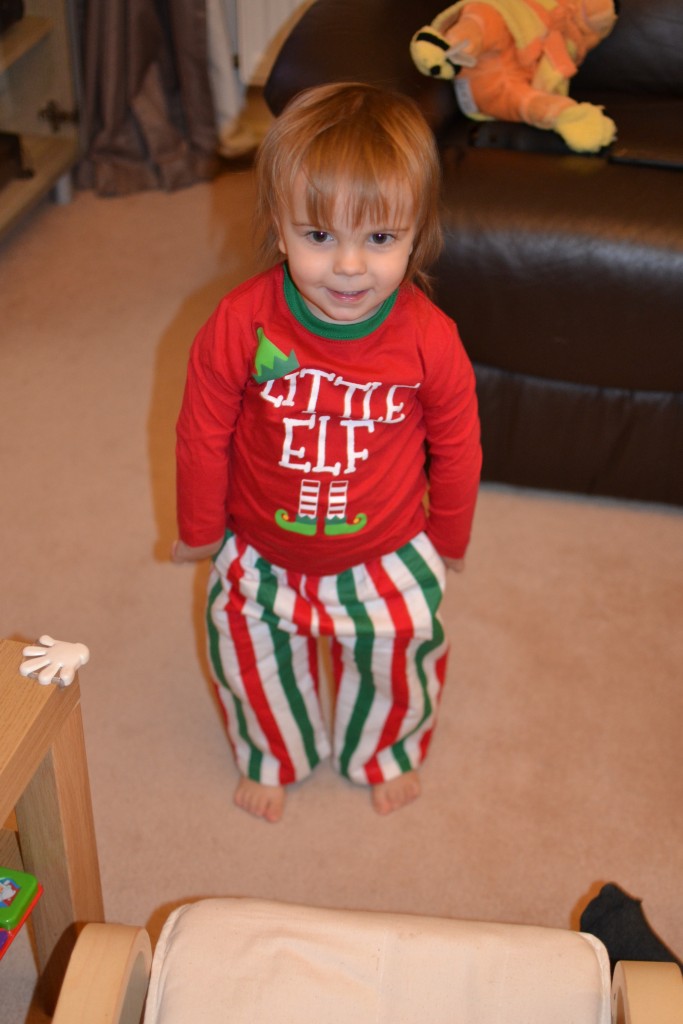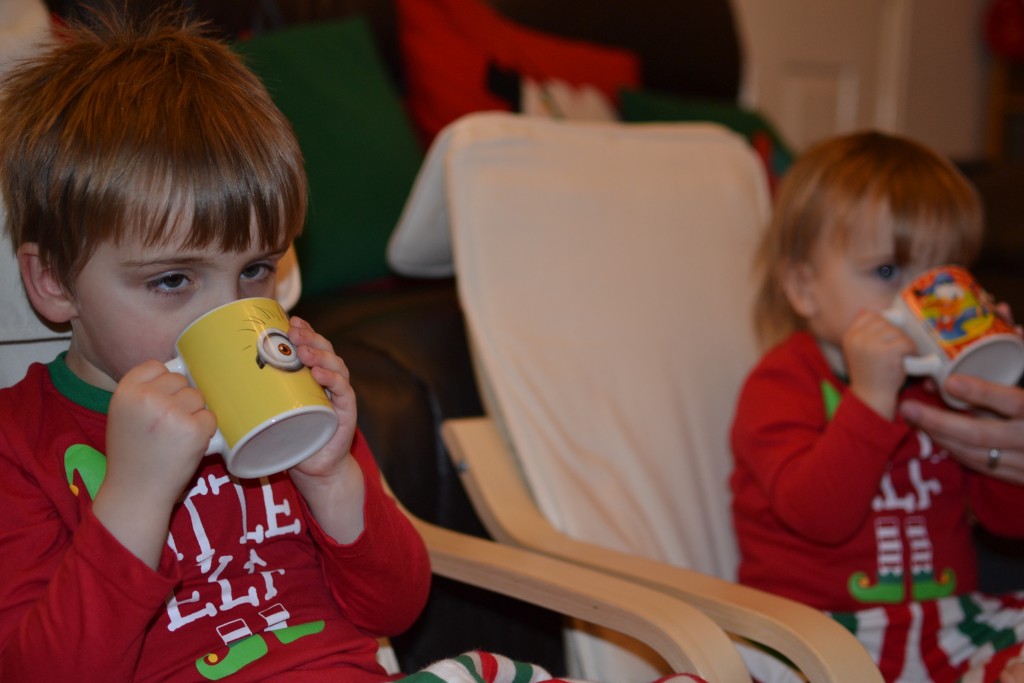 After hot chocolate it was bed time so that we could wait for Father Christmas to come (we put out the obligatory mince-pie, carrot, milk and magic key of course!) and mummy and daddy could have some dinner and settle down to wrap the final bits!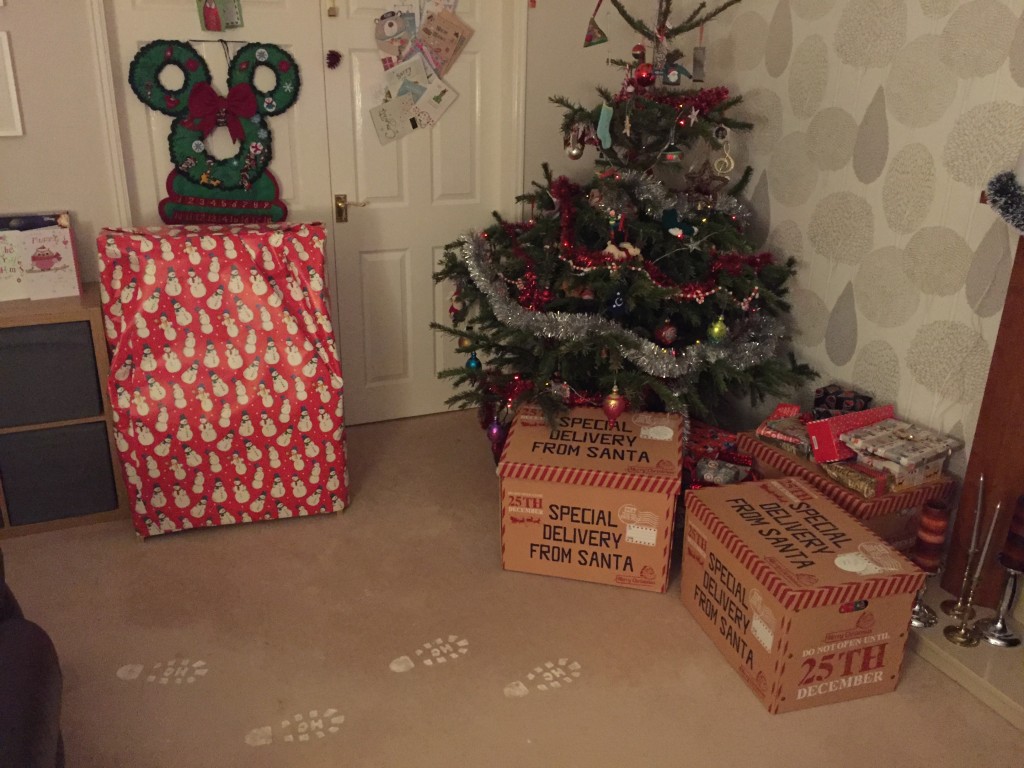 I love that Father Christmas always leaves snowy footprints on the carpet!
The morning came very quickly and of course you were both up early. The stocking on your doors kept you busy whilst we all got ready and dressed. When I was a child we couldn't go down until we were dressed and altogether as a family (well at least my mum was there!) A quick photo on the bottom of the stairs to capture the moment and then into the lounge to see if he'd been..
After a few presents had been opened we moved to the kitchen to start preparing our first treat for the day a fabulous daddy special breakfast. We took the play-doh toy sweet shop with us. The boy had wanted this for so long, I'm really not super keen on play-doh and even less so on mixing the colours (shock horror) but it was worth it to see your face and the fun you've had with it. It was the first time I've seen you playing quite nicely together and it made my heart feel warm and fuzzy.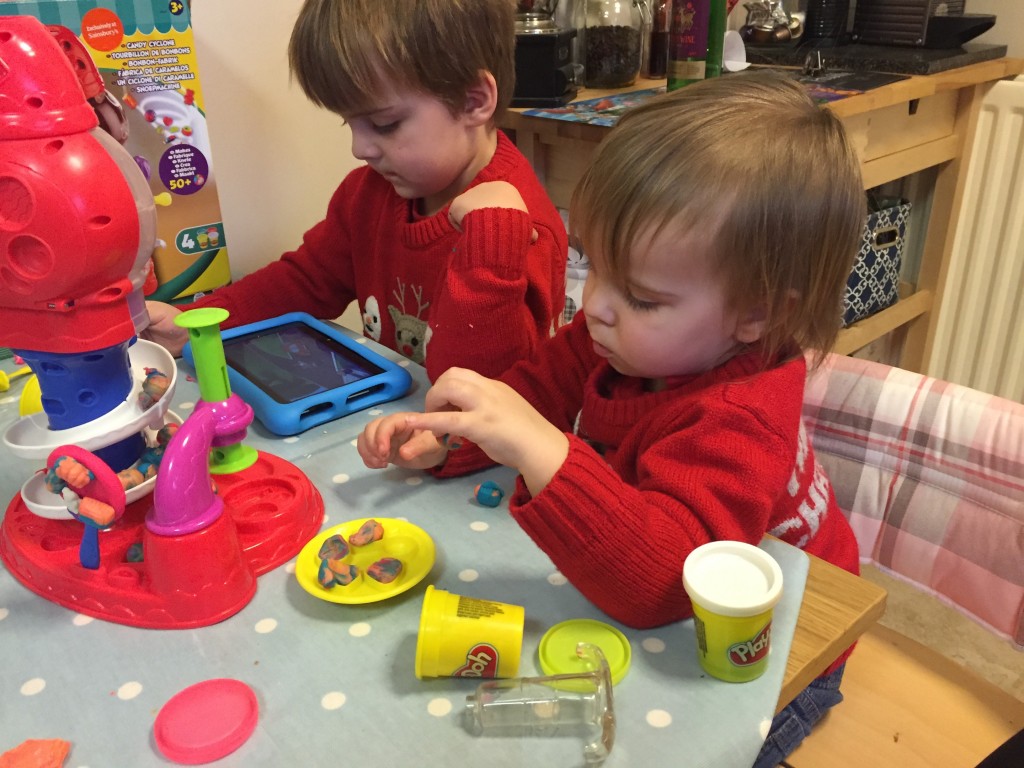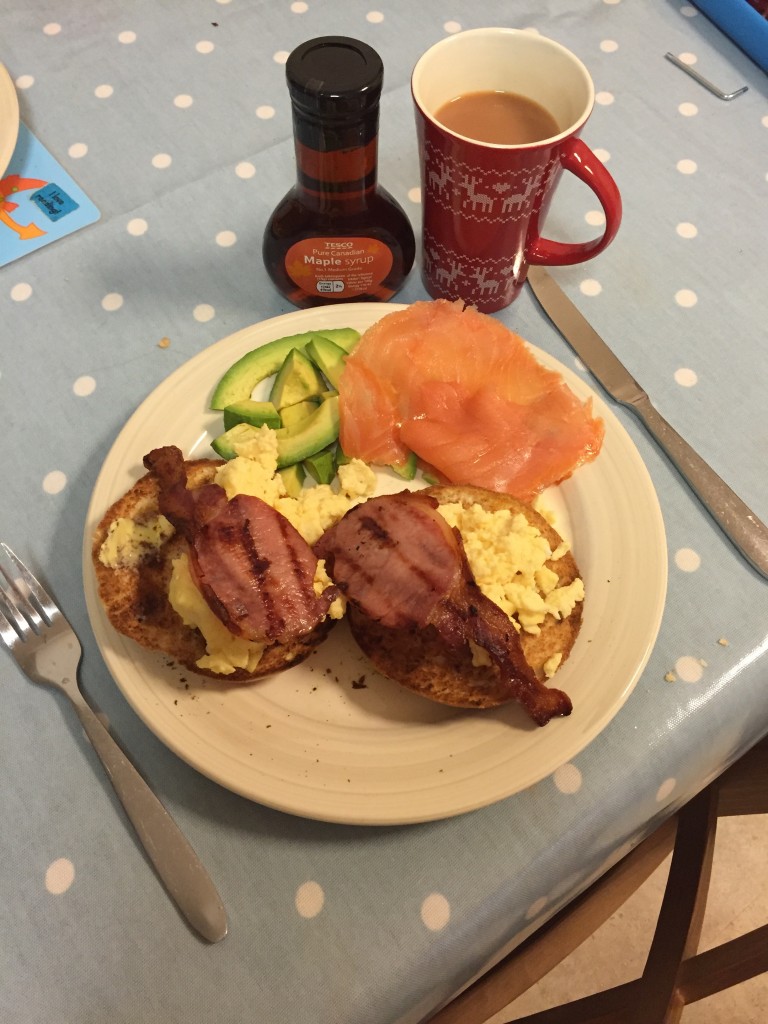 The breakfast (which was more brunch) was so lovely and I was thankful throughout the day for having my family around me, food on the table and presents under the tree. I am so lucky to have so much to be thankful for.
Soon after breakfast my mum and dad arrived as we had invited them to come to ours for Christmas day, it's the first time in 9 years we've been able to do it as we now have a bit more space to host people, rather than having to drag the table to the middle of the living room.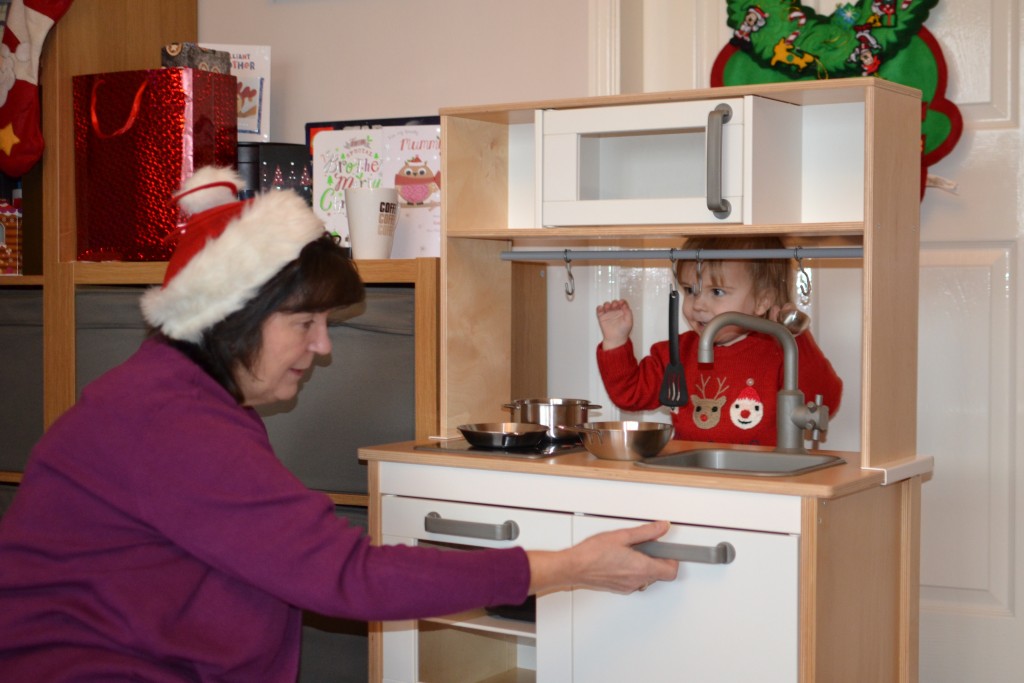 The boys played with Grandma and Grandad whilst hubby and I sorted out a starter. We put Flixster down for an early nap so that he'd be awake in time for the main dinner in a couple of hours time.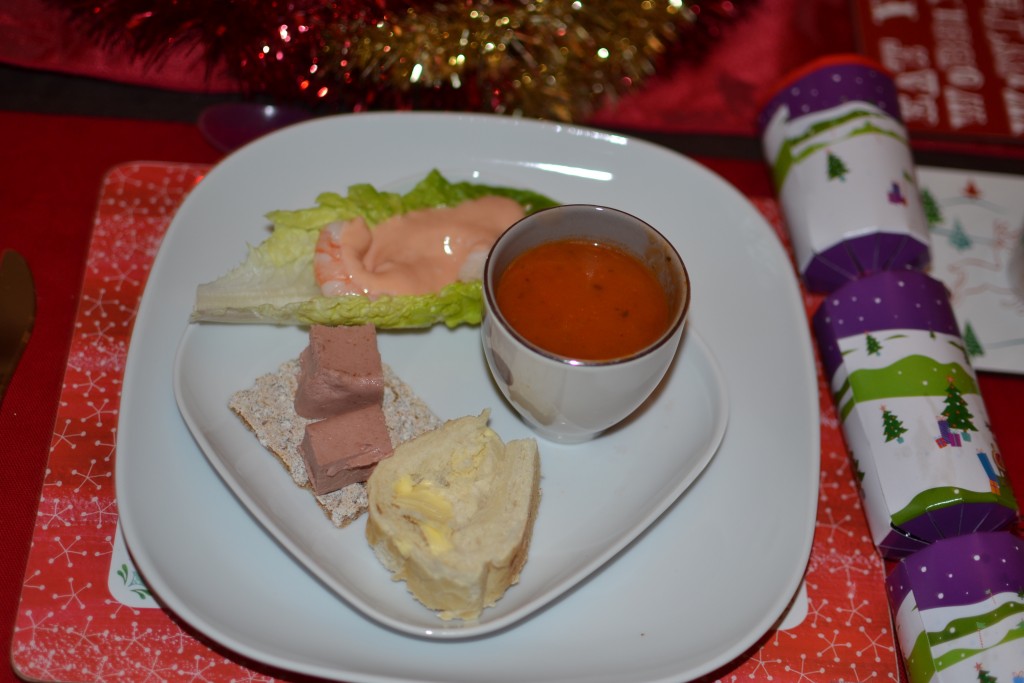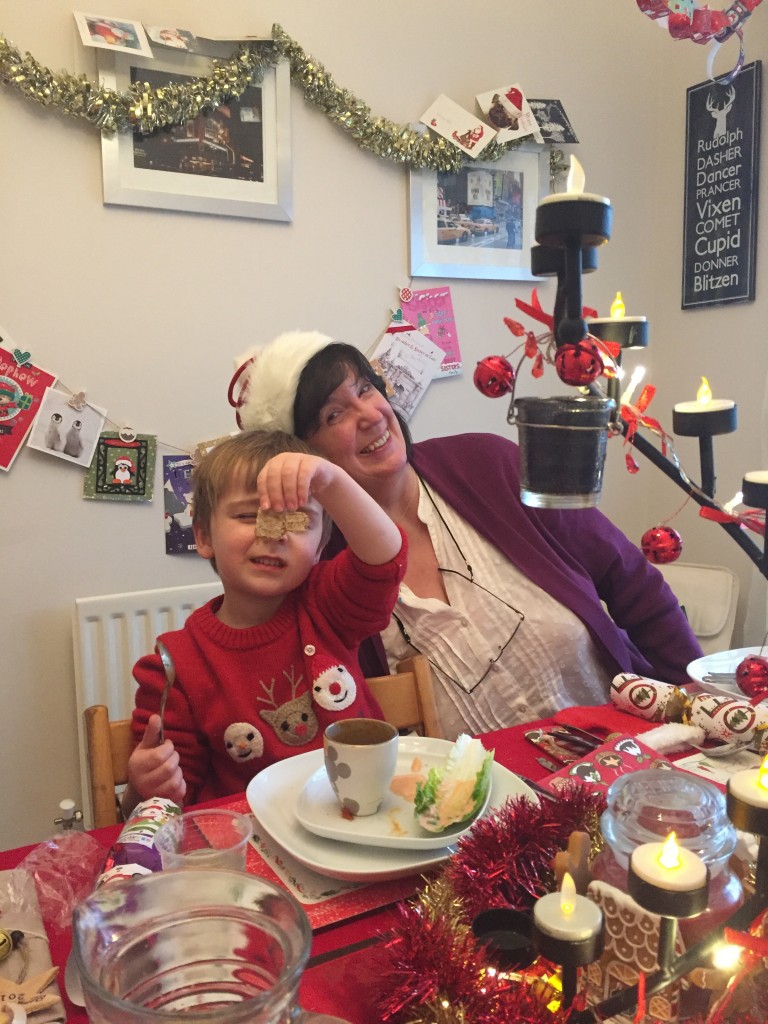 We did a trio of mini starters which consisted of tomato and basil soup with a slice of baguette bread, pate with crisp bread and prawn cocktail on a lettuce leaf. I'm sure I could have come up with fancy names for it but I like to keep things simple.
I'd looked forward to setting the table for so long, all the time we knew we were moving I was planning the Christmas table in the back of my head. I wanted it to be amazing to look at visually, I love Christmas so much. After a break of an hour or so it was time to serve the main event.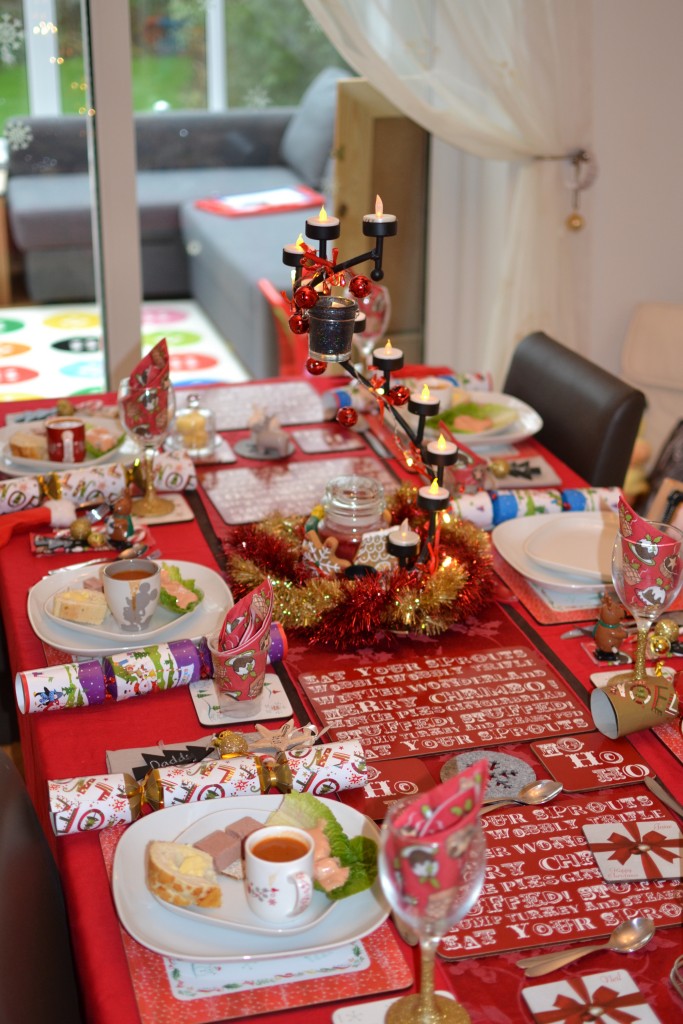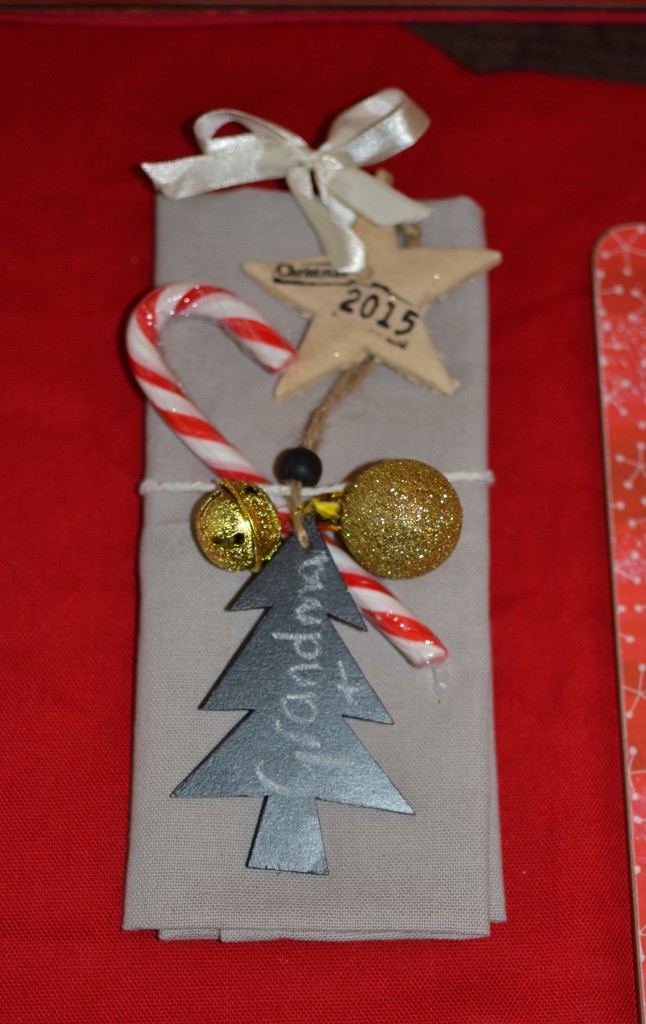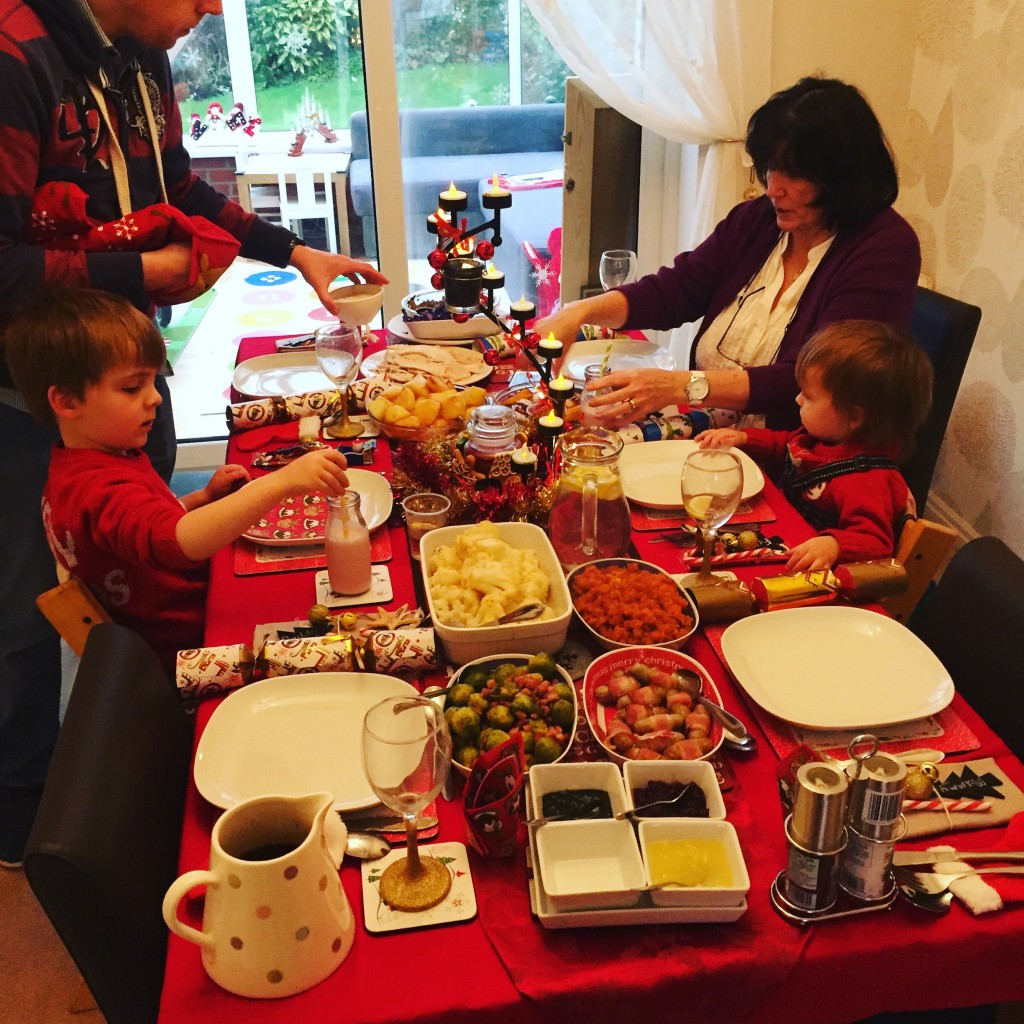 I have to say it was delicious, hubby did most of the cooking as its his thing. I helped with a few bits and the presentation of course!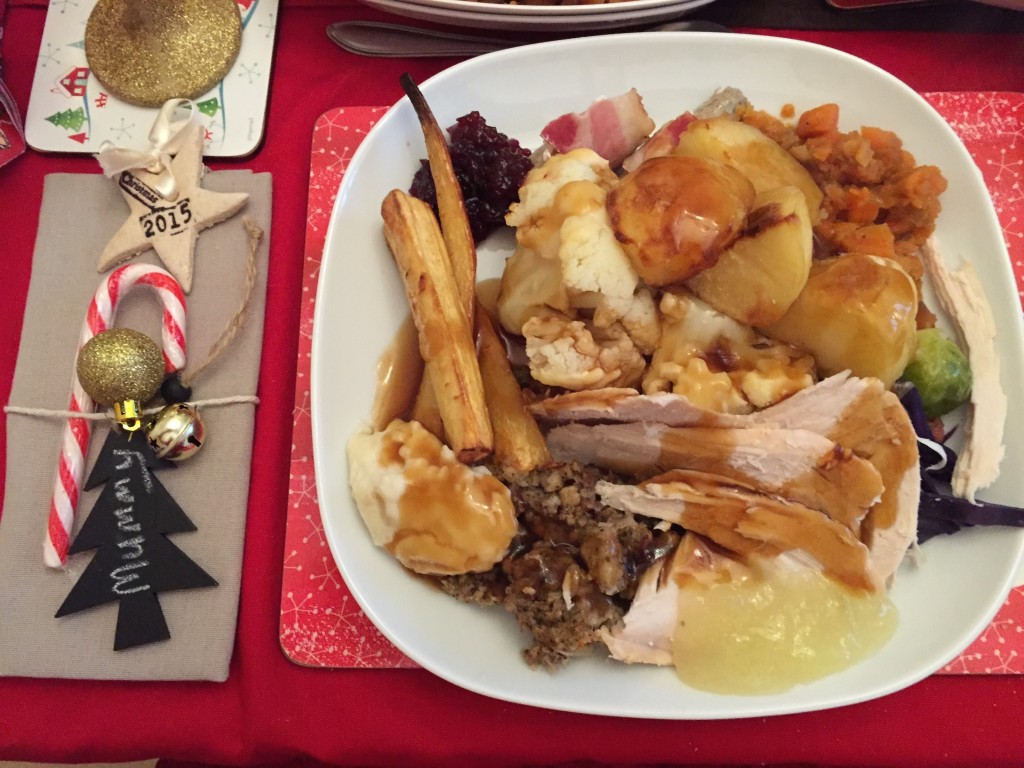 Even Flixster ate way more than he normally does which was endorsement indeed! We all throughly enjoyed sharing the meal together around the Christmas table.
After dinner we were all very full and the boys were ready for a play again with a ll the wonderful things they had received as presents. They were very lucky, we tried not to buy too much as we are grateful for them having both sets of grandparents  who also like to buy a gift or two. It was time for another tradition from my childhood, tree present's. These were the very last present's of the day hidden inside the tree, there are always a low value gift that's usually a novelty, maybe a magazine, a tiny toy, bubble bath etc.  I wanted to carry this on with the boys so I have done tree presents every year. We passed them around and everyone enjoyed the last of the presents.
The rest of the afternoon was spent drinking coffee and just being us. Grandma and Grandad left after the sun had gone down to go back home and we wound down for bedtime. Exhausted and happy the boys were put to bed and we had time together to reflect on the day (and eat the traditional Christmas day eve cheese and crackers!)
Another fabulous year together and another fabulous Christmas day, exhausted, happy and grateful we tucked ourselves up in bed to start again the next day.
So boys more family festive memories were made.
Please always remember I love you both unconditionally….forever.
Mummy