A few months ago we were asked if we'd like to be part of the blogger board game club. Being part of the board game club meant we were gifted a game to play and asked to write about it. I was not paid to do this and under no obligation to write favourably. So as always this is our honest thoughts about Cobra Paw. So far we've also reviewed Harry Potter Dobble and Science Museum Timeline.
Cobra Paw, manufactured by Bananagrams Inc. and imported by Asmodee
When I had free choice of games to pick for playing this was the final pick of three. I'd not heard of it before. Where as the other two I had heard of before. I picked this as it's aimed at age 6 and above. Although I'd say you would be able to play from around age 4. Having three boys, two of which are 8 and 5 I thought it would be perfect.
The game contents include 21 tiles (a bit like dominoes) and two dice all with symbols on. As well as a set of instructions. The tiles are really well made and feel nice to handle.
To play the game you place all 21 tiles face up on the table. Roll both dice and the first person to pick up the tile with the matching symbols wins that tile. The aim of the game is simple, first to win 6 tiles wins the game.
It doesn't take much time to finish a round of the game which is good for little people with shorter attention spans.
In the instructions there's also three other variations of the game that you can play which keep play interesting.
Review Round Up
What we loved about the game:
It's very easy to play
As long as you have a table you can play
Easy for anyone to understand
Game can be over quickly but can be repeated lots of times and still won't be the same
The tiles and dice are really well made, like a lovely set of heavy dominoes – feel like soap stone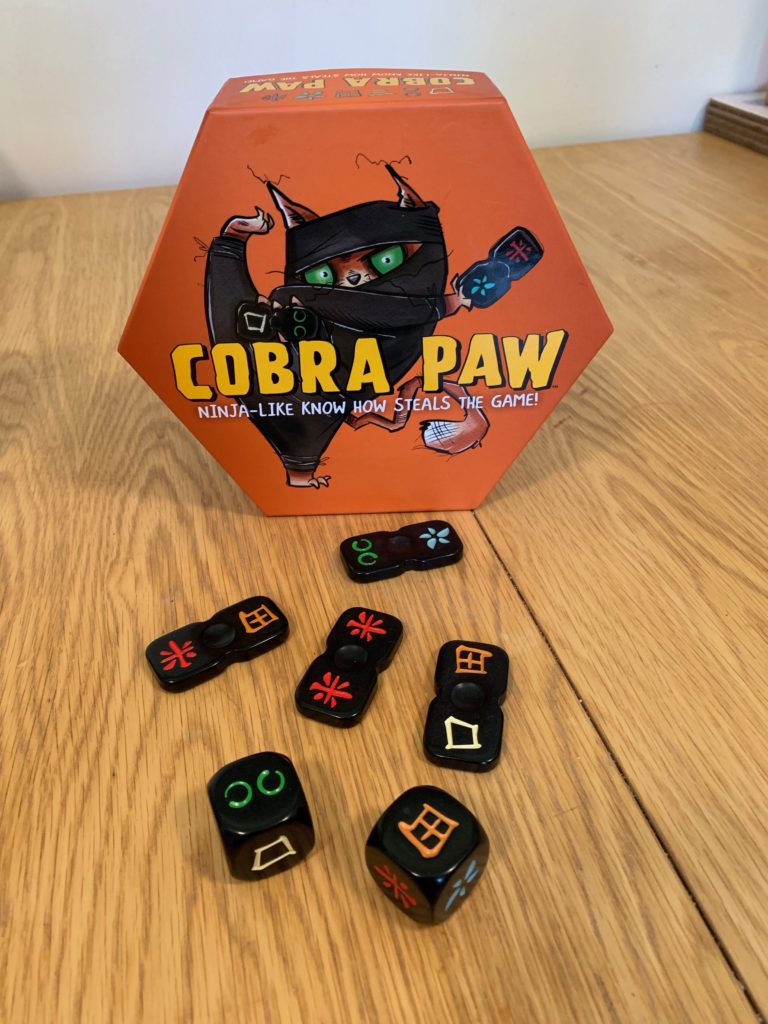 What we thought could have been improved:
Not a whole lot really as it's great, the only thing we thought might be better is if it came with a drawstring bag to keep everything in. The box is lovely and well designed, with great graphics but takes up much more space than keeping the times in a little bag would. Even though the box is quite small it could be stored somewhere else in a little bag.
Overall it's a fab quick game to fill some time that's suitable for both adults and children. Warning though file your nails before you start or you may get snatched in grabbing the tile at the same time as someone else….or is that just me bing highly competitive?!
You can buy Cobra Paw at Amazon and other retailers. Thanks to Asmodee for sending us Cobra Paw to try out.