Daddy decided he wanted in on the blogging action so I asked if he'd like to do a guest post here and there. He agreed and set about writing his first post, which is below! Thanks Daddy!
The Cbeebies fun day at MediaCity, Salford Quays… Pffft, it was alright I suppose.
What? Are you still here? Do I need to pad this blog post out a bit? Well, here goes…
So, it was a Daddy day for The Boy, previous Daddy days had taken the form of Kids Club cinema visits, trips to Ikea and train journeys into Wigan and Manchester but today we decided to try something special.
We had applied for CBeebies Pantomime tickets when they were advertised, we were sadly unsuccessful but we did make a note of the fun day and events planned taking place in MediaCity for the weekend of the pantomime, and when Mummy and Flixster had made plans for Saturday, I knew that this would make a memorable Daddy day for The Boy.
After chasing The Boy around the house with his clothes for a little while until he finally agreed to get dressed, we got in the car and set off. As there were a few events on at the Quays and we were late setting off, we parked at Ladywell and took the tram to MediaCity.

After a short journey and a good press of the button to open the tram doors, we got off the tram in MediaCity and followed the stream of parents and children who were heading into the CBeebies Fun Day.
The first thing that caught our eye was the pirate ship where they were giving tours and reading stories.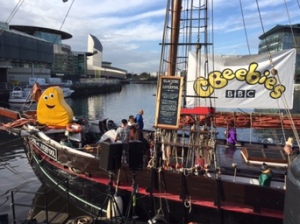 We had a look in the tents which offered a variety of activities and then headed towards the stage where Dr. Ranj from 'Get Well Soon' was on stage.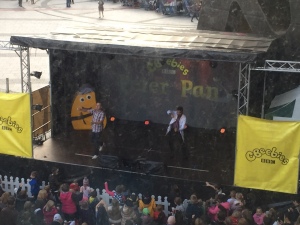 We watched for a little while before The Boy took us into the Lowry Theatre and up the escalator where we looked at Andy Gott's brilliant BAFTA portraits exhibition (well, I looked, The Boy ran around and looked out of the window).
The Boy then wanted to go for a walk, so we went over the bridge before 'tiredy' legs struck and The Boy wanted picking up, carrying and while I was at it, could I get him some lunch too.
We went into the Lowry Outlet Mall and went up to the food court for lunch, then once we'd finished we had a quick look around the Mall and spotted Great British Bake Off runner up Richard Burr having a coffee with his family.
Once we'd finished in the Mall, we had a look for the famous Blue Peter Garden (it's smaller than I thought it would be) and explored a couple of the BBC buildings, mainly the ones with automatic or revolving doors, as he loves doors!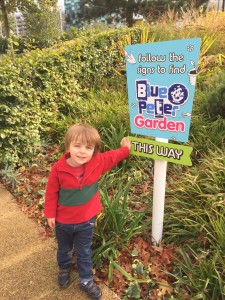 After a little more running around, we got back onto the tram and headed to the car, after a couple of minutes driving, The Boy's conversation faded and when I turned around to look at him, he was fast asleep……