Fighting my Anxiety
I've written about what causes me massive worry before here. I have Emetophobia and it causes me to suffer from anxiety.
This week we had a letter home from school, and this is what it said.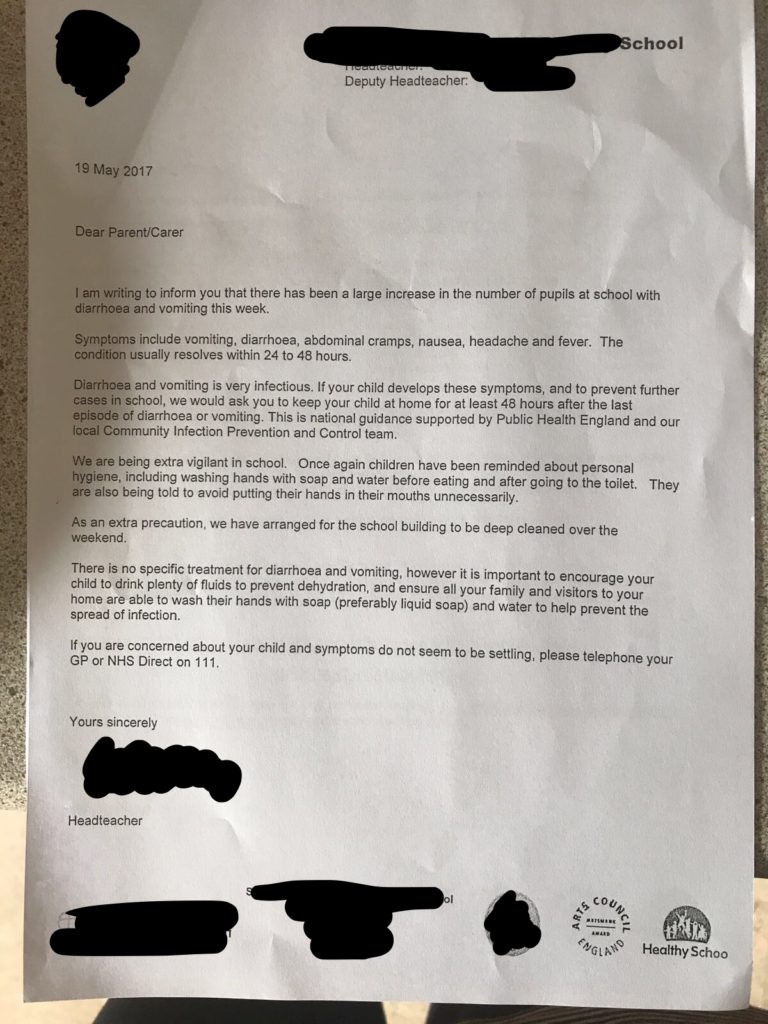 In short it says that once again theres a sickness bug going around school. My absolute worst fear. This simple letter sent me into a bit of a panic.
My head was working overtime.
Did the boy look ill?
Was he showing any signs.
Has he washed his hands at school before eating and going to the toilet?
What would the next few days bring.
How would I cope.
What if we all got it.
What if it never stops?
I feel ill myself, wondering if it was starting.
I have a bit of a coping kit and routine. If I think the children are ill I need to set up a camp in the spare room to isolate them in (not alone of course, with one of us!).
I keep a bucket full of all the things we might need which includes:
Kitchen roll
Towels
Antiviral Hand Foam (its the only one that kills norovirus, alcohol gel doesn't)
Clinell Wipes (again kills norovirus, I buy mine from Amazon)
Bottle of bleach
Black bags to put washing in so I can tie it up and move straight to the washing machine
Box of disposable gloves
This is my coping mechanism, knowing that at a moments notice I can be ready to fight my fear if I have to.
The last coping mechanism is my best friend and hubby, he is amazing when the children are ill and I sometimes wonder what I would do without him. I guess I'd have no choice but to cope but knowing he's always with me helps my anxiety lessen. He knows how I feel about it and although to him it's irrational he tries to be sympathetic to it.
For now thankfully after a sleepless night worrying we are thankfully free of anything nasty so far. I'll keep using the hand foam before and after school and of course keeping up with hand washing at every opportunity.