Last night we were invited to the opening of Winter Wonderland Manchester 2015! It is in the huge exhibition space at Eventcity next to the Trafford Centre. I had been last year for a nosey around to see what it was like but didn't take the children, so I knew what to expect and knew the boy would love it. I certainly wasn't wrong!
The entrance built the excitement for the rest of the evening, the pretend snow was a hit with both boys and the grand sign certainly looked the part!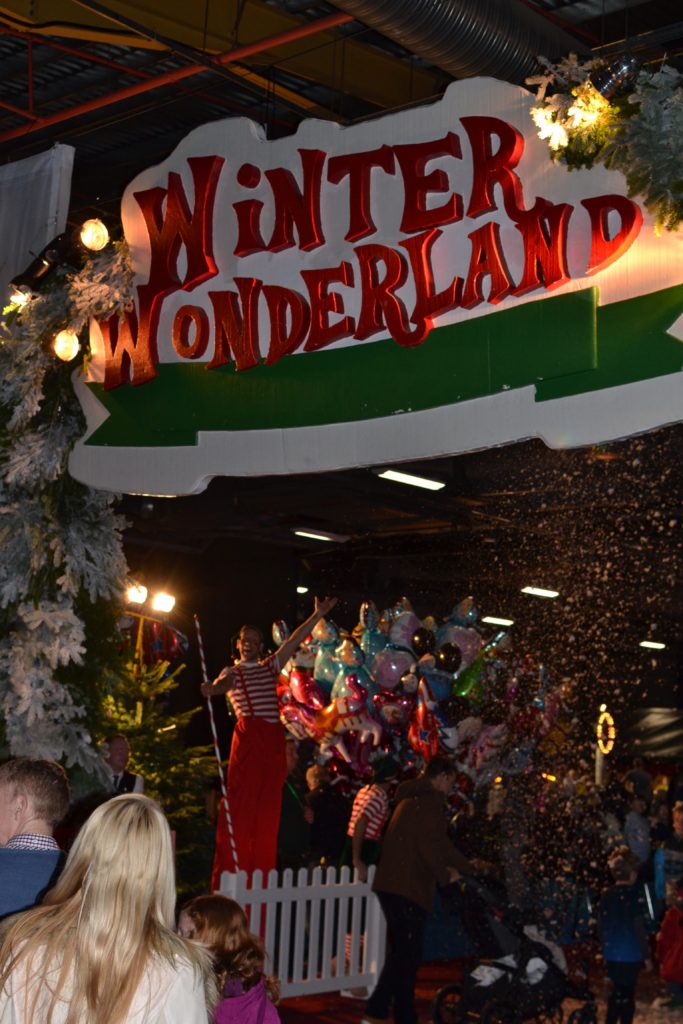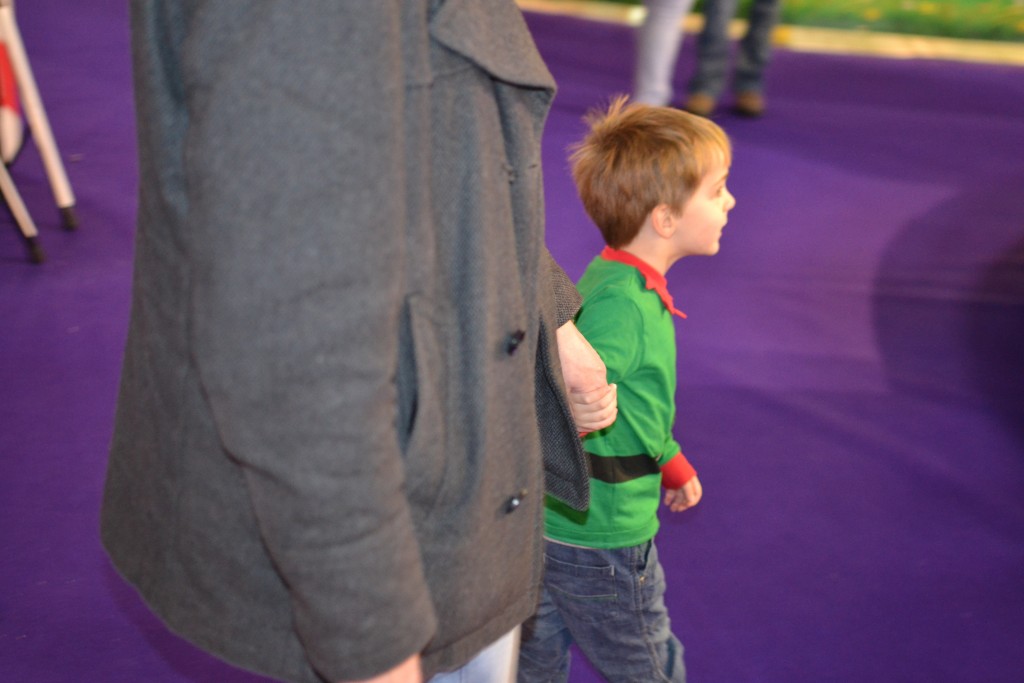 The boy was practically dragging us over the entrance to get inside. It is advertised as the UK's largest indoor theme park and it certainly is big. I believe there are over 40 rides. I'd say about 75% of the rides at Winter Wonderland Manchester are for younger children between about 4 and 12. There are some for the older ones but not too many. The boys seemed the perfect age to get the most out of the evening.
Winter Wonderland Manchester – The Rides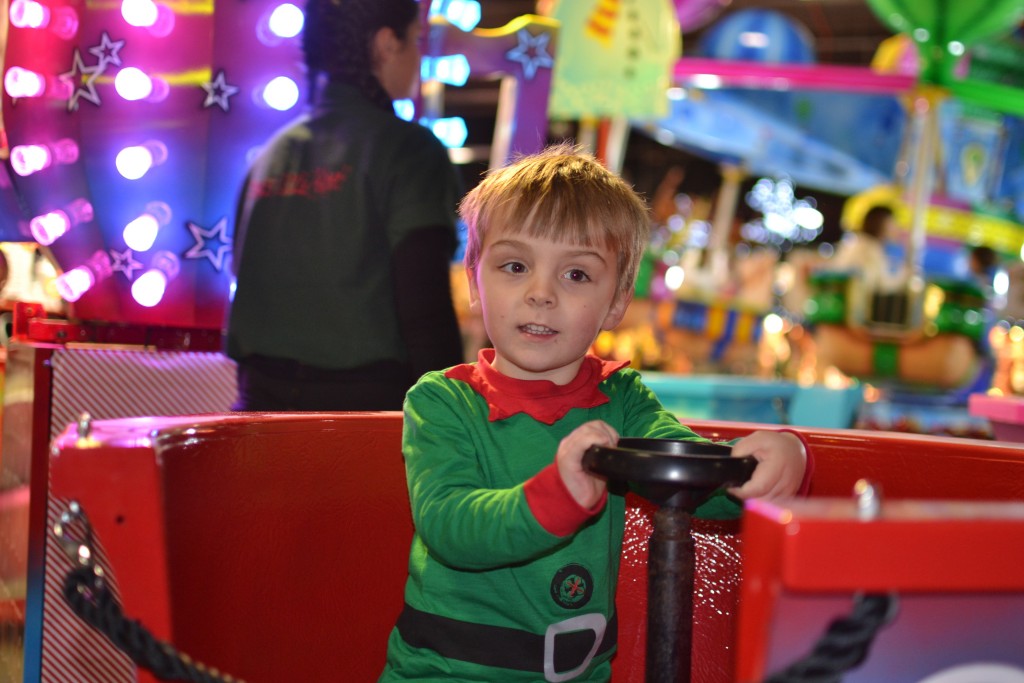 His first ride was teacups which we already know he loves, this one like many of the rides was children only. We enjoyed watching his face light up on each ride, it really was lovely to see!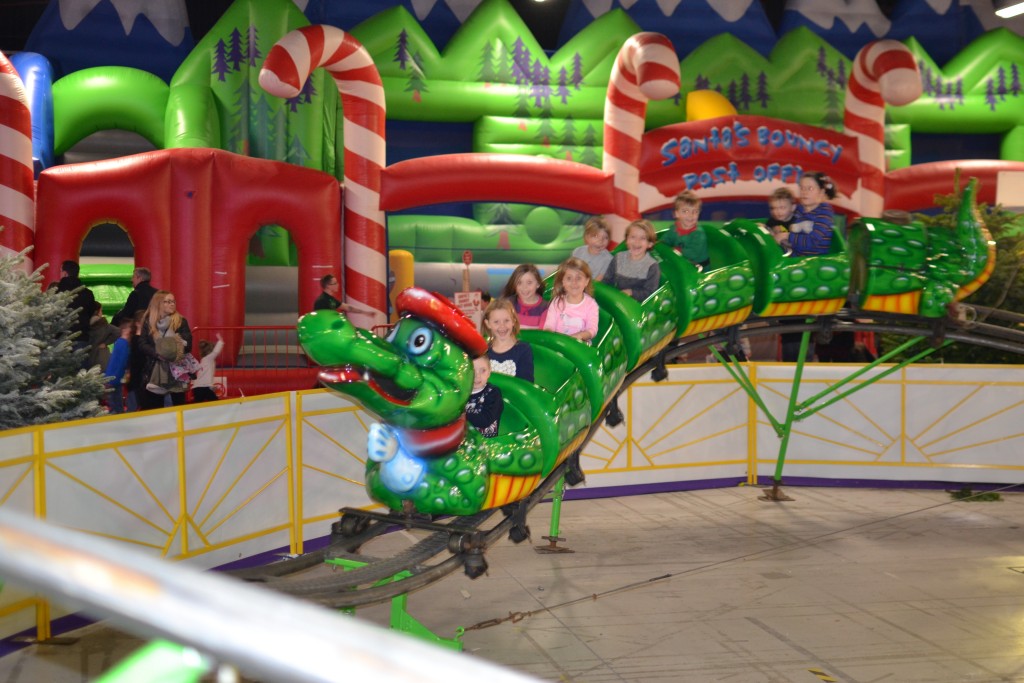 I have to admit my heart was in my mouth a little when he asked to go on a ginormous inflatable slide. He's not been on one before and I had imagined I'd be clambering up after him to bring him down when he got to the top and chickened out. I explained that once he was at the top he'd have to come down the slide and he seemed completely up for it. I needn't have worried, he flew away from us at speed, up the ladder and down the massive slide many times. Way too fast for me to capture a decent photo!
There were a lot of inflatable attractions, which was great as it meant none of them were crowded and you could usually just get straight on. Some of them were timed so that everyone got a set amount of time but it never seemed too long before he was on for a play.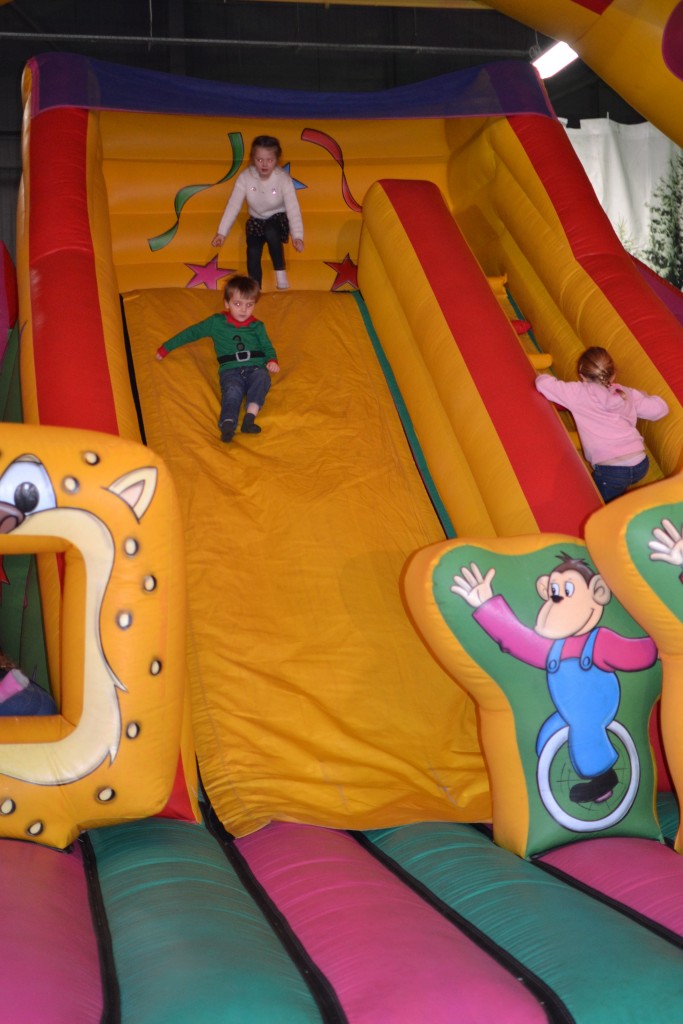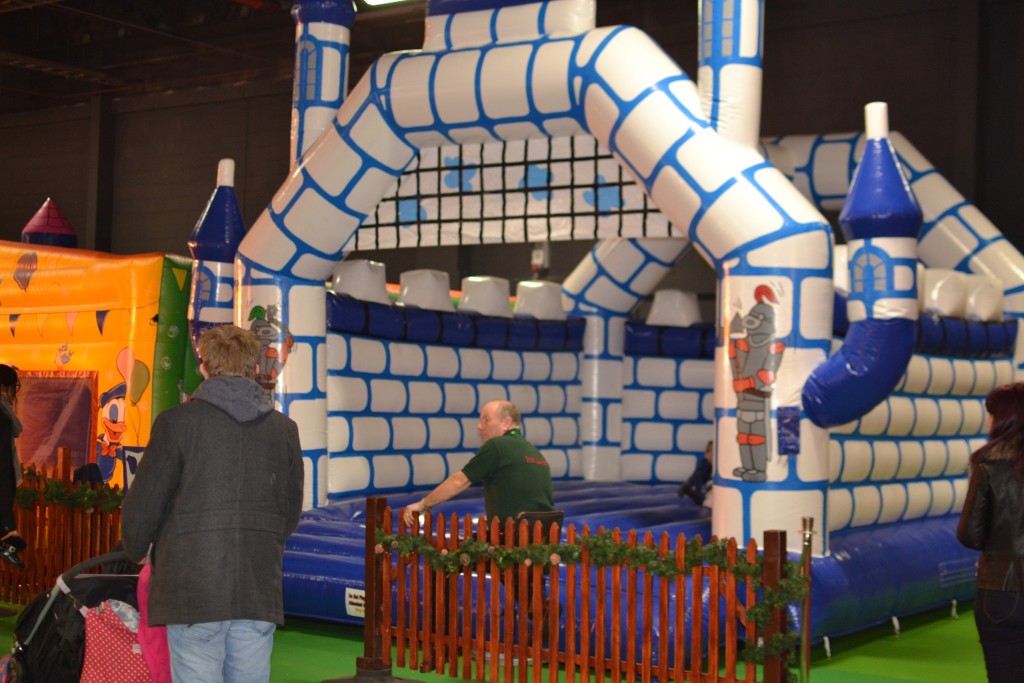 Refreshments
As it was an evening session and past the boys bedtime (all be it a Friday night) we didn't want to stay too long as tears had already happened a couple of times, so we decided to stop for a quick refreshment before finishing the evening with the sooty show and a couple of rides. There is quite a lot of choice, from the usual fairground fare to the more unusual things that you wouldn't expect like noodles. We had already had dinner earlier in the evening so we just looked for a snack. The boy choose a snowman muffin which I asked to but cut in half for them to share, at £2.50 it certainly wasn't a cheap snack but I had a nibble and it was pretty tasty. The sugar hit kept him going long enough to have a good end to the evening.
Sooty Show
There were quite a few different shows advertised for the entertainment but the one the boy didn't want to miss was Sooty, such a classic! It had him laughing out loud with the usual slapstick comedy style. There were lots of children at the front dancing and joining in but it's not my boys style, he'd much prefer to sit and watch, so that's exactly what we did.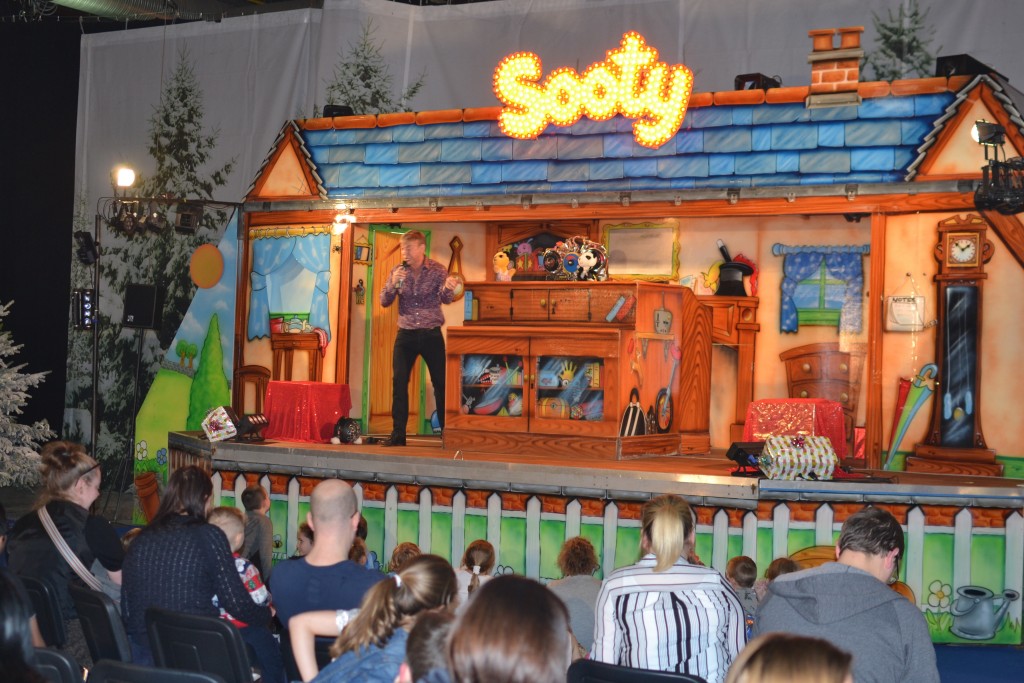 Once the show was over I put a limit of two more rides before it was time to leave. He picked a flying balloon ride and one that goes round quite quickly ( I have no other way to describe it!)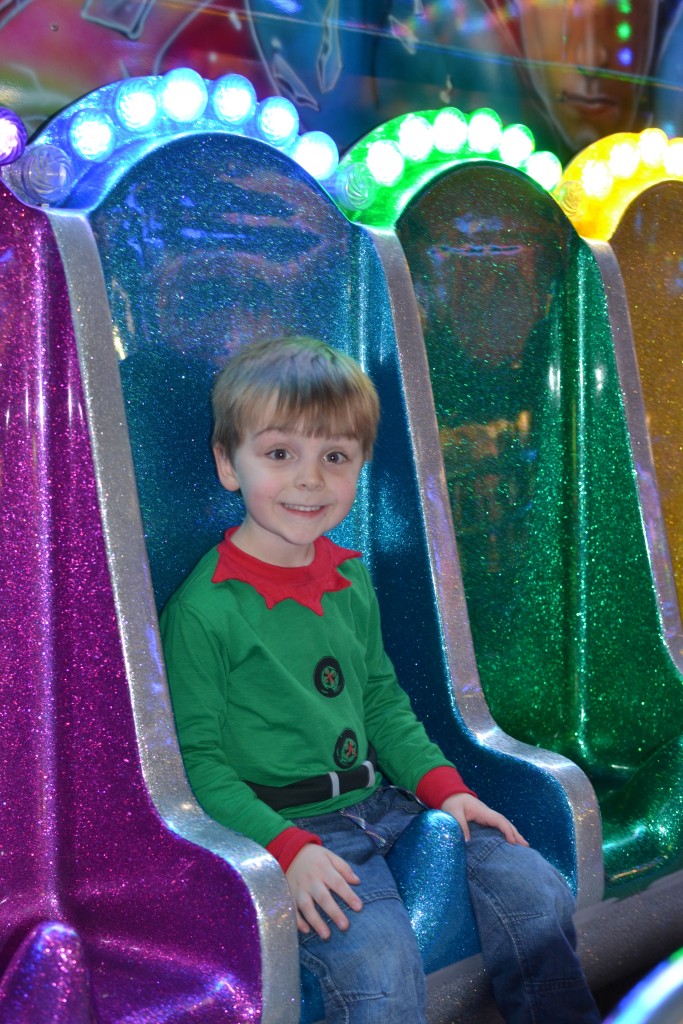 By now it was way past bedtime for both of the boys (Flixster had spent the evening enjoying the lights sounds and attractions from his buggy…oh and half a muffin!!) so tired and happy we headed back home for bed. On the way home the boy asked if we could go again next year. I think that was a resounding hit with him then!
Winter Wonderland is open from now until 3rd January at Eventcity next to the Trafford Centre Manchester. Being at the Trafford Centre theres loads of free parking. The day is split into a morning session and an afternoon session.Each session lasts 4 hours and include all rides, The Sooty Show, the Christmas Circus, a Magic Show and a Meet & Greet with Santa!
Tickets & Prices – Winter Wonderland Manchester EventCity
Adult £19.50
Child (3 – 16) £19.50
Family £64.00
OAP £14.00
Child (Under 3s) Free – Ticket not required
Tickets  to Winter Wonderland Manchester can be booked online here or bought on the door.