As you'll know by now my festive spirit is already alive and kicking. My heart leaps with joy at the sights and sounds of Christmas that are starting to creep in all around me. So when I was recently offered the opportunity to try a festive coffee blend I jumped at the chance. Being a mummy to a young baby who feeds two hourly during the night I need a coffee to get me going in the morning! Before I moved in with hubby instant coffee was my go to drink, however having lived with him for almost 10 years now my coffee tastes have changed. I describe him as a coffee snob as he really knows his coffee. He's been through a fair few machines before settling on the one we have now. So although I know what I like coffee wise hubby will also be having his say on this one!
The coffee we were tasting was 'Reindeer Rocket' by the Big Cup Little Cup company who produce nespresso compatible capsules. As it was weekend hubby decided to try a new 'duffin' recipe he had found to go along with the coffee – I wasn't going to say no to cake!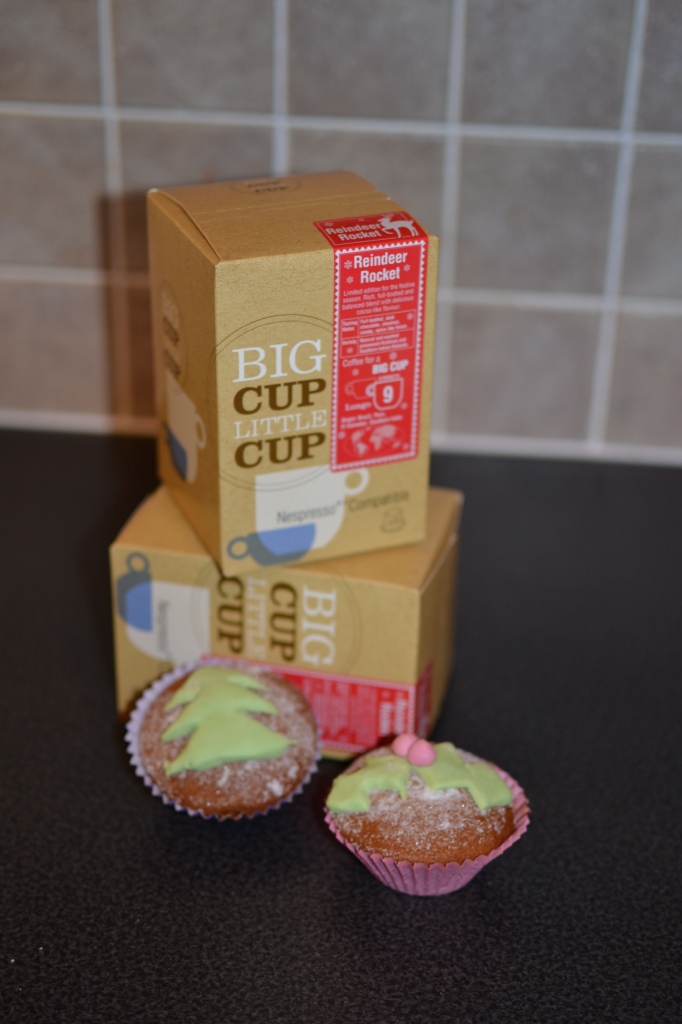 Once the cakes were made and decorated we opened up the coffee, I was delighted to see that each nespresso compatible capsule was wrapped up like a little Christmas present. I love that the packaging has been thought about so carefully, with its tiny stamp label. I think they look fab in our coffee jar it just needs a red ribbon now to complete the festive look!
Reindeer Rocket is recommended to be served as a lungo, so with fresh water in the machine I set about making two coffees, one with a splash of milk for me as I like my coffee white and a black one for hubby.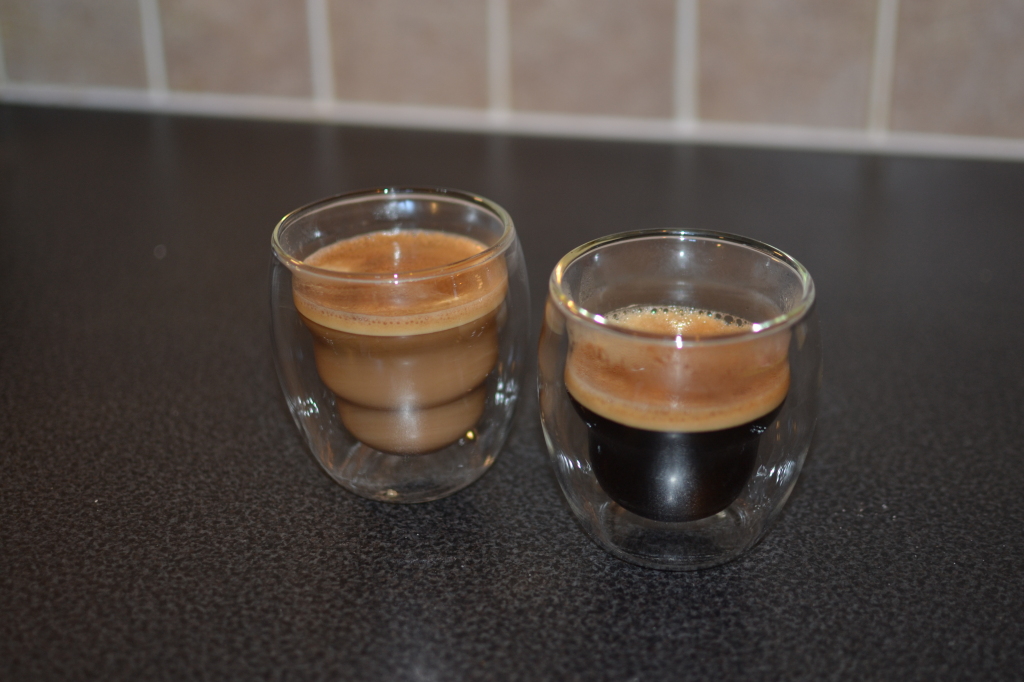 Reindeer Rocket tasting notes:
Reindeer Rocket is a limited edition rich coffee with an intense flavour. Arabica beans from Southern Brazil and Central America and Southern Indian Robusta beans create a powerful and bold coffee with flavours of dark chocolate and chestnut that lingers with a sweet, smoky finish on the palate.
It's a 9 on the strength scale.
My opinion: I really liked the coffee, I'm not normally one to have the higher end coffees on the strength scale but with a splash of milk I really enjoyed the flavours of the coffee.It has a lovely bold flavour which isn't particularly bitter as I find some of the stronger coffees to be. I can imagine it will be my go to coffee over the festive season, especially if Flixster keeps me up every two hours, every night as he has been doing!
Hubby's opinion: The coffee has a bold taste that's offset by a subtle sweetness that is the signature of a great Christmas blend coffee.
Big cup little cup have offered readers of my blog a chance to get 15% off their first order using the code LYRICAL15 there are plenty of coffees to choose from and the Reindeer Rocket will be launched soon – keep your eyes open for that one!
I was sent a sample of Reindeer Rocket for the purpose of this review but we have purchased from them before and have always been impressed with the coffees and the speed of delivery. All the opinions expressed are my own and truthful.