When hubby and I first started dating around 11 years ago, our first date was spent in the Printworks Manchester, back then if I remember correctly the Printworks to me seemed to be full of bars and clubs, with a couple of restaurants thrown in as well as the Odeon cinema. I wouldn't have thought of it then as a family destination. Todays trip has changed my perspective. Having spent most of our day there today has defiantly changed my mind and I'm grateful we got the chance to go and have a family day together.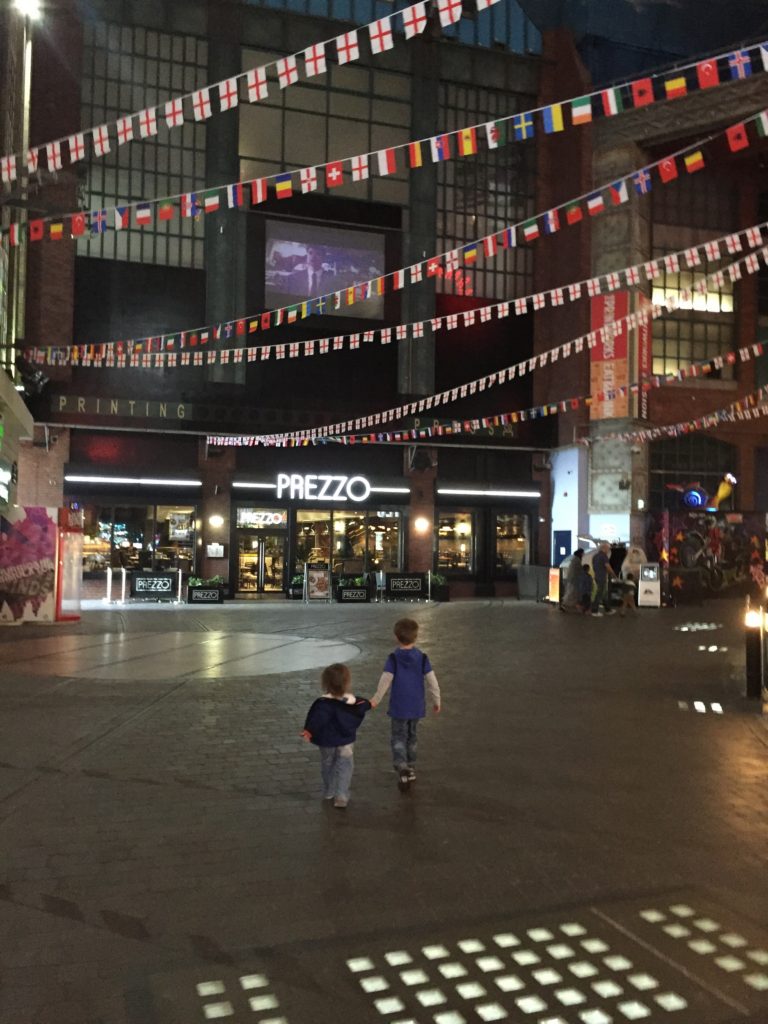 Family Time at the Printworks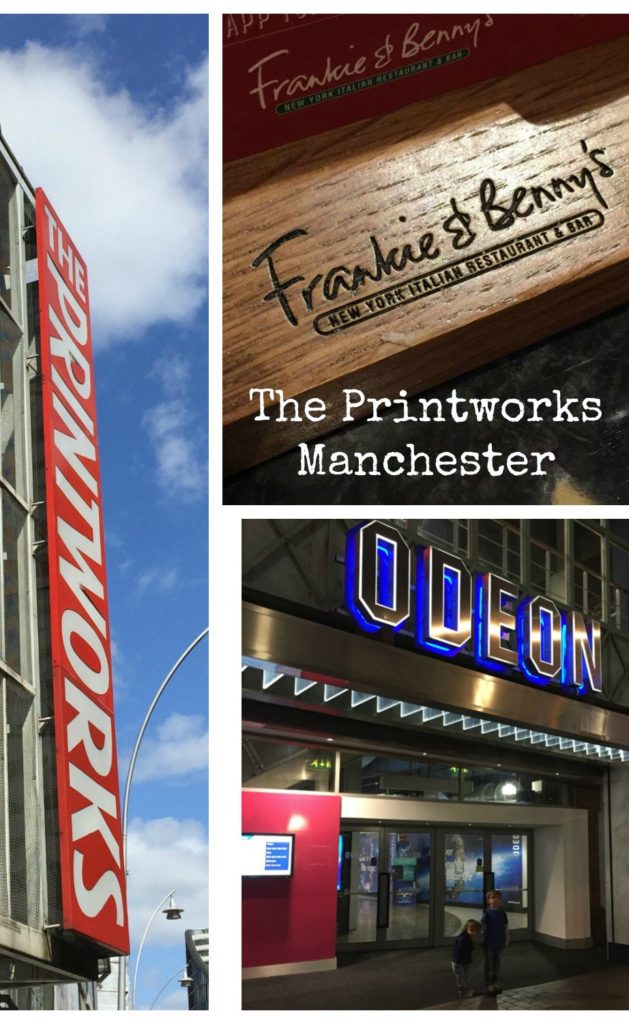 We started the morning with a trip to the Odeon cinema to watch the new Angry Birds Movie which was just released the day before we visited. It was Flixsters first time at the cinema so it was exciting for him to be having a 'first' too. Although he had been before when he as only a few weeks old, he was fast asleep in a sling on my chest so that doesn't count! This time he had his very own seat and his very own childrens snack box. I wasn't sure what to expect with a film based on an app but the film was pretty funny in parts, even for adults!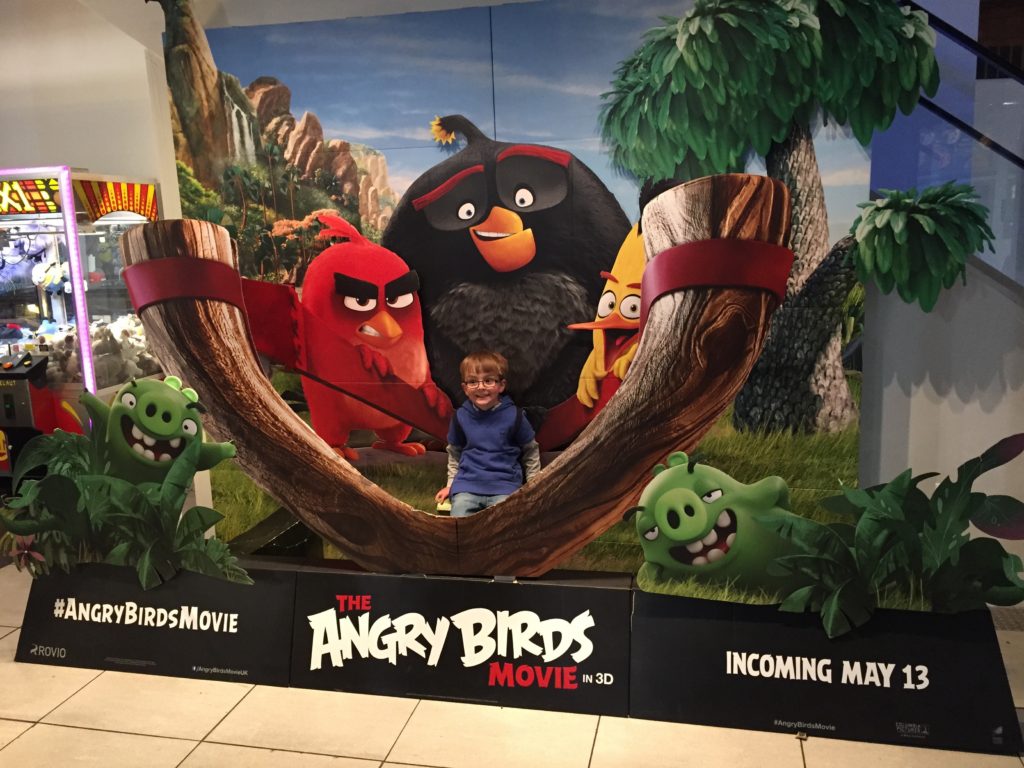 I really like going to the cinema on a weekend morning as it's usually full of other children so you know you that even if your little one talks it won't be disturbing other peoples film experiences which is great as most people there will be understanding and have children themselves. The boy has been going to the cinema on weekends with one of us since he was about two and a half so he's very used to sitting and enjoying a film, he takes after his dad who's film mad!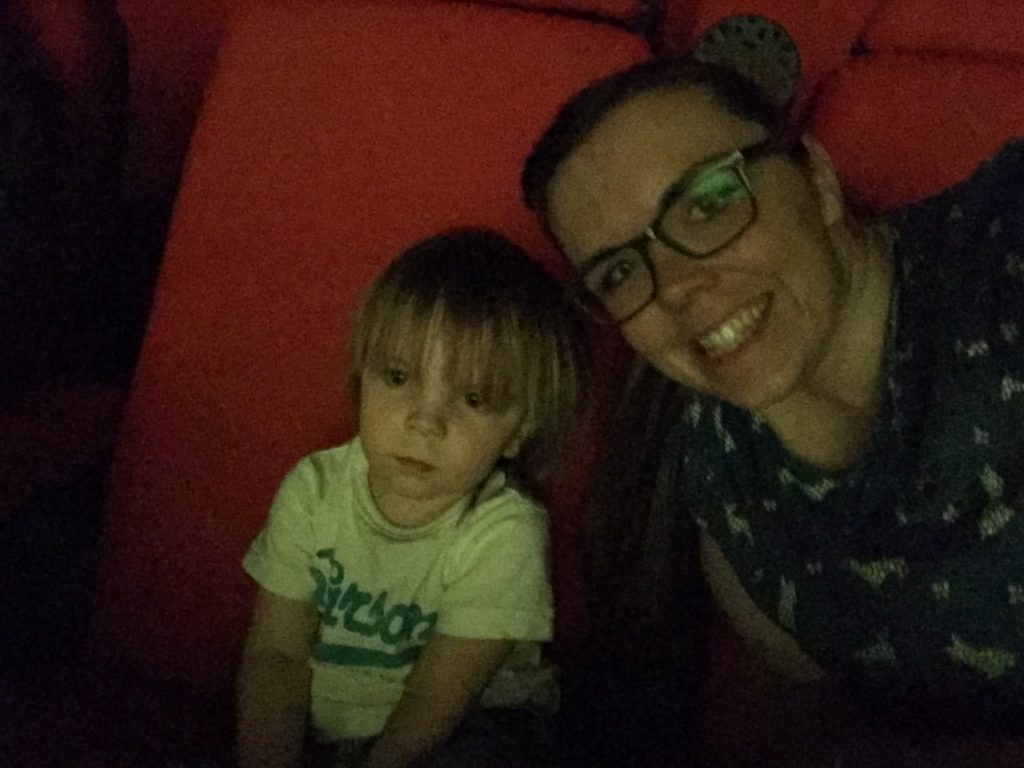 The family snack deal went down very well with everyone and at £9.99 for two childrens packs (with popcorn, snack and drink), a medium popcorn and two adult drinks I thought that was pretty good considering what you would expect to pay normally for each individual item.
Towards the end of the film I did take Flixster out for a little walk and then we watched the very end of the film from the exit corridor so that he wouldn't be disturbing people, but it was only the last few minutes of a 90 minute film for someone who's just turned two I don't think thats bad. For the rest of the film he mostly sat watching and enjoying the big screen, it went far better than I had expected!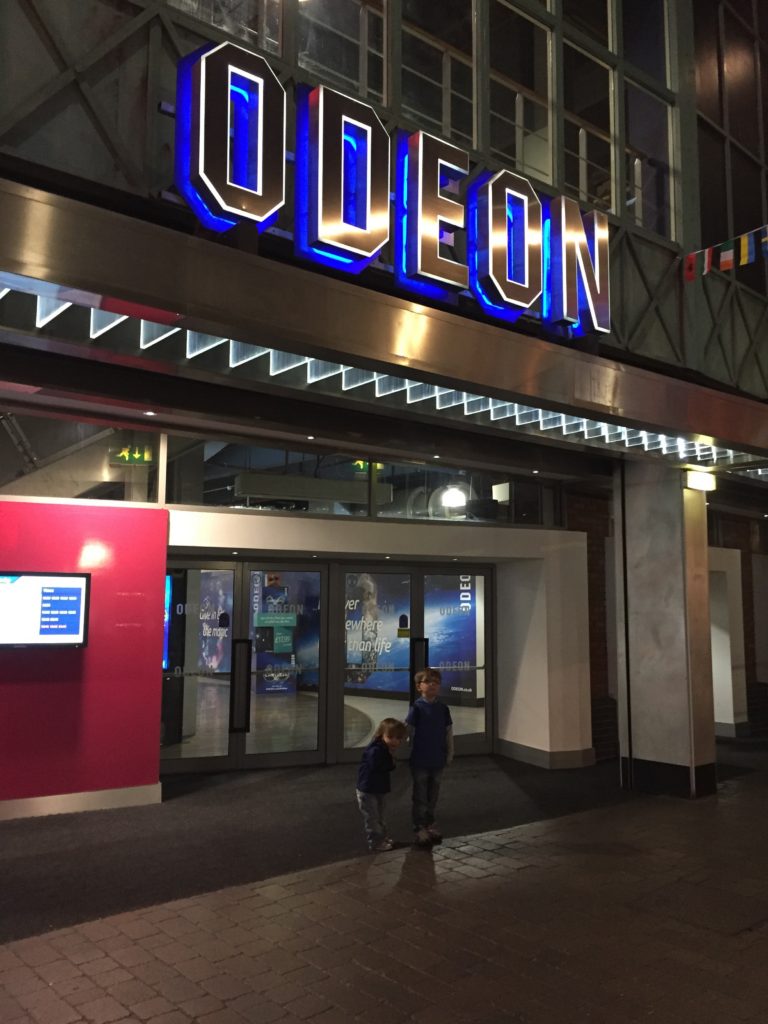 After the film i could tell he was tired as it was hitting nap time so we popped him into the buggy and off he went to sleep as we had a little walk before lunch.
Lunch at Frankie and Bennys
Lunch was booked for Frankie and Benny's which in the Printworks is almost opposite the cinema entrance. All the restaurants in the printworks look nice but I picked Frankie and Bennys as its somewhere I've not been for about 10 years. When I was dating hubby we went a few times but it never seemed to change much so I guess it sort of fell out of our radar. The boys had never been to Frankie and Bennys either so it was a nice treat for them.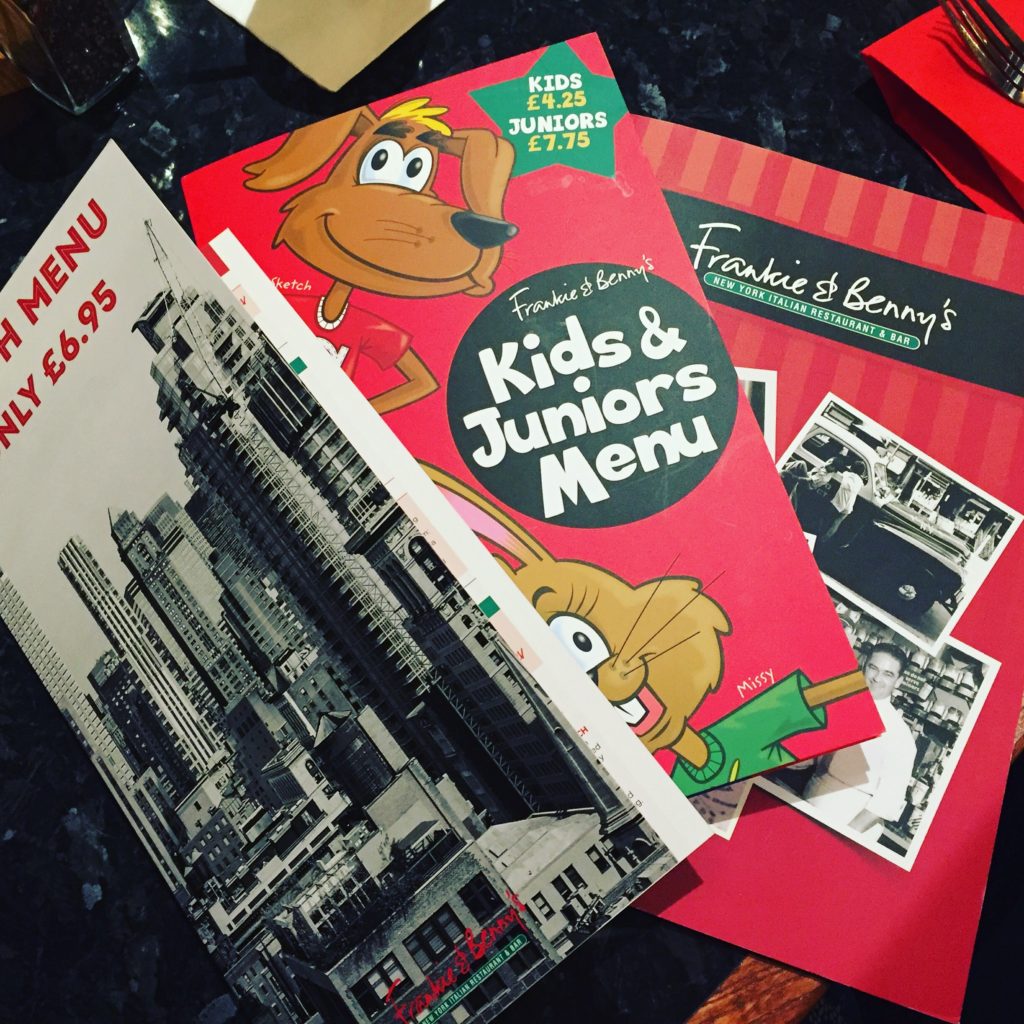 We were seated in a booth which was great for the children as hubby and I could block the exits and easily stop them from running around, sometimes when you sit at a table I seem to spend the entire meal repeating the words "please sit down". The staff were very accommodating with the buggy too which was lovely of them, so we were able to have Flixster asleep next to us at the table whilst we had some food. He did wake later on in the meal and helped finish the chips and the dessert.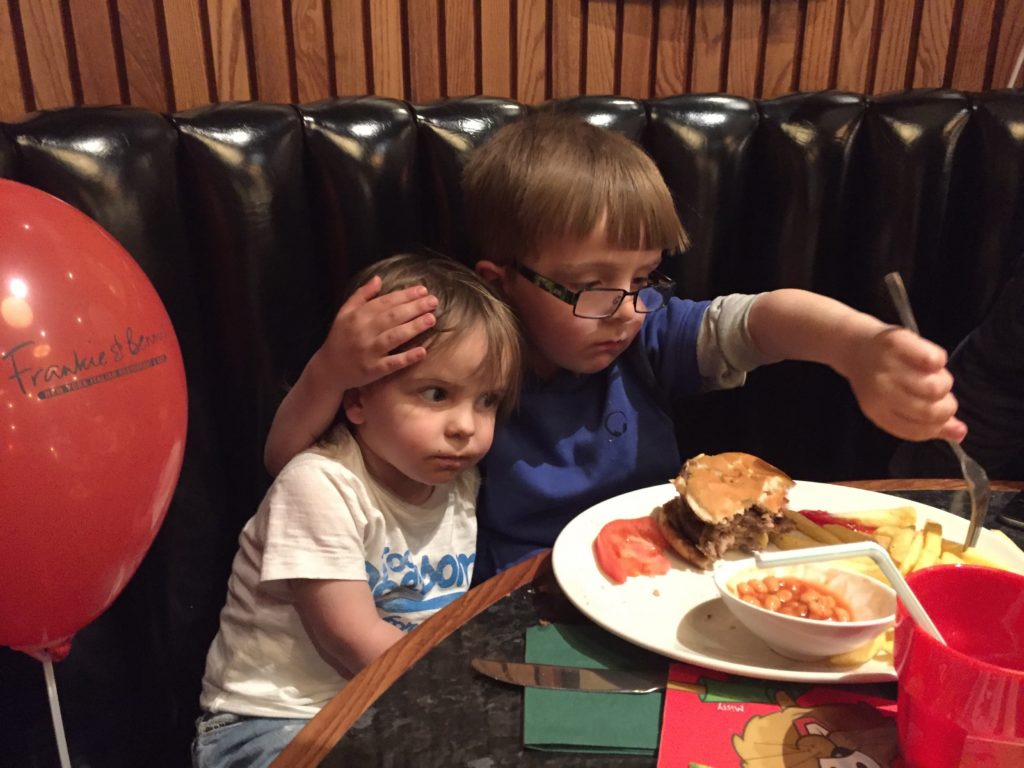 The boy was super chuffed at his childrens menu, he loves being able to make his own choice of food and I love that he can feel grown up by reading and making his choices.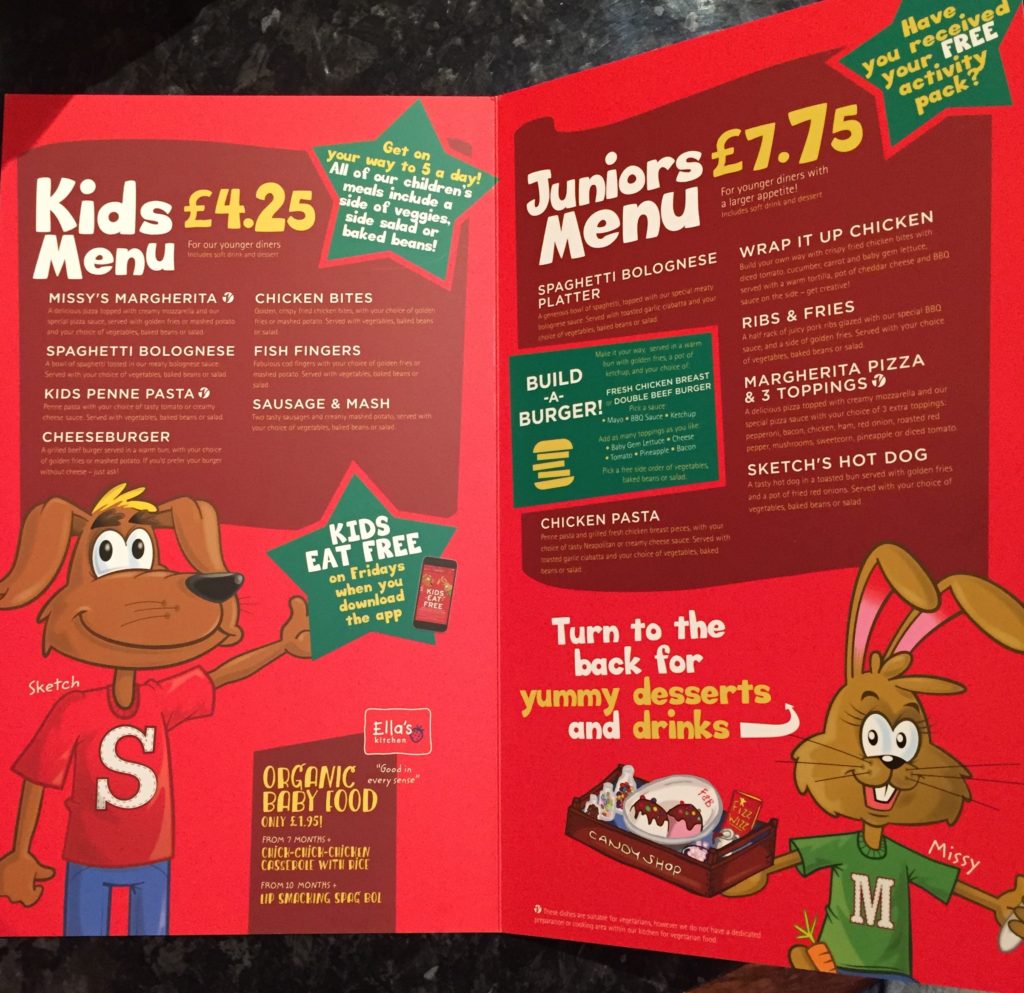 Our waiter who if I remember correctly was called Janis was great with the boy, he really made him feel welcome which is lovely when you have children, you feel more relaxed about the meal and get to enjoy the family time together.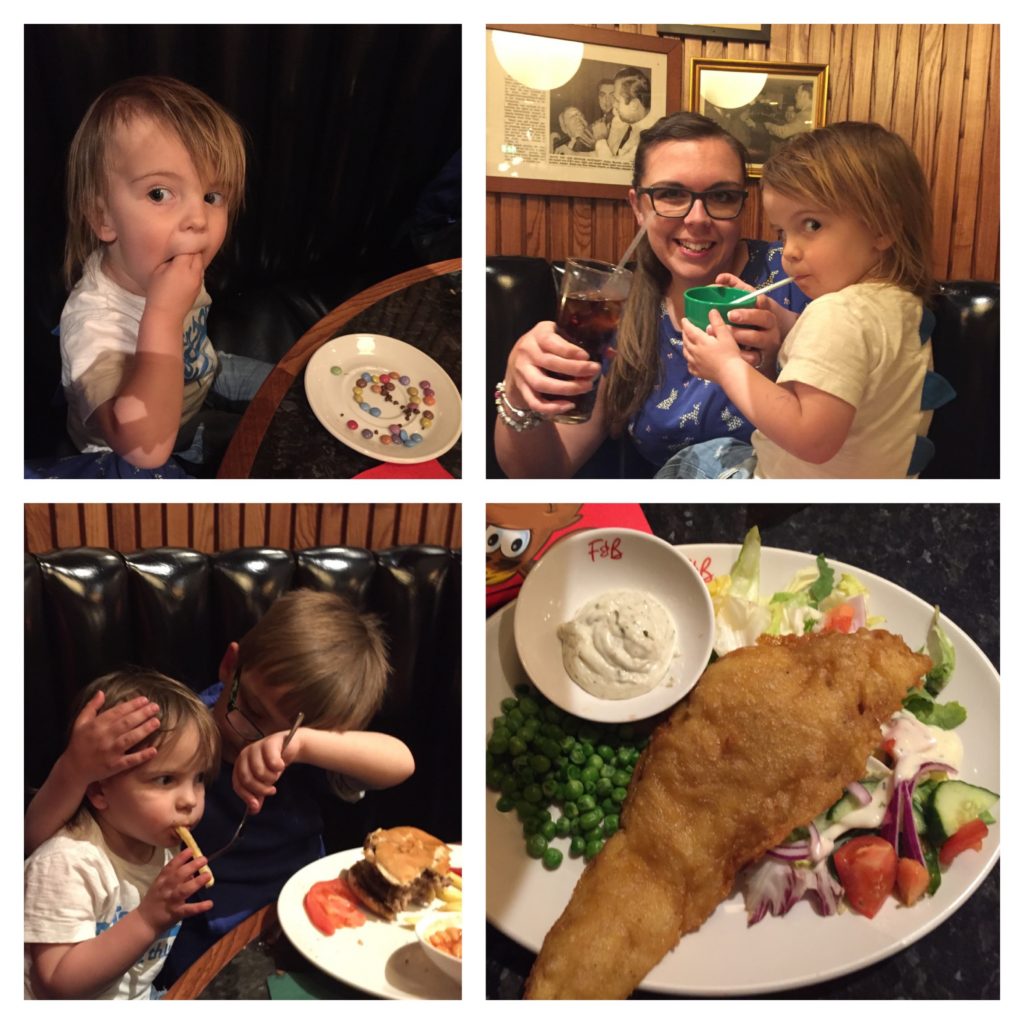 As we were there at lunch time we choose our food from the lunchtime menu, I went for the fish with salad as I'm following a health eating plan at the moment and hubby went for burger. The boy also went for the build your own burger choice and decided to have it with cheese , bacon, ketchup and some fries and beans as side orders. We also ordered a starter of dough balls to share.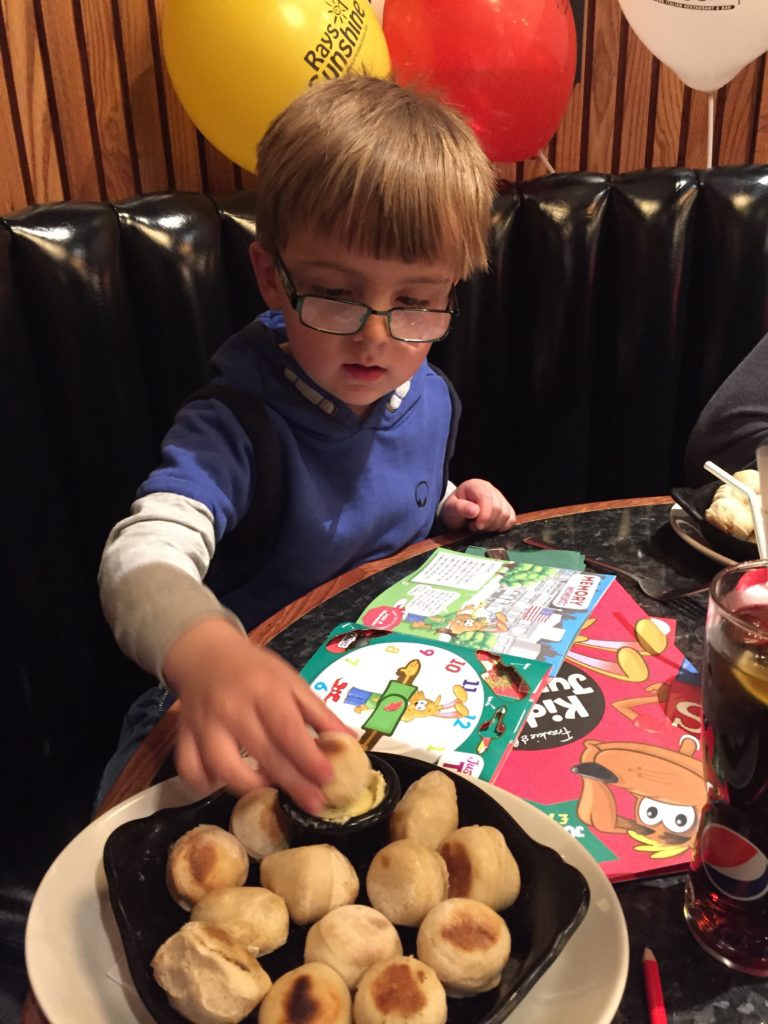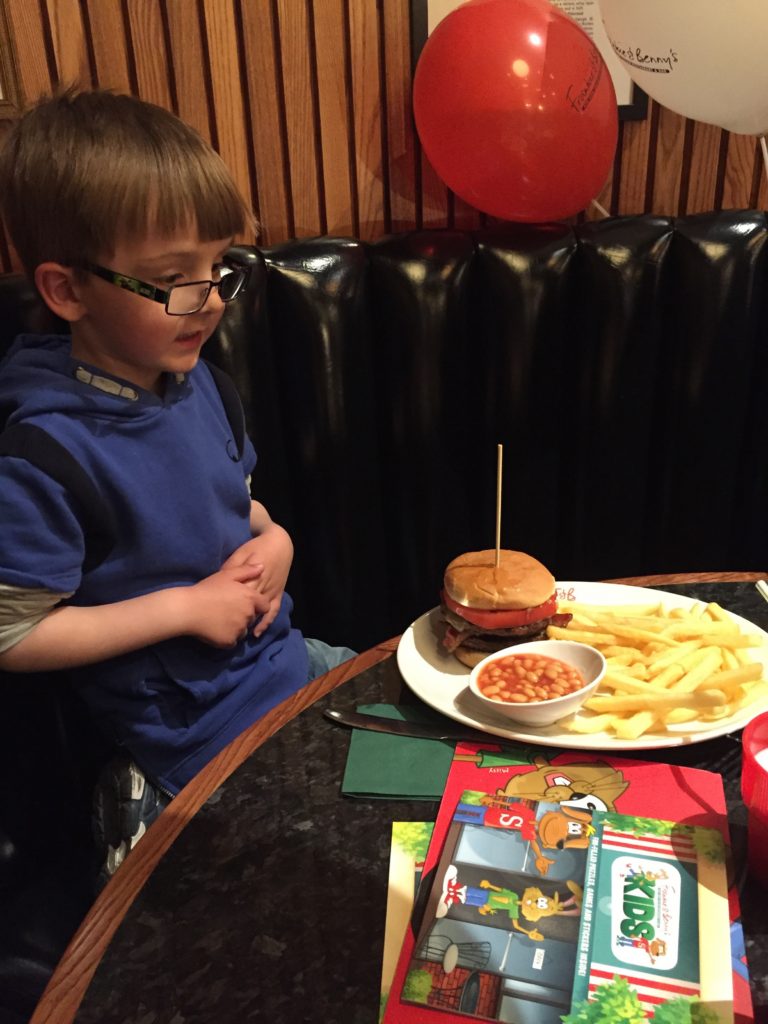 I'm glad we did share them as there were lots to go round. Sometimes with dough balls at other restaurants you'd don't get very many but I think the portion at Frankie and Bennys was just right.
My food was lovely and the salad was nice and fresh which to me is always a good sign, hubby said his burger was yummy and the boys plate was gobbled up pretty quickly and finished off by Flixster when he awoke from his nap! thankfully the soft drinks were unlimited refill which I prefer as you don't have to worry about the cost or how thirsty you get, you know what you're paying up front and theres no hidden extras when you get the bill!
The childrens' meals came with a choice of drinks and as milk was on the menu thats what the boys ordered, milk lovers the both of them as they don't like fizzy drinks.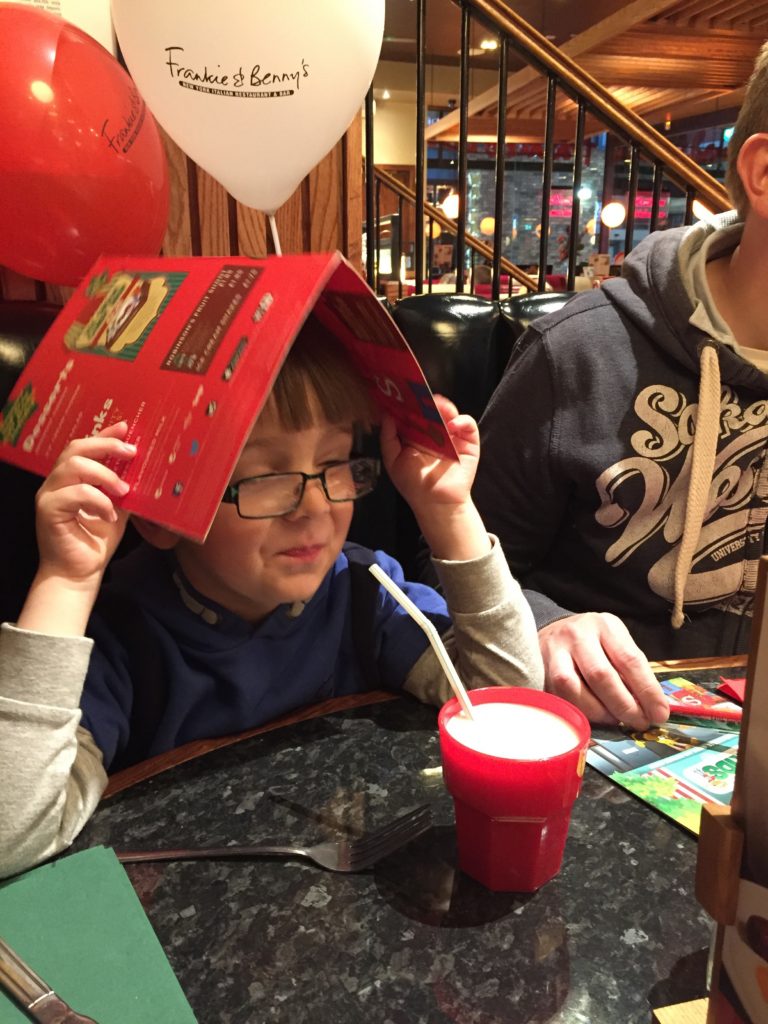 I skipped dessert but there seemed only one obvious choice for the boys to share and my boy had already spotted it on the menu! It was the Ice Cream Candy Shop, you do pay a little extra for it as its not part of the kids included desserts but   having seen the enjoyment my two had with it, I'd would treat them to it again next time. It does say great to share and I would say it was two much for just one of them so I'm glad they did share it between them. It came in a little wooden crate with a bowl of ice cream and various sweets to sprinkle on as well as a little jug of chocolate sauce. Upon seeing it for the first time the boy exclaimed "This is the best day ever!" which made me laugh quite a lot!
It even came with a little paper bag to take any remaining sweets home which was a nice touch!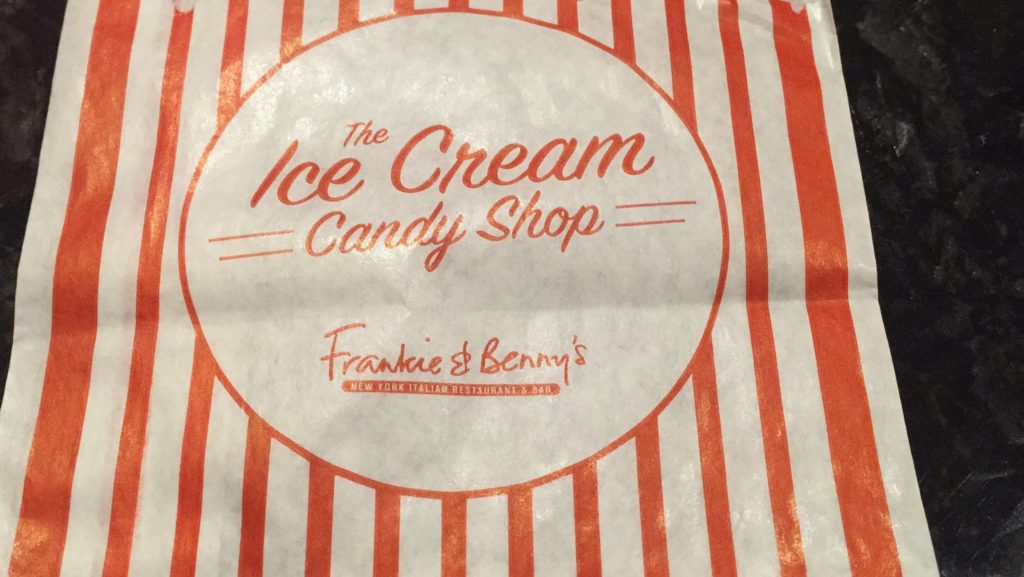 Hubby choose the waffle and ice cream on recommendation from our waiter, he was not disappointed, I could smell how nice it was from across the table and sadly he had already tucked in before I got a photo!
By the end of the meal we were all perfectly satisfied and came out having had a lovely family day together, the trip has proven to me that the Printworks is much more a family destination now, and I look forward to more days out there together in the future to try out some of the other restaurants although the boy is already requesting to go back to Frankie and Bennys!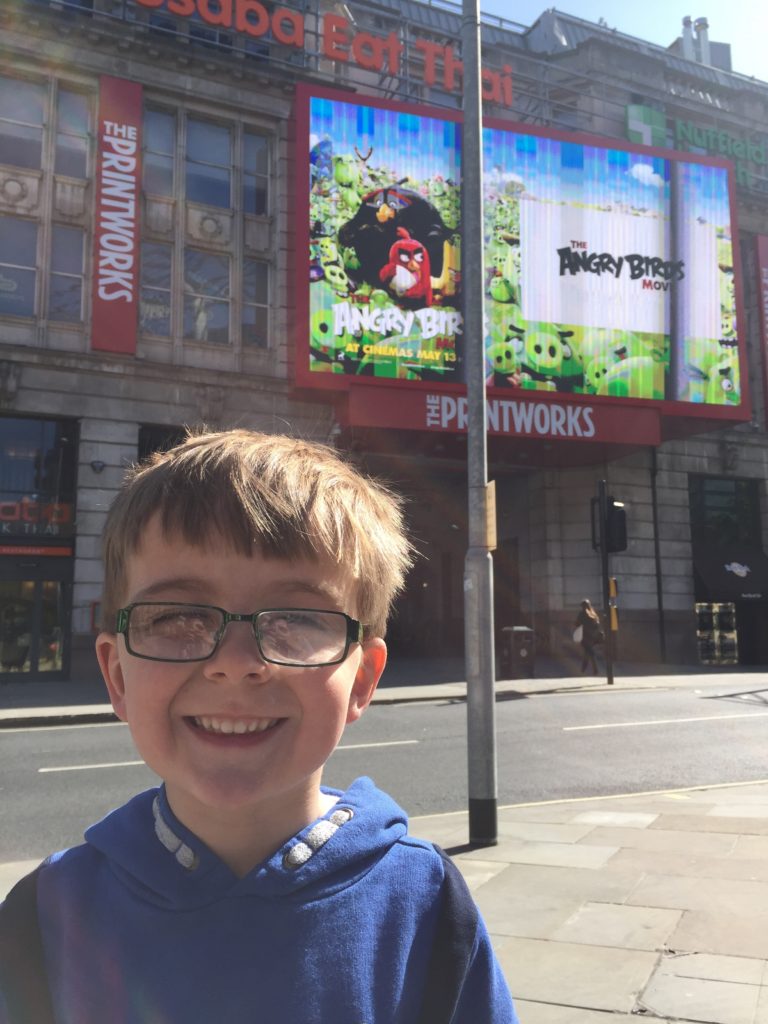 Thanks from us to the Printworks for inviting us to come and enjoy some family time together!