Geronimo – A fabulous family day out!
Geronimo has been and gone for another year, this year was our first year visiting Geronimo at Tatton Park. In case you don't have time for the whole post I'll summarise it for you now. We had an amazing day out that surpassed my expectation in everyday although it was very busy we still managed to enjoy everything.
And for those of you sticking around to find out what we got up to here goes! We headed the warnings on the website and made sure to arrive early. Thankfully the weather was on our side and it was set to be a sunny day at Geronimo!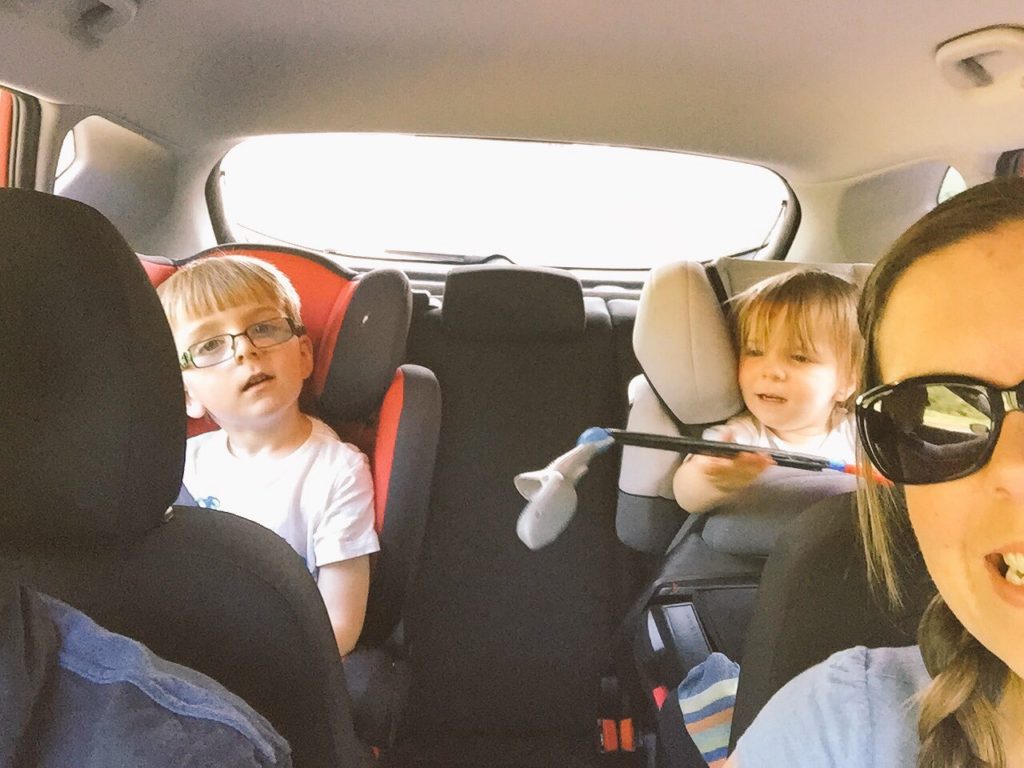 Flixster was sad in this photo because he'd just broken (again) the shark he loves a lot – we've spent more money repairing that shark than it cost to buy in the first place!!
The festival itself was due to open at 10am but I noted that it did open a little earlier than planned which I think was a great move by the organisers considering the crowds that had already begun to build up. We arrived around 9am and were parked up pretty easily with no queues, the whole car park seemed well organised which makes a refreshing change for a large festival. Grateful for no queues to sit in on the already hot day we headed to the entrance. We were through the main gates in no time and wristbands on our arms headed to get a map. The map listed everything going on at Geronimo that day and gave you a rough idea of where things we happening. It would have been easy enough to wander around Geronimo without a map but the times guide was very useful!
Our first stop was the 3ft and under area, there was a mixture of things in here, some soft play for the little ones, some story telling, some mini shows etc. We quickly came across Mini Professors who explained that we could book the boys on to a science class about bubbles. Now the boys are mad about bubbles and the eldest loves a good learning session so it was a no brainier. With them booked on we had 45 minutes to do something else at Geronimo before it began. So off we headed the big inflatable area, bound to be a winner!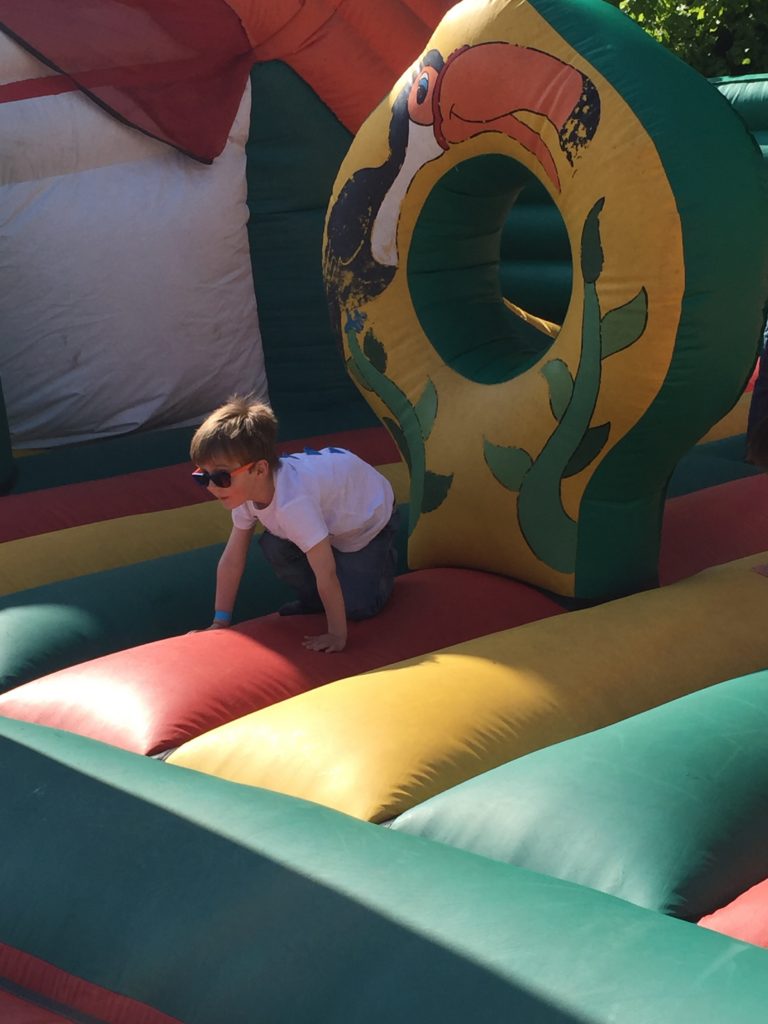 The queues for rides and attractions weren't too bad early on and so whilst the boy had some bouncy fun I took Flixster to the mini roundabout, he loved it!
I really love it when things like this are included because with little ones you never know which way it's going to go, will you pay your money and have to endure a ride full of tears? On days like this it doesn't matter if they love it and want to go on 10 times or are not so sure and don't enjoy it, because at Geronimo its all included! No need to spend extra on all the rides!
The time quickly passed and we were heading back to Mini Professors to do some bubble experiments!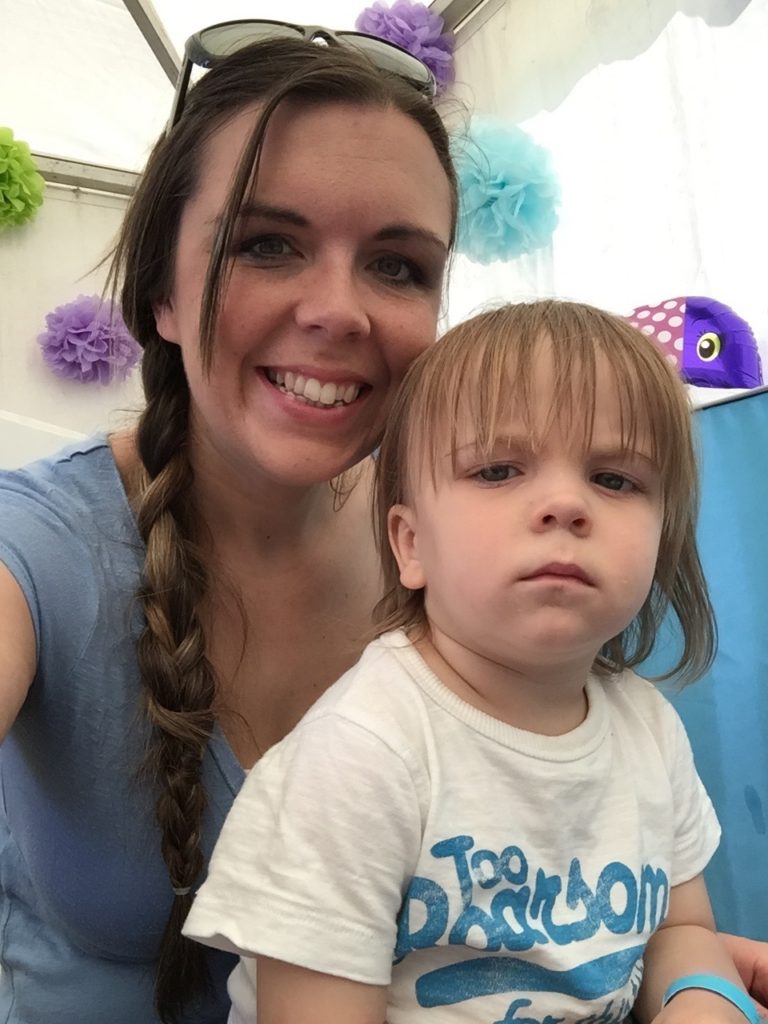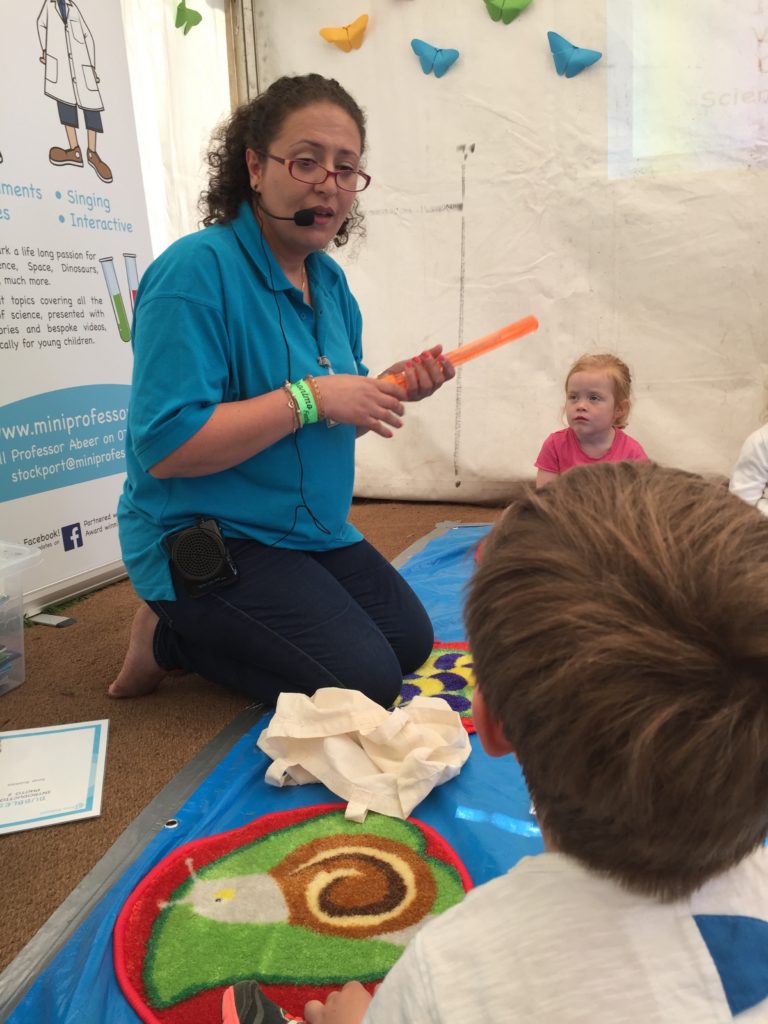 The boys loved it, I promise, despite Flixsters face on the photo! They learnt all about how bubbles are formed, what they are made of and how to hold one. The boy was enthralled, and I'm still hearing all about it now, he even had to pass on his knowledge to the grandparents recently when he saw them. So I know he learnt quite a lot at the one short session.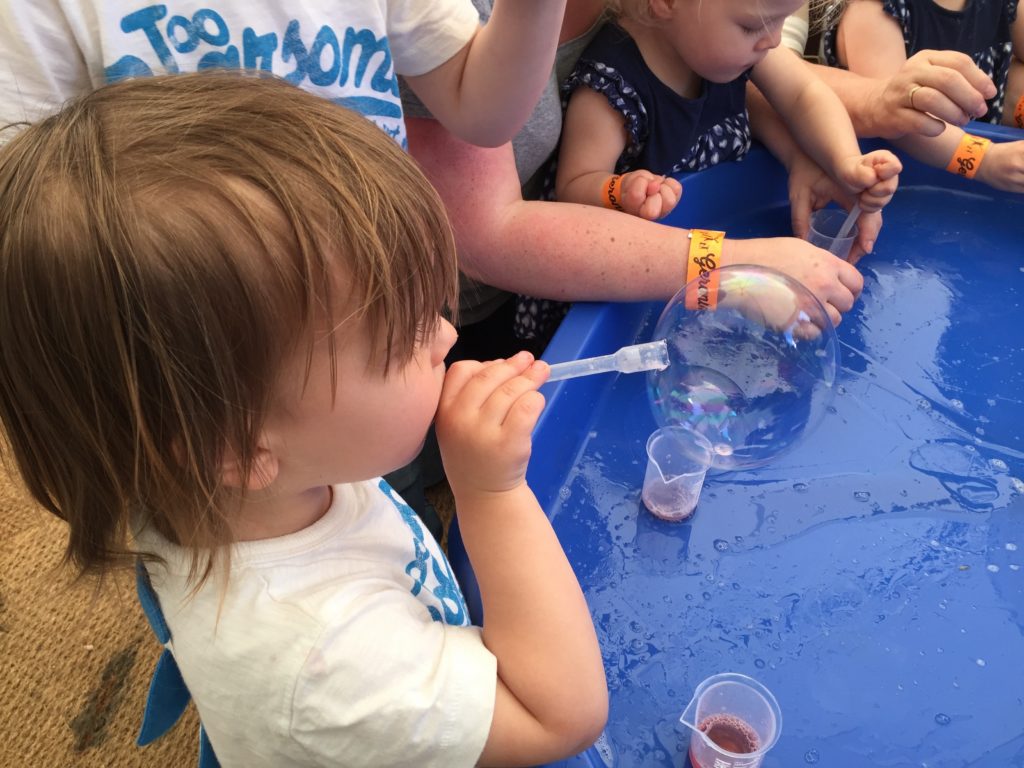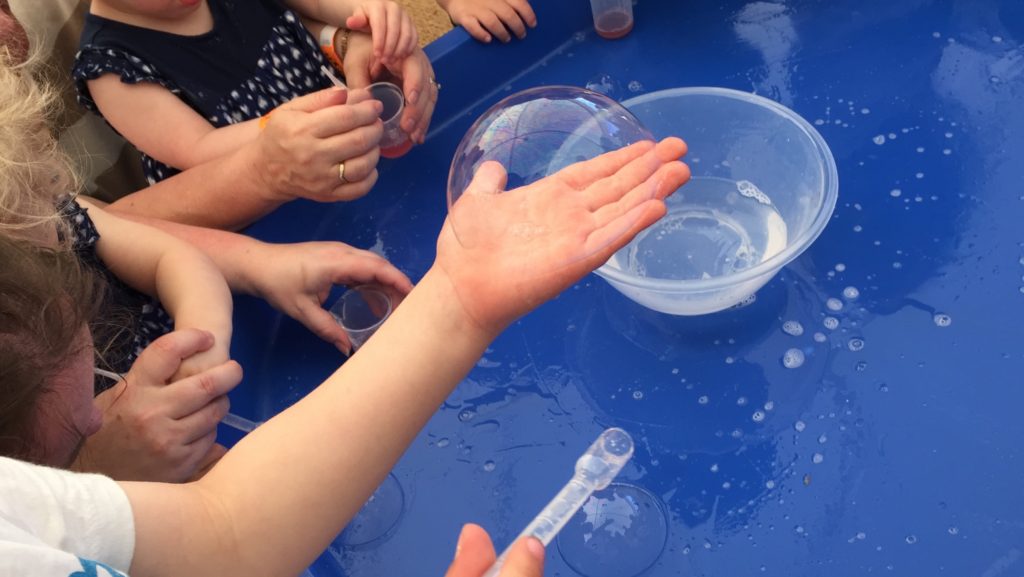 After our session we went on a general explore of the site, there was so much to see and do, we saw live music acts and lots of general street entertainment. The boys were fascinated by the Hippo, where else would you see a huge hippopotamus just trotting along?!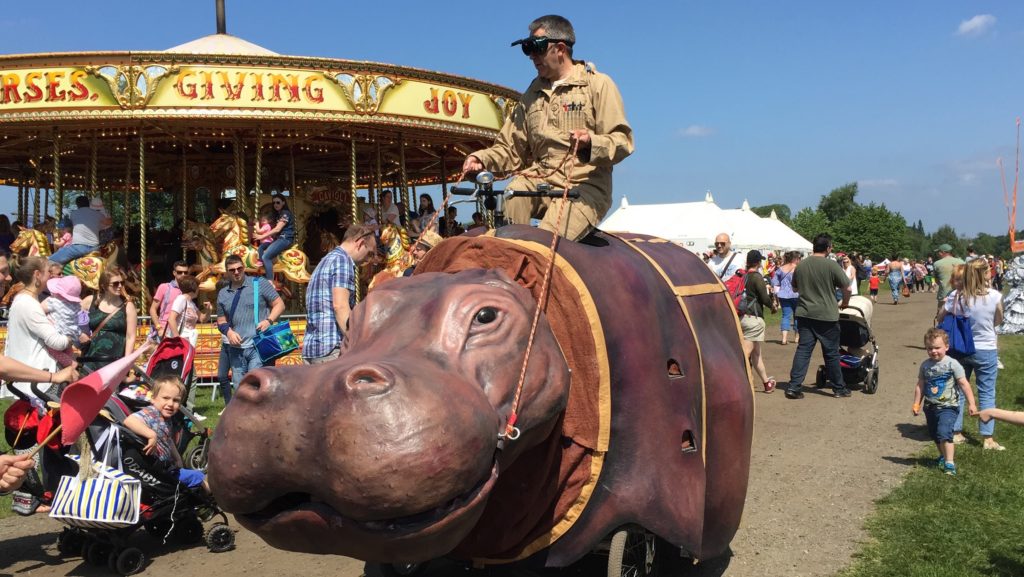 The sun shone beautifully and it was soon time for lunch. We did bring some snacks to keep us going throughout the day, and lots of water to drink too, but we had a mooch round the various food stall and picked the wood fired pizza. We were not disappointed, it was very very nice! It didn't last long with the boys around!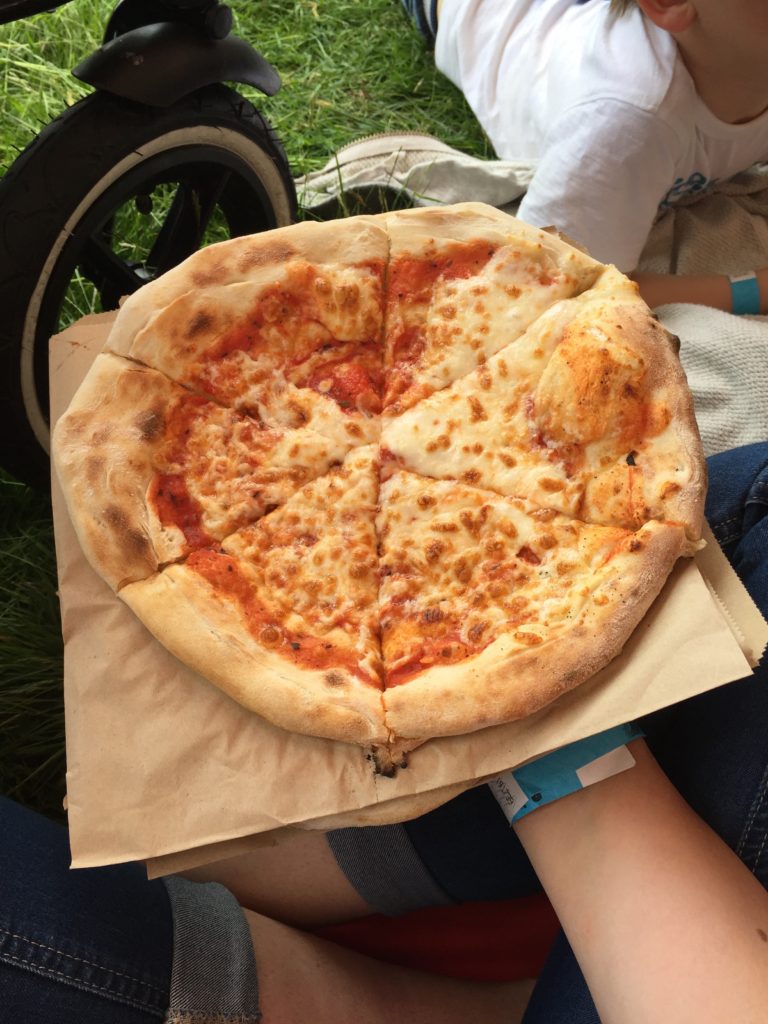 After a lunch sat in the shade and a rest for the boys, it was time for more fun to be found and we didn't have to look far!
The heater skelter had a long queue but with a few rounds of I-spy we didn't seem to be waiting too long, plus with the added distraction of the never ending entertainment the boys weren't bored thats for sure. the giraffe spotting also helped pass the time!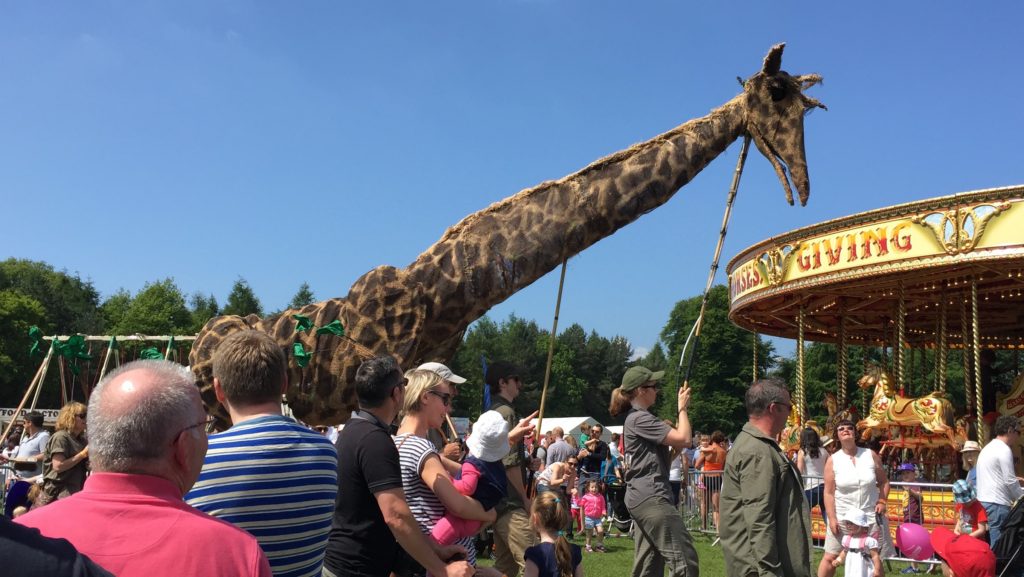 I didn't get a photo of them coming down the heater skelter, I wasn't sure when to expect them but from the smiles of happiness as the boy got up off his mat he certainly had a good time!
The sun was really beating down by mid afternoon and even with water, hats and lots of cream on the weather was really making the boys flag so I suggested we get a spot to watch the main stage, it just so happened that we caught the end of Mr.Blooms show followed by Swashbuckle which the boy adores. He's always asking to go on that show, he loves the idea of the games and the challenges. It was Cook & Line from Swashbuckle on stage (and if you don't have preschoolers or young children who watch CBeebies then you won't know who I mean!)
As you can see from the pictures we were miles away from the stage but could see and hear everything perfectly well which was great for the boys, especially Flixster who enjoyed the dancing most of all!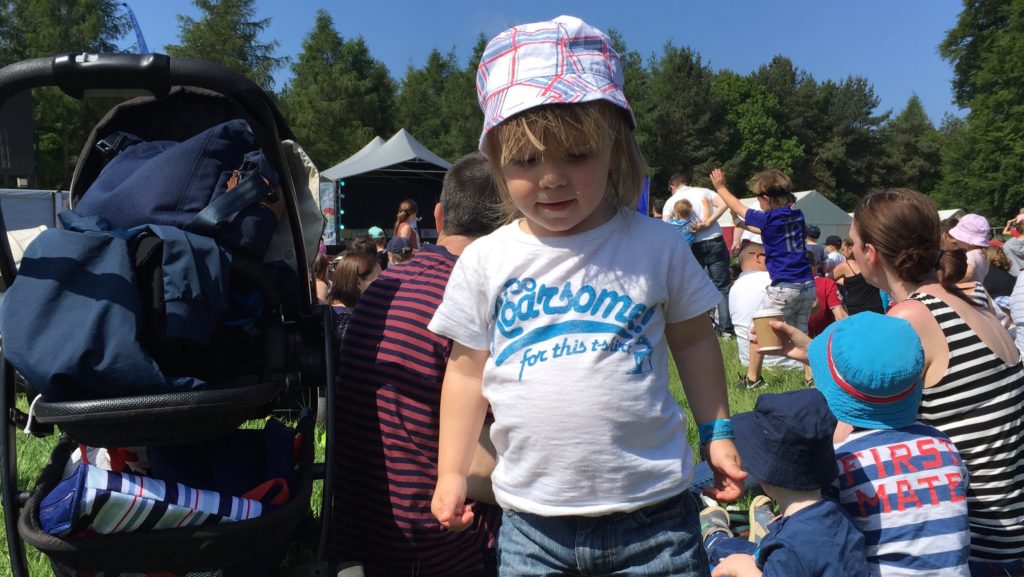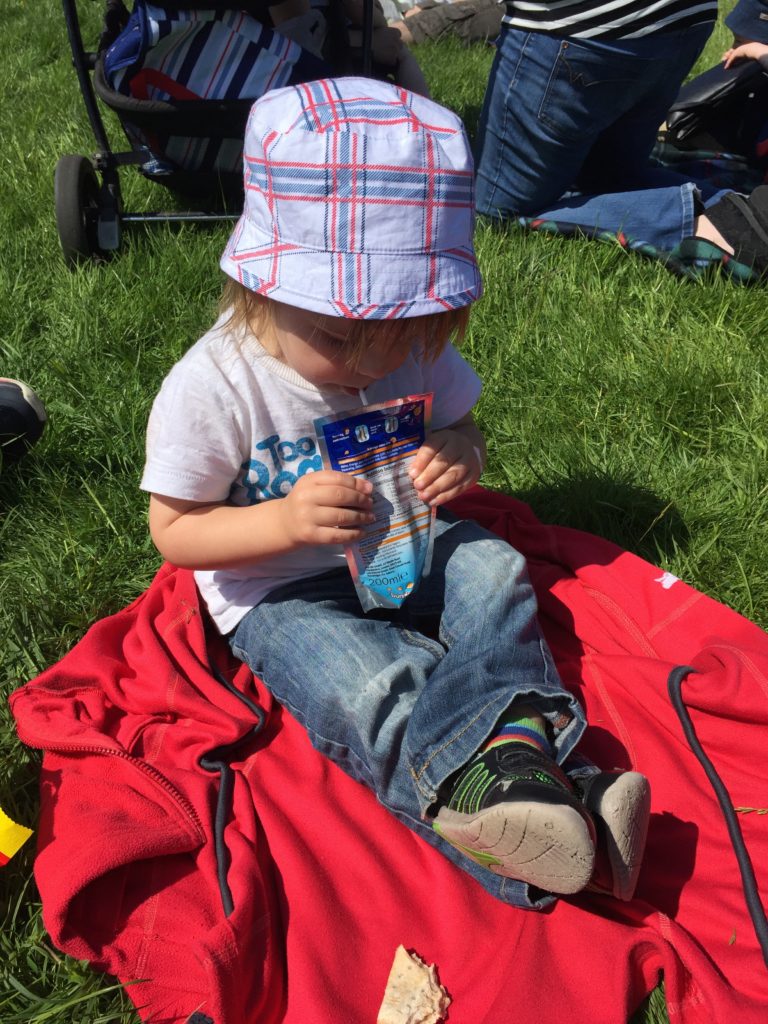 The shows on the Geronimo stage were great and the boys loved watching, it was a nice relaxed atmosphere where it felt ok to just let the boys dance if they wanted to, no one was packed in and there was plenty of room for everyone which was really great.
Even after a full day of shows and experiments and having fun the boys still wanted to go on the rides again a few times before we had to say goodbye to Geronimo for this year and as it was their day I wasn't going to stop them, so off we went. The boat was Flixster favourite by a mile!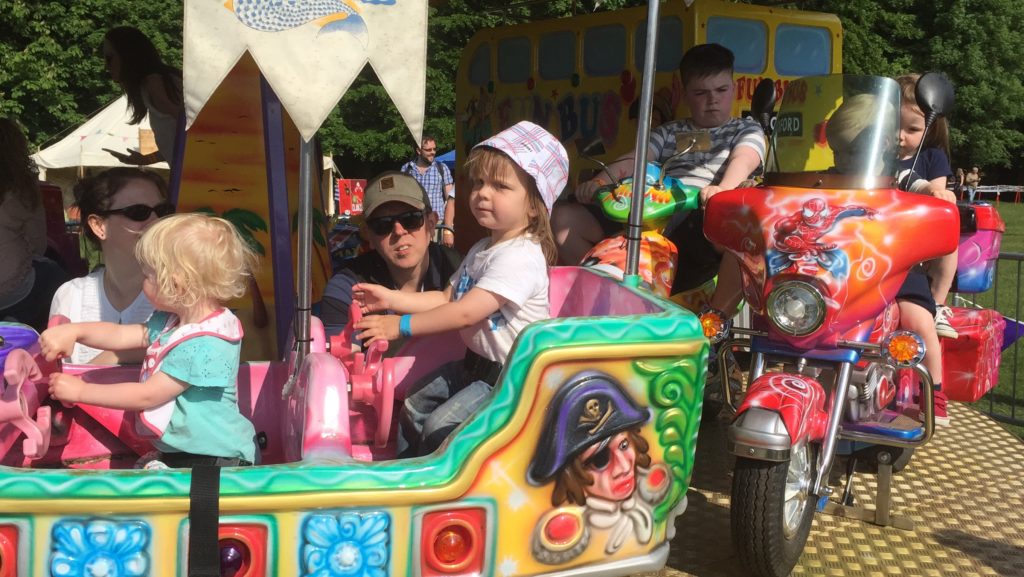 The time did sadly come to have to say goodbye, and of course any trip out wouldn't be complete without a child saying as you get back to the car "I need the toilet"……… so back to the entrance we went……then back to the car again….and finally we were setting off home. Both of them were spark out snoozing within minutes of leaving the Tatton Park site. Happy boys and happy parents. What a fab day we had enjoyed together as a family and another day for the memory banks. Thank you Geronimo team for inviting us to enjoy the day together.