Baby Wish List 2017
I've thought about writing this baby wish list post for a while now. Whilst thinking about it I have managed to be able to buy some of the things on the list. As it's baby number three for us you'd think I'd already know what I'd like. Or have most things. It's true we did keep some things from the other two boys. Some things on the list are things I've always wanted and some are dream things.
This baby is our last baby so I'm really trying to enjoy every single second of my last pregnancy.Therefore I also want to enjoy every single moment of the newborn days. I want to enjoy every sleepless night. Every cry that I'm called to. Each nappy change. Every pointless walk to try to get baby to sleep in the pram.
Transport
The first thing on my baby wish list was a new pram. I've always loved prams, ever since I was a little girl. I've had quite a few with the boys (as my hubby will tell you!) The one I've always wanted though is a Bugaboo. The one I'd really like is a Bugaboo Buffalo as I do a lot of walking. Most of my walks involve not so smooth paths and some off-road tracks the buffalo seems perfect for that. Plus I like the height of the handle. Being a 6ft lady I need a high handled pram and the Bugaboo Buffalo really fits the bill with this. I also like the ability to choose a variety if colours for the hood and the accessories available.
The one I've been looking at is available many places but I love John Lewis customer service so will probably buy it from there. Just to mention I have no affiliation with John Lewis they have not asked me to link to them, I just genuinely like shopping there and the customer service they offered.
Car Seat
For the boys I had a pretty standard car seat and I borrowed a base from a friend which made getting in and out of the car with a baby and a toddler far easier! This time I've looked at a lot of car seat systems and I've decided I'd really like a Cyber Cloud Q. I really like that it lies flat when not in the car to make sure baby is in the best possible position. It's compatible with the Bugaboo Buffalo too which is ideal. It comes in loads of colours and although I currently can't choose a favourite I do like the dark blue one!
Sleeping
Both boys were breastfed and so wanted to be fed little and often on demand throughout the night. I'm hoping if all goes well I can once again breastfeed this little one. So I expect to be feeding in the night lots and so I want to keep baby close to me. Safe sleep guidelines by UNICEF recommend baby being in their parents room for at least the first 6 months of life. My second baby and I coslept for almost a year. We always followed the golden rules of bed sharing which are:
Baby was born full term
I did not drink alcohol or use any illegal drugs or legal drugs that would make me drowsy
I'm a non-smoker
I kept blankets and pillows away from baby (I did not even use a blanket I just dressed appropriately)
My hair was tied back and there were no loose cords etc
The mattress was a firm flat one not memory foam, we NEVER slept on a sofa or chair, always the bed
My husband didn't stay in the bed with us, this was a choice we made together
Baby was not over dressed for the room temperate
I have no idea what this baby will be like in terms of sleep. I would like him to be able to have his own space at night and so would really like a small bed for baby beside our bed. I've looked around and have my eye on a Chicco Next to Me Crib to add to the baby wish list. I really like how close it can be to my bed and as space in the bedroom is limited it looks like an ideal solution.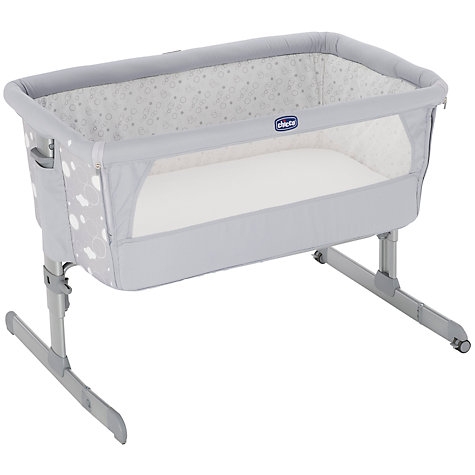 I love this grey one with the white cloud design. I've used grey and white to decorate the nursery so I think it's colours I'm drawn too. Again I'd most likely be buying it from John Lewis as well.
Changing Bag
As this is a baby wish list and not my shopping list I have found my dream changing bag. I doubt I'll be able to afford it since I'm due to go on maternity leave soon but it doesn't hurt to look!
With the boys I had a Pacapod changing bag. I used cloth nappies with them both and so found the organisation of a pacapod bag ideal. It as the name suggests has several 'pods' to store things and keep organised. Since I bought my first pacapod in 2011 things have come on quite a lot with them and they now produce some amazingly beautiful bags. When I saw this Pacapod Firenze bag in the shop I was immediately drawn to its beautiful looks. I didn't realise at first it was a Pacapod changing bag. It really does look stunning.
Inside the bag are Pacapods signature pods to keep yourself organised.This really is the stuff my changing bag dreams are made of! I've fallen in love with a changing bag!
These are what I'd call my 'big buys' the things that will likely cost the most of all the things I'd love for baby. Despite being my third baby it's taken me a while to make my final choices. I've looking at whats out there to buy, things change so quickly in a few short years since my other two were babies.
Now to start working on a wish list for the smaller items and the nursery decorations. I can't believe there's only 12 weeks to due date. Where has the time gone?