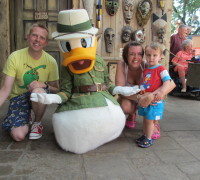 We are already in May now, this year  is flying by. As a family we are still so undecided about holidays for this year. I know I need to make a decision soon though or it'll be too late.
Holidays are a luxury and I fully appreciate that even to be able to consider going away is something that most people can't afford to do. So I do consider myself lucky that its something we may be able to do. We haven't been abroad as a family of 4 yet. The boy is 4 in August and Flixster has just turned 1. We have gone over and over many different options and can't decide which one is going to be right for us.
Before we had children we were lucky enough to be able to go on holiday each year, some time several times. We would frequently go to Walt Disney World which we adore.
Since the boy came along we have taken him twice to Florida, once when he was 16 months and again when he was just a little over 2 years old. Both times we had a fantastically wonderful time. Memories were made for us all. The boy does seem to remember some of the second visit, if that's down to photos and videos I'm not sure but I know he can't wait to go again.
However a holiday like Florida needs lots of planning and I'm not sure I'm comfortable booking something so soon with such little time to plan the logistics.
Recently we've been looking at package holidays through tour operators. Having never really been on a beach holiday I'm not sure what to expect. Would the boys have enough to do? They are both pretty active and we as a couple can never really sit still and relax. We've come to expect lots to do and see on holidays. Our boys are early risers (like 5am risers!) so saying in bed in the morning is sure to be a no-no! We need somewhere that's going to have lots of things to do and see, that's very family friendly.
I always prefer recommendations so love reading reviews. If anyone has any ideas of where to start looking then please feel free to comment. I'd love to read some other posts about family holidays too!