Yesterday we were invited to go on a day out to Salford Museum and Ordsall Hall. Both attractions have free entry which is fantastic! We were gifted lunch at the museum. I was not paid to write this post. As always my opinions are my own and our reviews are open and honest.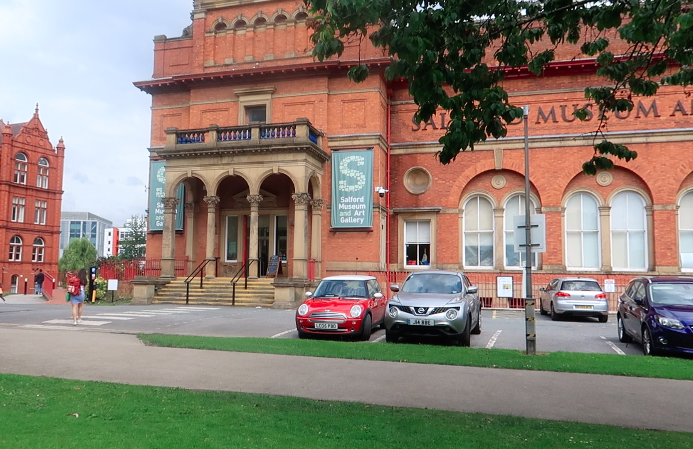 Our first stop was Salford museum and Art Gallery. Now this is somewhere I have been before a long time ago. When I was doing for my A-level art I chose the artist L.S Lowry to study so visited the art gallery to learn and be inspired.
This visit however is different as its the first visit the boys have taken. I'm seeing the museum through the eyes of a child.I did wonder what they'd think about it. Museums have to be engaging to keep small fry entertained. Especially small fry that can't really read yet like my 5 year old.
We headed to 'Lark Hill Place' first. It's a recreation of a victorian street, with all kinds of shops and house to view.
This part of the museum is great for people of all ages, my 1 year old had loads of fun walking up and down the street looking in all the windows. It's safe to let them walk and they can touch anything that's at their height which is great as you're not on pins constantly about them reaching for something they shouldn't be.
After we'd spent a good deal of time at Lark Hill Place we went to look at the other parts of the museum. If you've got toddlers I wouldn't recommend just letting them wander, there's lots of amazing exibits to look at but lots of things are labelled as do not touch. I totally understand why you can't touch them but trying to tell a 19 month old they can't is nearly impossible. So we didn't spend a lot of time in the other area, I would definitely go back without him though. It seemed like there was a lot to see.
We stopped for lunch at the museum before we headed off to Ordsall Hall.
The children lunch box deals are great value at only £4 with a freshly made choice of sandwich.
Salford museum and art gallery are free entry. What a fabulous day out in itself for anyone who lives not too far away. If you don't drive the nearest train station is Salford Cresent, from there its a short walk to the museum.
Ordsall Hall
Our second stop was Ordsall Hall, a place I've never been to visit. It's one of those places that I've often heard about but never thought to spend time there. I'm so glad we got the chance to go today. By the time we'd finished at the museum and made our way over there (which isn't far) we were ready to do some more exploring.
Ordsall Hall is the oldest building in Salford and we learnt that it's over 820 years old. It was certainly well built! Visually it's a beautiful building to look at and its history is fascinating.
We were able to learn through play and recreating scenes from history. The boys dressed up as kings and knights. The chainmail was very heavy and I think it helped Thomas realise just how hard a knight has to work!
I loved looking at the ornate wood carved features, it's hard to believe it's so old and that it was all hand carved.
And the windows were beautiful. Even on a dull raining Salford day their beauty shone through.
Ordsall Hall (like Salford Museum) is also a free entry attraction. There is a pay and display car park which is £2.50 and a little cafe area for light refreshments. One of the areas I'd like to go back and see is the gardens, unfortunately due to the rain I didn't get chance yesterday.
I'm not sure why I haven't been before. We will definitely be coming back again since it's so close to us. It's has something for all ages and children are very welcome, with something for them to do in each room. It was a real surprise for us. I'd highly recommend a visit if you have small people to entertain this summer holiday!
Thanks again to Salford Museum and Ordsall Hall for asking us to come and visit and providing lunch for us.