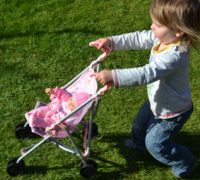 Traditional boys toys consist of cars, construction and weapons. Walk down the aisles of the toy store and there will always be a sea of blue and a sea of pink. Where did these colours come from? Originally who decided that these will be boy and girl colours?
I've always been an advocate of gentle parenting, I try my best to use positive language around my boys, trying very hard to give them boundaries by talking them through things they can do rather than things they can't. My boys are chalk and cheese with their personalities, the eldest is very emotional, gentle, a worrier. The youngest so far has seemed much more confident, nowhere near as risk averse, I'd go as far as to say he's a bit of a risk taker. He's never seemed to attach to anything toy wise until very recently when he's started understanding the concept of 'mine'. A new word in his vocabulary has meant that he's been going to bed with a whole host of random house items that he considers to be his. Last night we had a bed full of items which we later (once he was asleep) sneak into remove, things that included a kitchen spatula, a book, a metal car and his toothbrush which was not leaving his tight little hand no matter what! And as I fancied an easy bedtime I thought the best course of action was to just go back later and retrieve them.
So when we were asked if we'd like to take part in 'National Baby Day' on May 2nd and give some more traditional girls toys a try I thought it might be something my youngest would love and I wasn't wrong. I have never censored the toys they have to play with I'm not at all bothered if they don't want to play with boys toys, two of the most played with items in our house is a pink tea set and the wooden kitchen. The tea set was the choice of my eldest when he was two years old, since then they have both enjoyed playing with it. This tea set was clearly aimed at the girl market with its vivid pink and purple cups, tea-pot, spoons and sugar bowl.
The other day we were excited to receive a 'My Little Baby Born' (Supersoft) and stroller by Zapf to test out which aren't traditionally thought to be boys toys.
Along with 'mine' he also knows the word 'open'. I hardly had chance to open the wrapping before he was pulling at the packaging to get the baby out. We set the stroller up very quickly in just one click and he was away!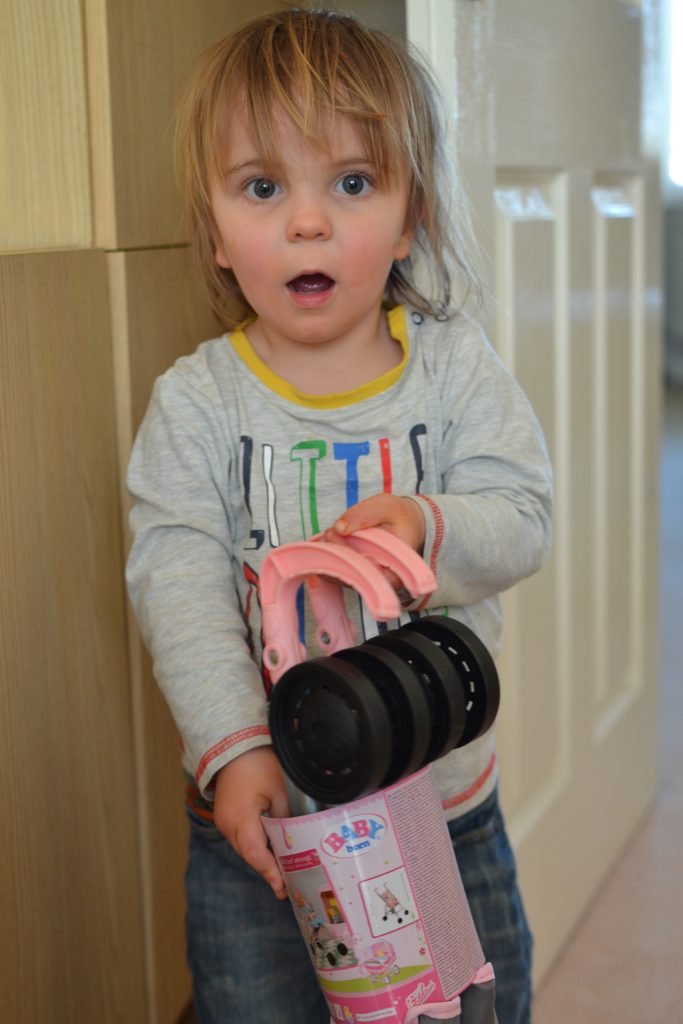 The doll itself is 32cm tall and is aimed at ages 1+

It comes with a dummy attached to a ribbon which is then attached to it's outfit so that it can't come off, and given the amount of tugging and pulling both the boys have done with it I can safely say it's stuck on there! From the moment he wrapped his arms around the baby to give it a cuddle he hasn't let it go. Baby has gone everywhere, in or out of the stroller.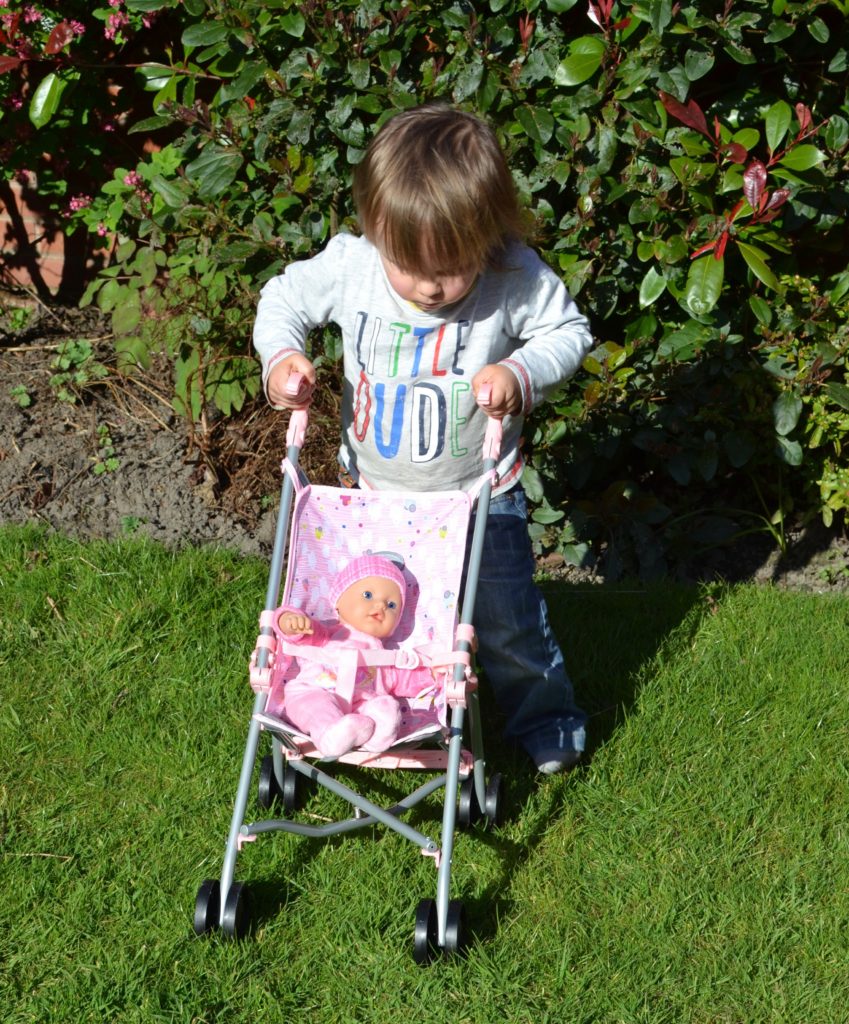 He's not bothered that it's pink, or that it's aimed at girls, all he's bothered about is that baby is with him all the time! Baby has even gone to bed tonight!
Now I know the stroller is only meant for dolls but when you walk out of the room and walk back in a few moments later to find the 2 year old sat in the stroller giving loving cuddles to the baby I couldn't bear to tell him it was wrong!
I want my boys to grow into caring adults, if they chose to have children are gentle parents, who are loving and kind, with patience and understanding. I don't believe in the gender stereotypes and I hope I can teach them that they are free to choose anything in life that interests them and that they enjoy. The dude absolutely loves the doll and stroller from Zapf and I'm grateful for now that he's enjoying something that he can call his own……..'mine!'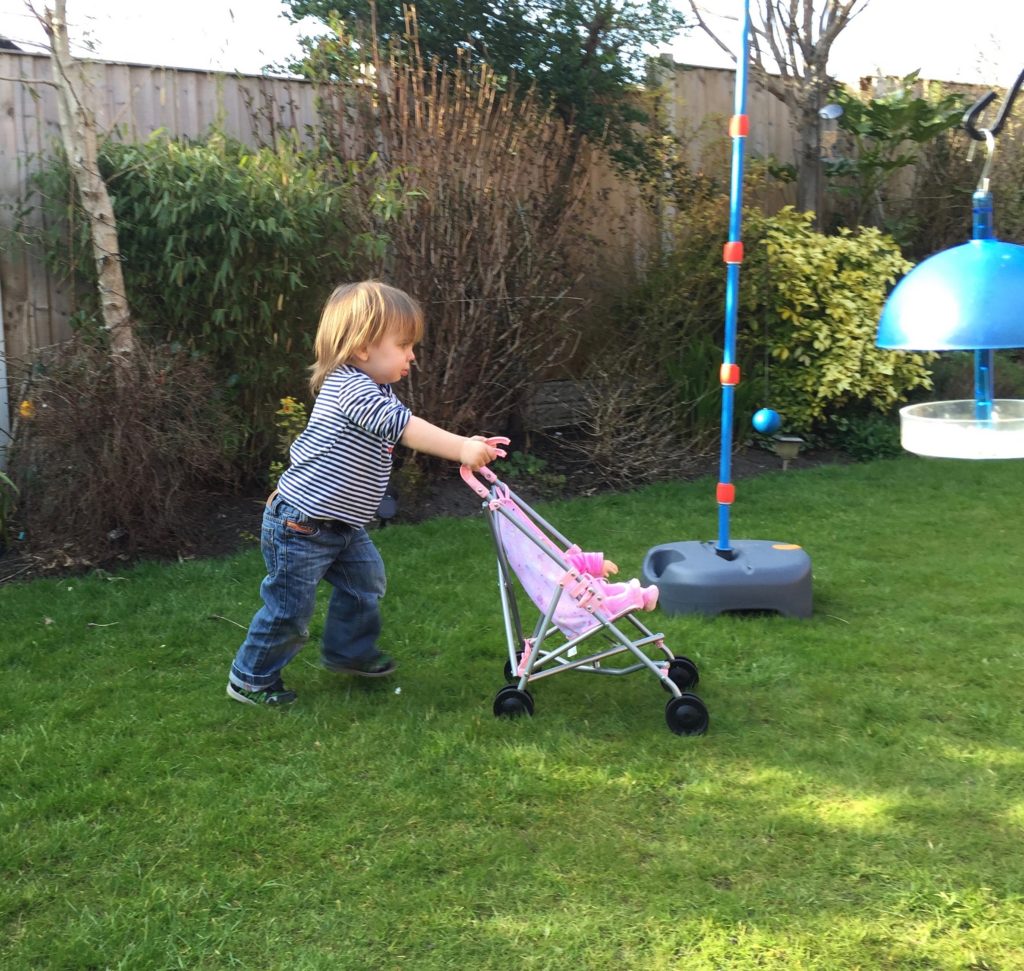 Another sunny day, another walk with baby!