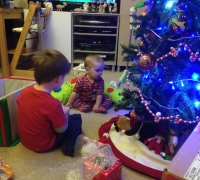 Right now I'm sat in Starbucks typing this alone as my lovely hubby has given me some baby free time so I'm going to start with my gratitude list.
Blessings and Highlights
Being able to sit alone in Starbucks alone for a couple of hours with my laptop typing away to my hearts content (thanks to my hubby) after a hard day stuck indoors with a baby who just wants to be stuck to me all the time (This too shall pass)
Enjoying a breakfast out with my parents and the boys – it was quite chaotic but the boy really enjoyed himself!
Having a lovely day at my mums house with the boys on Monday – watching 'The Snowman' with my Mum
Attending the first home birth meeting being restarted in my area
Meeting up with old friends for an afternoon/night out in Manchester – it was lovely to have some good food and drinks and a proper girly chat! One too many mulled wines and some prosecco later and I was in bed for 10:30!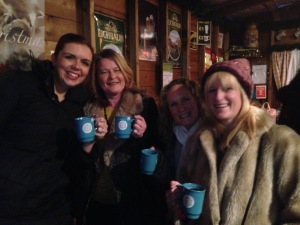 Watching the boys having interactions together under the Christmas tree
Challenges of the Week
A beautiful 8 month old baby who's only happy when stuck to my side – its hard, really hard
A beautiful 8 month old baby who feeds every hour or so throughout the night, every night
Trying to find the time to make all the handmade bits I want to get done in time for Christmas
Trying to find the time to do some things I need to do for work
Things still to do before Christmas
Post the Christmas Cards – They are written, they just need posting now
Wrap the children's and family Christmas presents
Put the marzipan on the Christmas cake and leave it to settle
Write a list of food we are going to buy for Christmas
Get in touch with people we are going to see over crimbo limbo time to schedule a meet up
Make a CD of festive music for my mums car, for when she's driving to see us on Christmas eve
Visit the Manchester Christmas markets one last time before they are gone for another year
Find and buy a 2015 diary I like so that I try to get organised for the new year as I'm going back to work after maternity leave – I'm fussy with diaries, I like to have somewhere each day or week to write notes so it has to be just right.