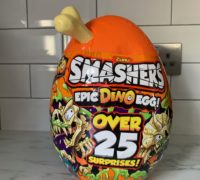 To be open and honest with my readers I'll pop this at the start. We were sent the Dino Epic Egg for the boys to play with at no charge. I have not been paid for this post. As always to keep my blog authentic I only post about products I would buy myself. Felix loves dinosaurs and smashing things so the two things combined are perfect!
Alongside the egg we were also send a pack of 8 Zuru smashers dino egg and a collectors tin (this will come in handy for Felix to store all his little dinos!)
So Smashers Dino Epic Egg does what it says on the tin (or egg!). It is huge! With over 25 surprises to be found inside, to build the exclusive Smash-o-saur Dino!
You can smash the smasher on the ground a wall or any hard surface. Be sure to check where your small people are planning on smashing it first though!
The Smashers app allows you to interact with your collection and earn Smash Points to become the ultimate Smashers champion!
Inside each Epic Dino Egg, you'll discover more surprises like Smash Eggs with a Smash Egg rebuilder and digging tools. With access to Rare and Ultra Rare characters like the Skull Smashers, the smashing will never end!
Now on to the smashing part!
**SPOILER ALERT**
Want to see what we found inside ours?
So at first I have to be honest I was skeptical, would there be enough inside to justify the price? I'm a convert! One by one each thing has been played with. The Ice age putty was a hit (especially with me!) because its not sticky. It's like real old fashioned putty.
Each element contains dino bones to build a large dino, as much as I wanted to feature that on the blog, honestly they've not even opened some of the elements yet! It really is lasting!
The bath fizzier was a hit and they both had fun fishing the dino bones from the water once it had fizzed out. Thankfully the bones float!
They've yet to get on to opening the fossil rock, dino dirt or slime. That's this weekends fun to come! Not to mention being able to smash open the little eggs to see which dino's we are adding to the collection. Lets hope we get a super rare one!
We filmed our smashers Dino epic egg, if you want to see the full thing have a look below
The Smashers Epic Dino Egg retails at RRP: £24.99, is suitable for ages 5+ and is available at Smyths, The Entertainer, Argos, Tesco, Asda, B&M, SAINSBURY'S Supermarket and all the major retailers.