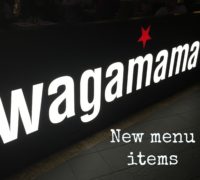 Wagamama – New items on the menu!
We were delighted last weekend to be invited to try out some of the new menu items at Wagamama in the Trafford Centre. Wagamama at the Intu Trafford Centre is the largest Wagamama site in the company and even has a mezzanine floor. This particular branch opened back in October 2015.
We decided that after a busy day helping at the school summer fair we'd all built up a healthy appetite for some yummy tea.
My 4-year-old is a Wagamama pro, given the choice when we eat out he would hands down chose Wagamama every time. He's been eating out at Wagamama since he was very young. We love it because it's so family friendly. The staff are always very accommodating of children and the children's menu at Wagamama gets my stamp of approval as lovely, tasty healthy foods for children. He loves that he gets his own special children's chopsticks and he certainly know how to use them.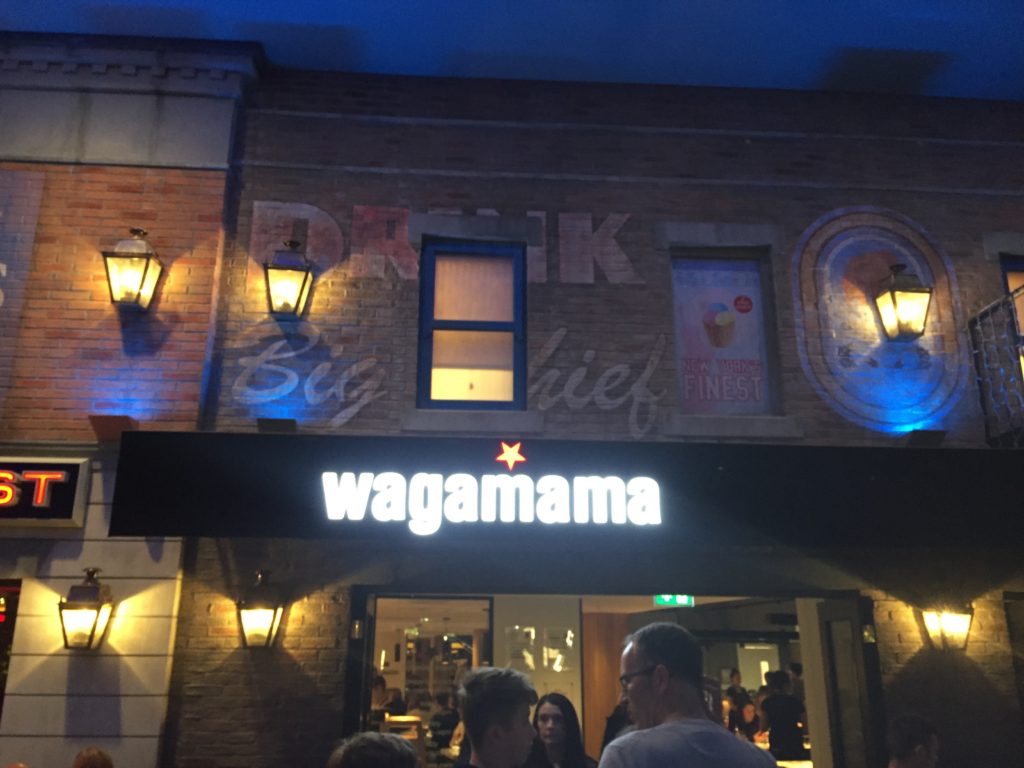 We were sent the invitation to try the new menu items which included Duck Donburi, Steak Bulgogi, Tamari Chicken, two new juices and a new side of shredded duck wraps.
Hubby is a real foodie and so he didn't need asking twice to get stuck in. If you haven't been to Wagamama before they will always tell you that no matter what you order, the food will be brought out as its ready, this keeps it hot and fresh. Wagamama at the Intu Trafford Centre has a wonderfully long open kitchen that really shows off the chefs skills.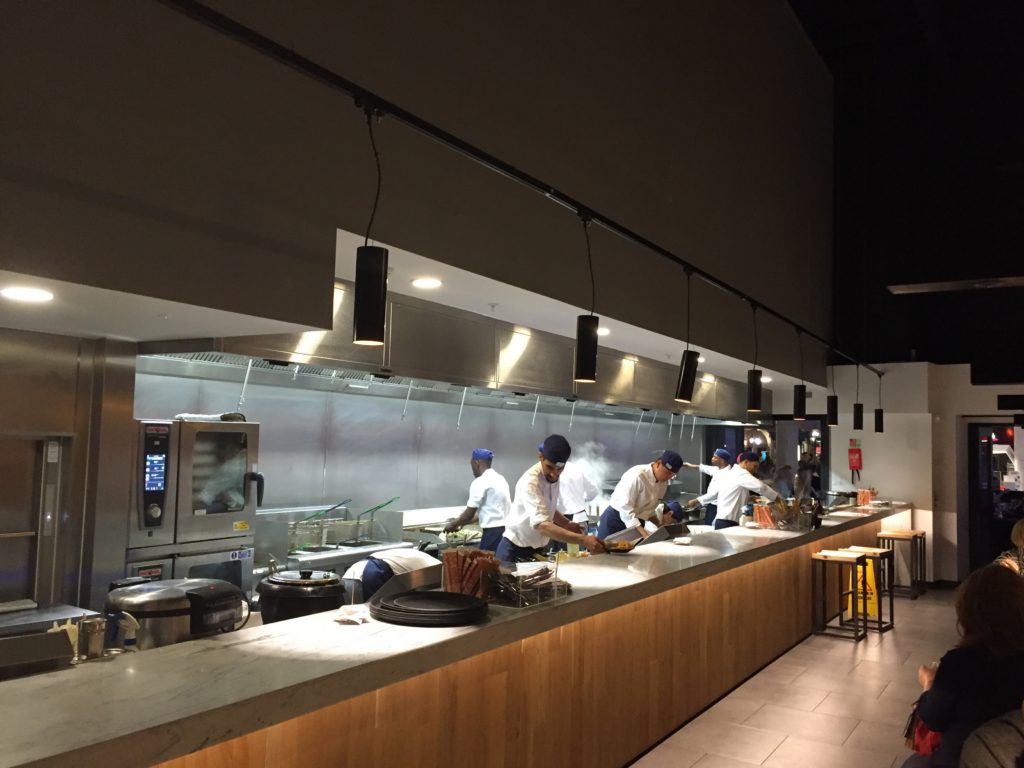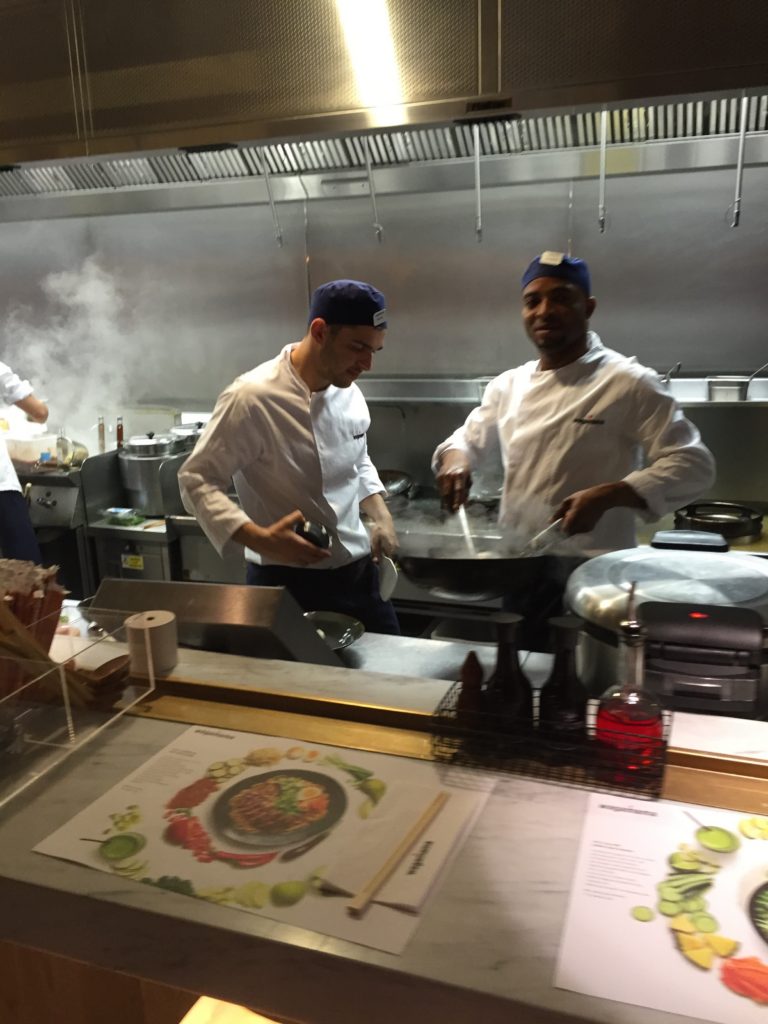 The smell wafting across the restaurant definitely sets the scene of the food to come. Being a large restaurant it was quick and easy to get seated. Each time I've been I've been seated straight away, as every parent knows hungry children don't like waiting! So settled in our booth we quickly set about choosing the food.
The boy loves having his own children's menu to choose from and Flixster just enjoyed the crayons and paper!
We quickly decided to try the Duck Donburi , shredded duck wraps and repair juice from the new menu. The boys chose  mini chicken ramen as its his favourite and for Flixster we chose mini chicken cha han as I figured he'd like it. The food came out as it was ready smelling delicious and looking amazing. The children's meals were still very hot (as you'd expect) so they spent quite a while tucking into the steamed chicken gyoza and shredded duck wraps I should have ordered more!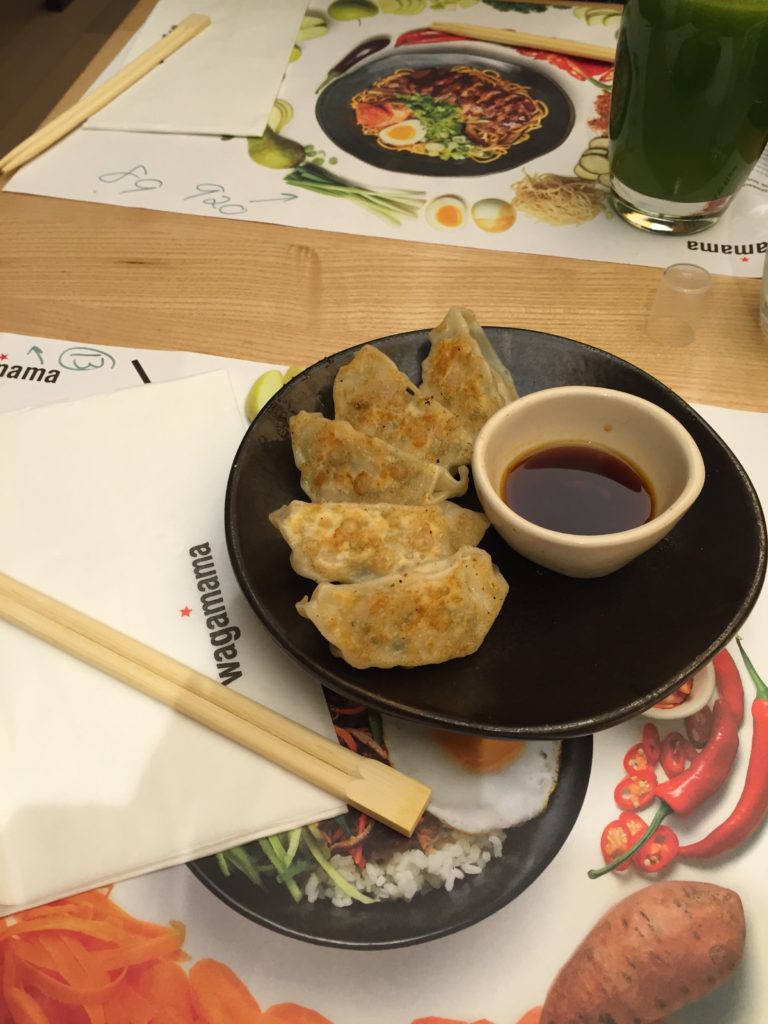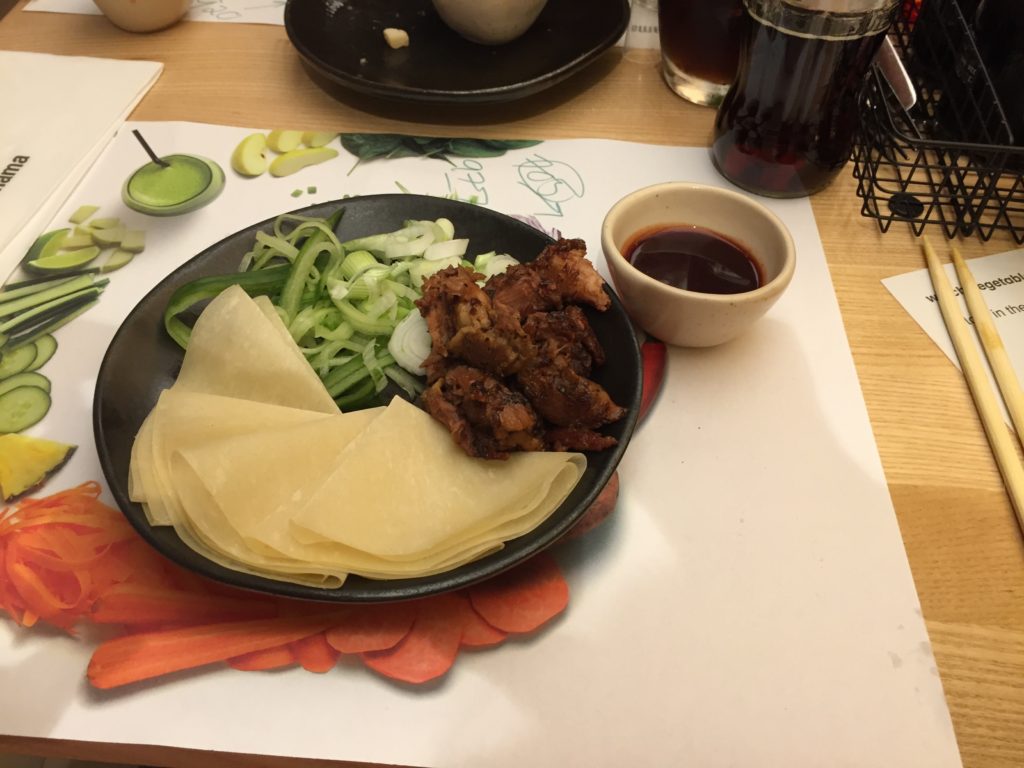 Hubby and I barely got any! What we did taste though was lovely.  We often order the steamed chicken gyoza in Wagamama and it was lovely as always. The shredded duck wrap is new on the menu, the boy lovely it but wasn't sure about the sauce at first, I think he was expect ketchup so the fruitiness really surprised him. He did ask for more though so it was a hit!
It was hubby who ordered the duck donburi it came in a bowl with the fried egg on top. You are supposed to break the yolk of the egg then fold in kimchee and stir up the rice with the donburi duck for the full experience.I tried some and it was delicious. I just couldn't stray away from my absolute favourite thing on the menu (I'm pretty sure it's a favourite with lots of people) number 42 the yaki udon!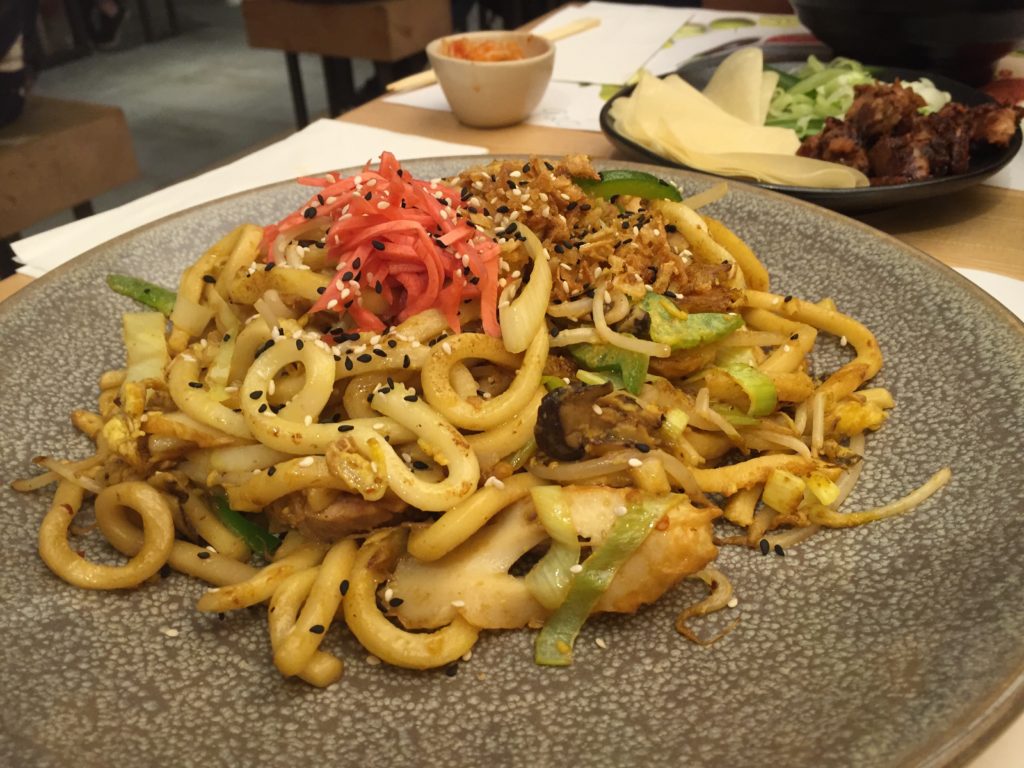 Once everybody dishes had arrived and the sides had been hoovered up we set about eating our own as well as sharing round. I love the children's chopsticks in Wagamama, so easy even my 2 year old can use them!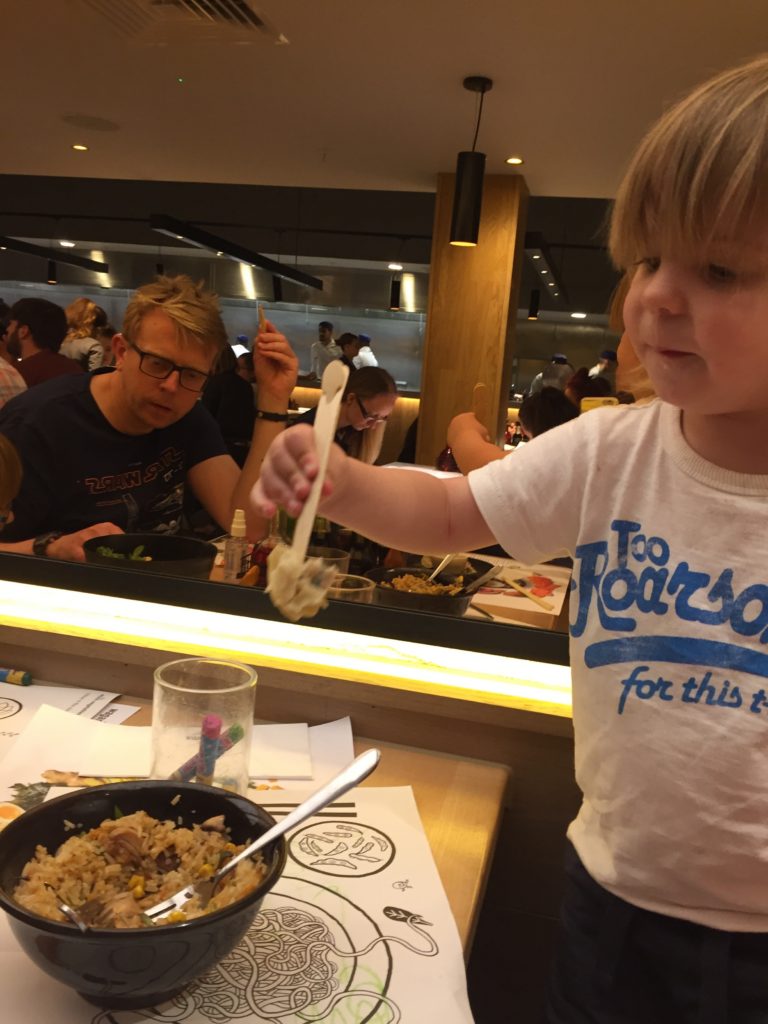 All the food was as always delicious! We loved the new Repair juice with Apple, Kale and Pear. Even the boys tried to share it with us. I was hesitant as I knew it had kale in it but all I could taste was the Apple and Pear, a really lovely drink.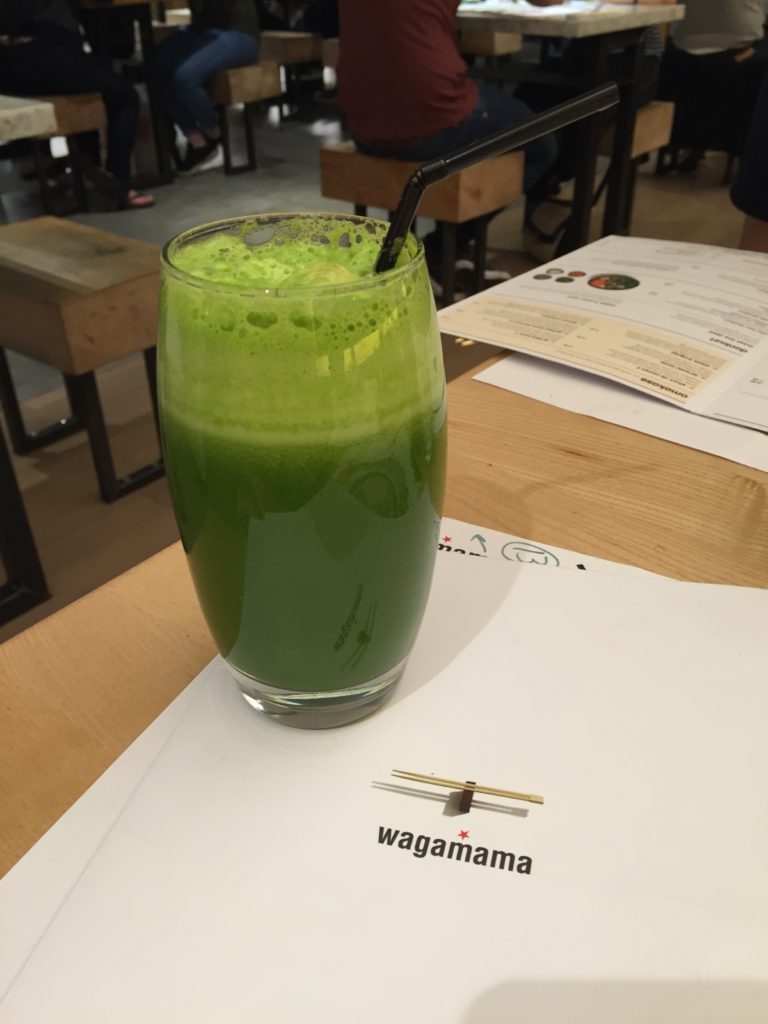 Luckily the children's menu has milk on it which Flixster loves so he was easy to distract with that!
We were so full after the yummy food we couldn't fit in a dessert which was a shame as they all sounded so nice on the menu. The boys even had to have half of their meals in a takeaway box to eat later in the day. I love that Wagamama offer to pack it up so readily and always have the best boxes and containers on hand to safely keep the food from getting everywhere.
Many thanks to Wagamama for inviting us to try the new menu items. We love how family friendly it is and how the food is consistently yummy, delicious and fresh! We'll be back soon I'm sure, especially considering the boy keeps asking to return!