Christmas at Bents just got better!
If you've read my blog before you'll know that I've posted about Christmas at Bents previously. Not because they asked me to. Not because they even got in touch. But I posted about it because I absolutely love the place. It's like no other garden centre I know. Still family run after all these years. With family at the heart of everything they do. I love going there for its family friendliness. The playground is fabulous for little and big ones. The toilets cater for all ages and are always clean (this is very important to me!). The variety of food on offer is just great, something for everyone. And since the expansion in recent years the children just love the toy shop. While we get to view the craft and kitchen shops. I'm always recommending it as a go to family destination, which says a lot for what started as a garden centre.
Bents is on Warrington Road in Glazebury, WA3 5NT.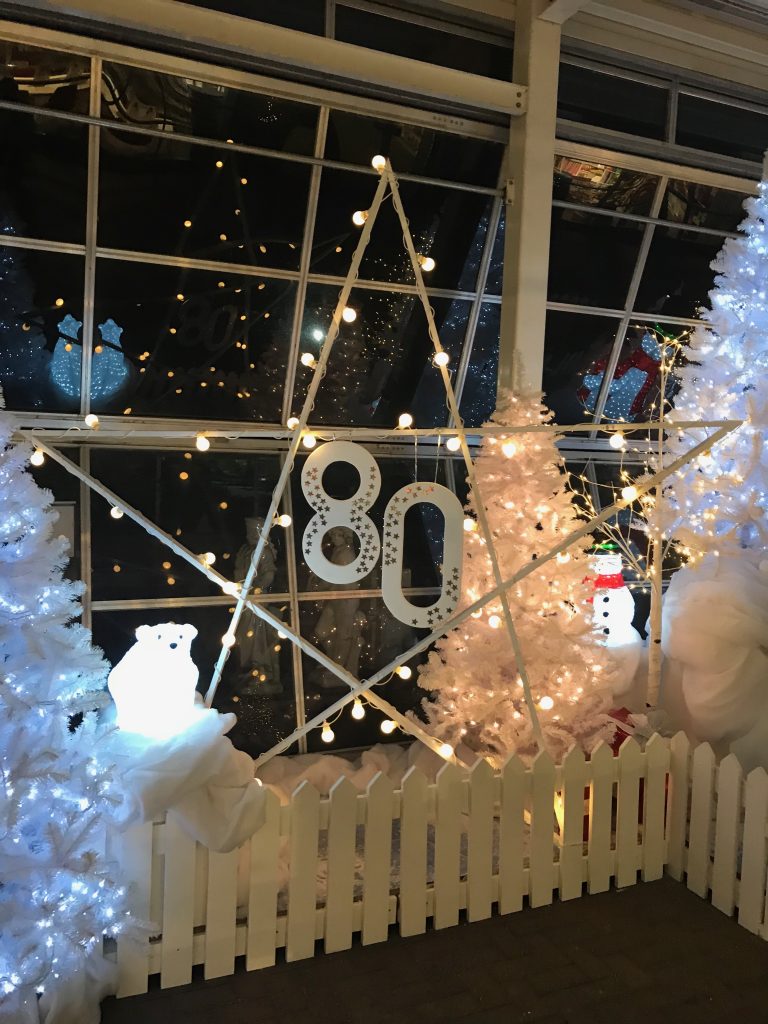 Bents are celebrating their 80 year anniversary this year. As ever at Bents Christmas is a fabulously big affair. People come from miles around to see the displays, room setups and decorations. You are positively encouraged to show from the displays. See something you like on displays just pick it up and buy it!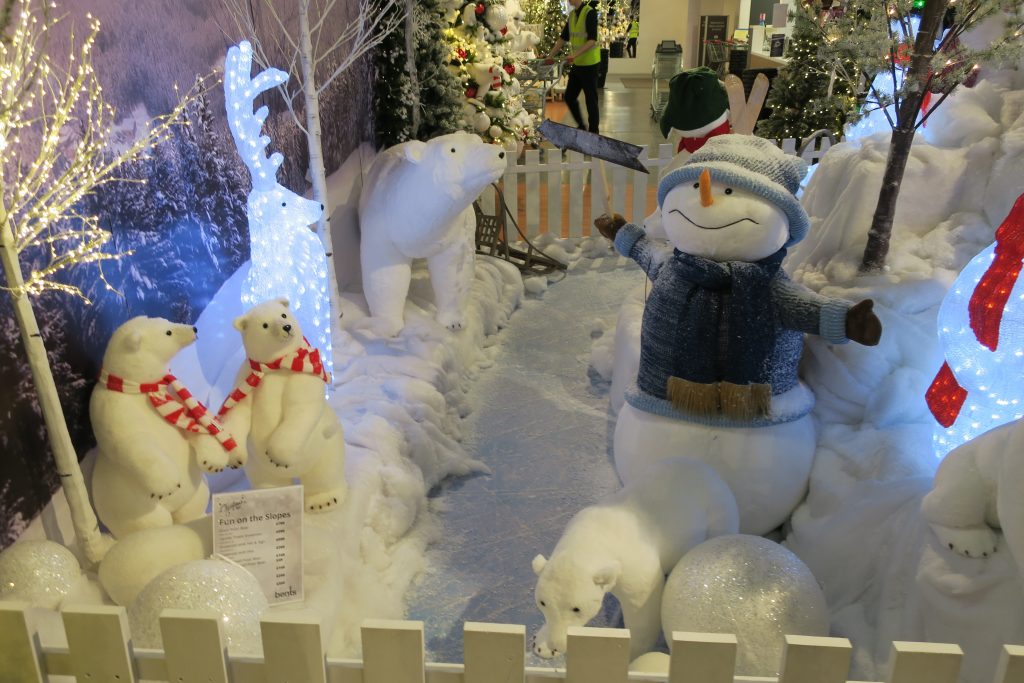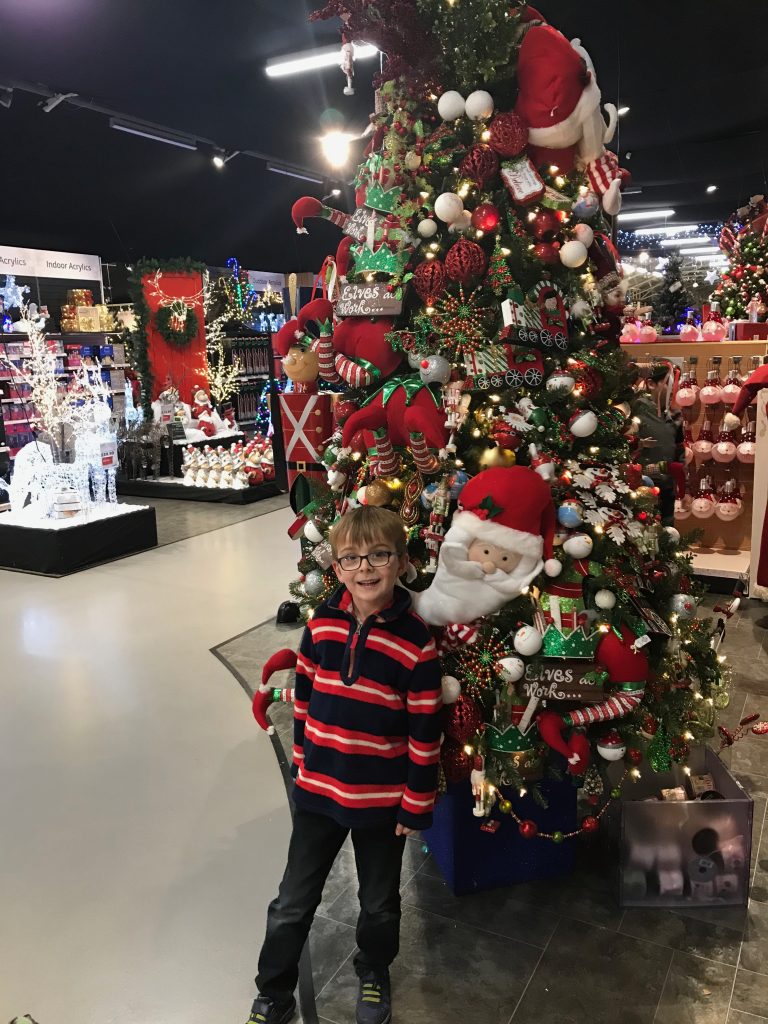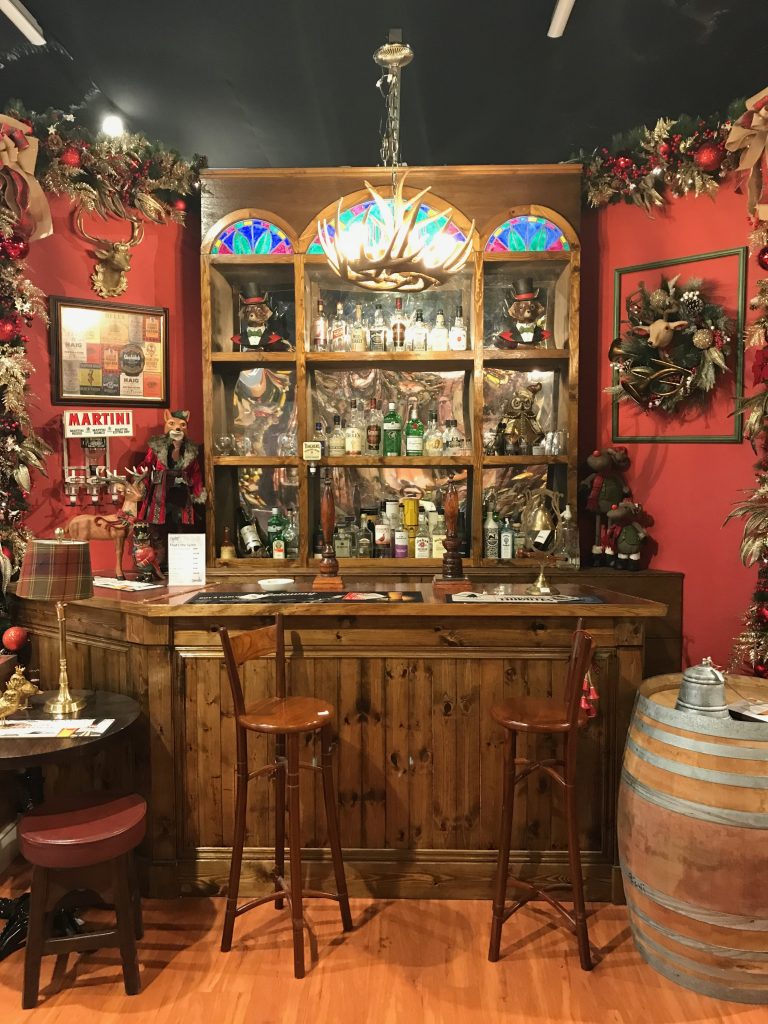 Christmas at Bents is a grand affair – Room displays are a visual delight
This year however just when you thought it couldn't get any better, they just added a whole other level of fabulousness! Bents very own Winter food market! Think Manchester Christmas market food on a small-scale. Its been constructed especially for Bents and is set within the glass house building. So if it rains, it's no problem the roof gets closed, and you stay dry.
We went along to the opening night and got to sample the delicious food on sale.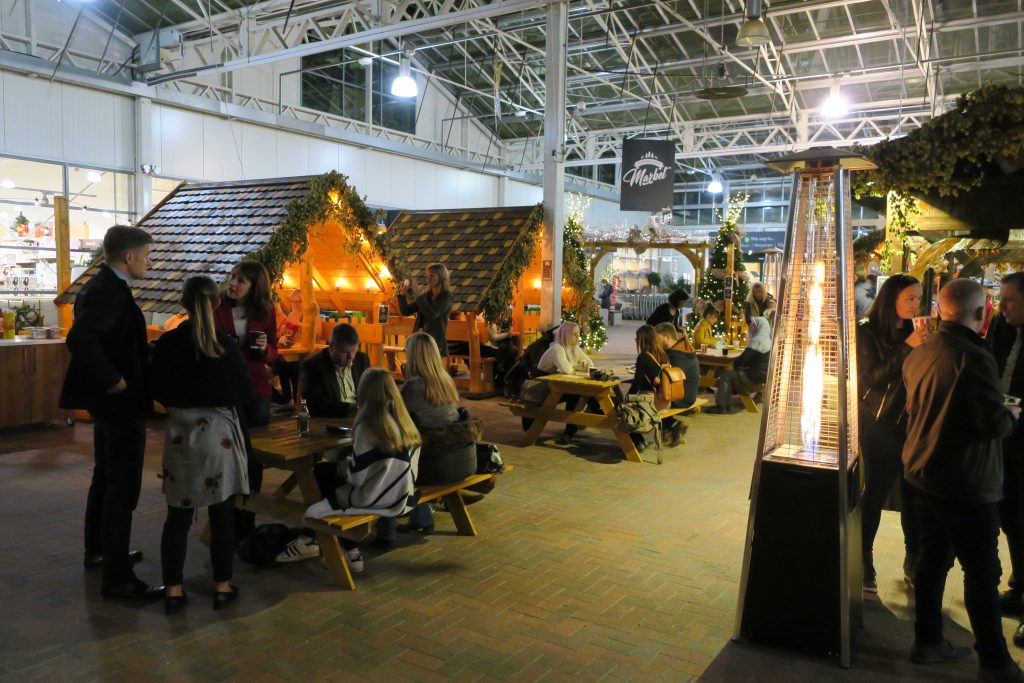 In the middle of the food market is the traditional German sausage stall. With its charcoal fuelled hanging grill. Theres a choice of 3 different authentic German sausages, a premium bratwurst, a chilli bratwurst and a vegan hot dog. The bratwurst are all served in pretzel buns and you can help yourself to condiments. Even the condiments are authentic from Germany.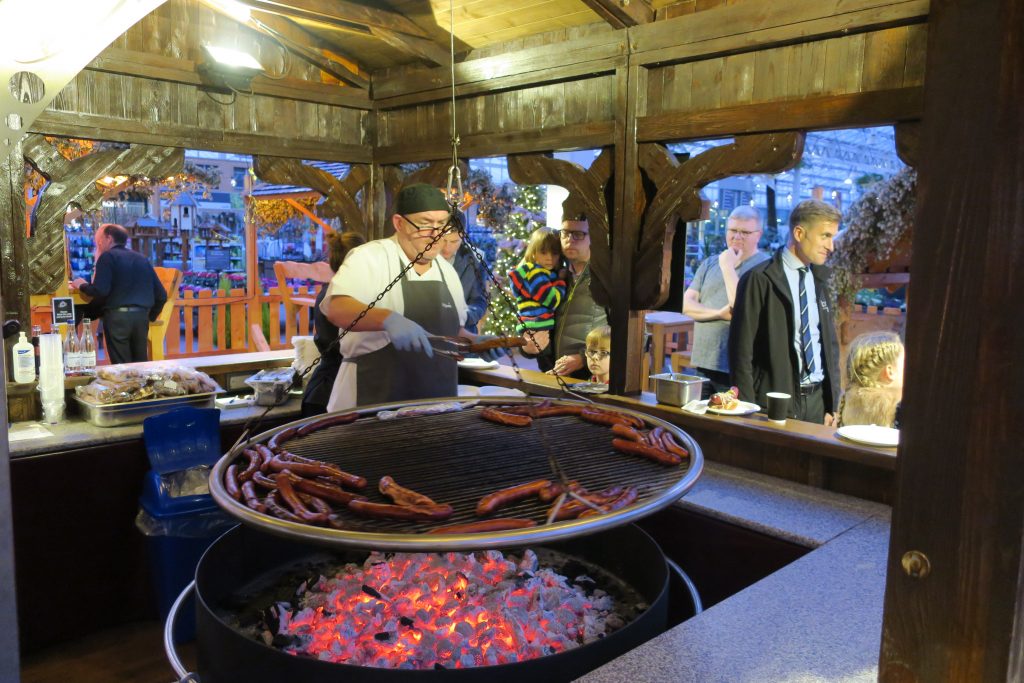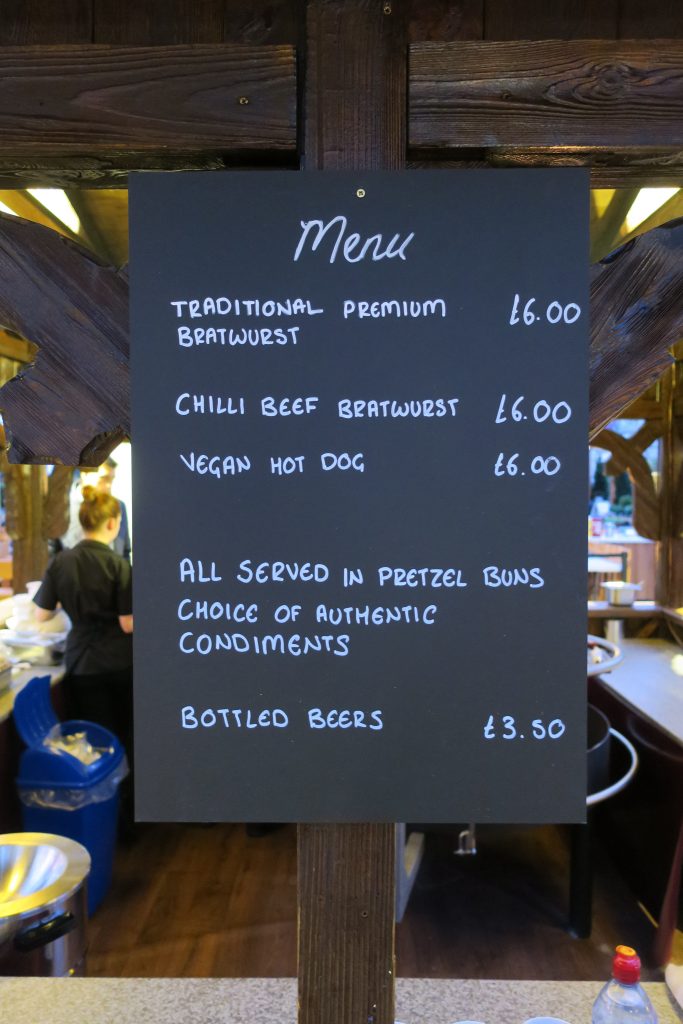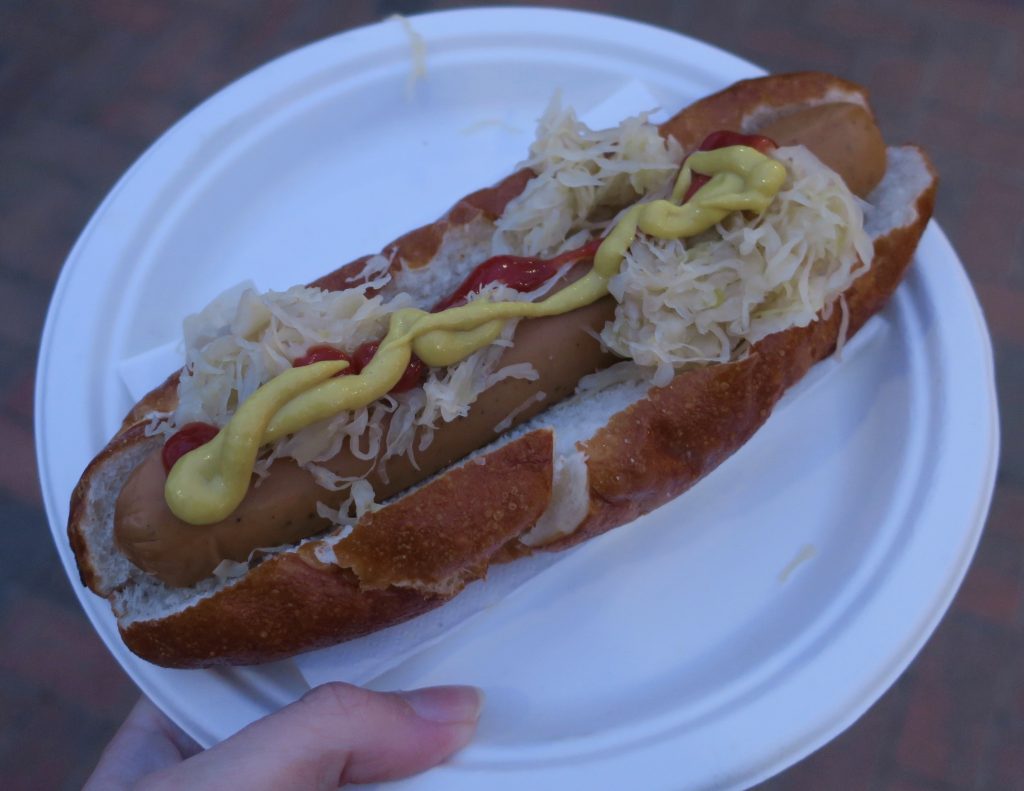 Vegan hot dog in a Pretzel bun with sauerkraut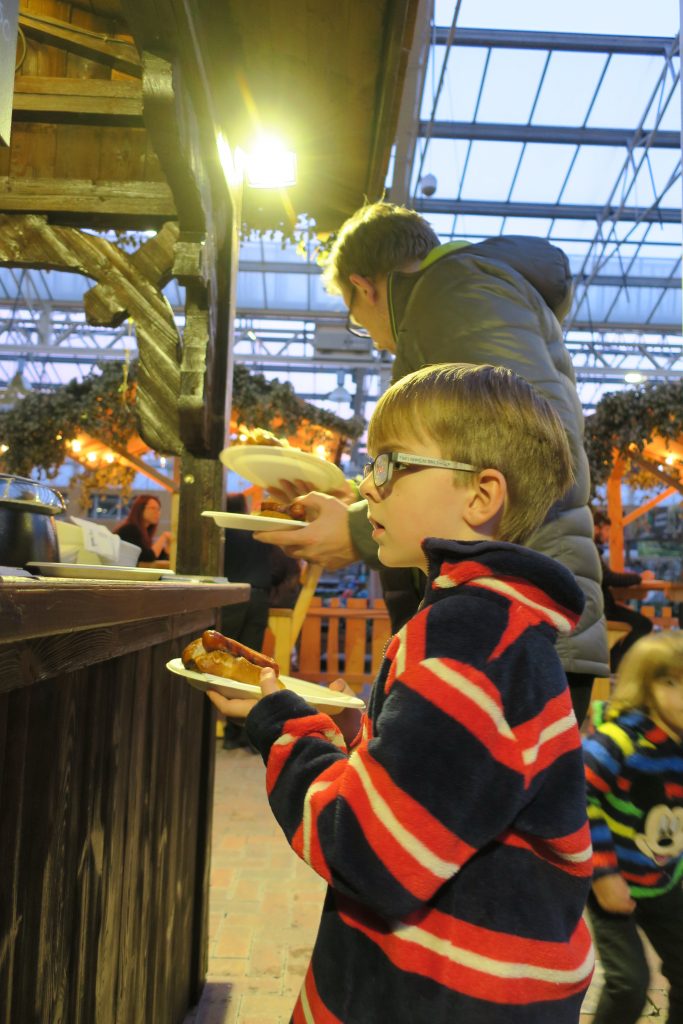 Neil tried the premium bratwurst and the boys shared one. I had the vegan version with sauerkraut. I'm not vegetarian but I'm not keen on meat so I usually go with the vegetarian choice.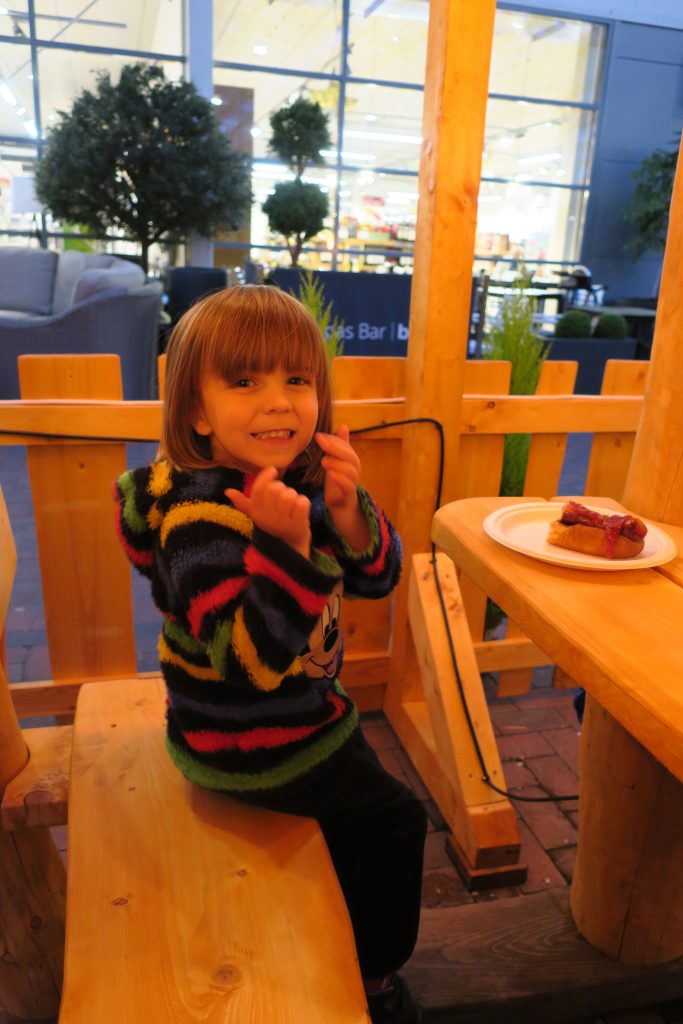 Neil reports the bratwurst was delicious. To eat the we sat in a little hut. Decorated with hops and Christmas lights, I loved it!
Winter Food Market Opening Times
The food markets are open every day as follows:
Mon & Tues: 12noon to 5pm
Wed – Fri: 12noon to 8pm (Fridays they plan to have live music 6pm-8pm)
Sat: 12 noon to 5pm and Sun: 12 noon to 4pm
The other food options at a different hut are pulled pork in a pretzel bun. Alongside pulled mushroom in the same pretzel bun and a snack choice of pork scratching. We couldn't pass on trying food from here. It smelled delicious. So after listening to the live music for a while we shared one of each choice. Neil said the pulled pork was delicious but the boys said it was a little spicy for them. I tried the pulled mushroom, my goodness it was so nice. It came with a slice of cheese and some fresh rocket. I would highly recommend this choice if you prefer a vegetarian choice.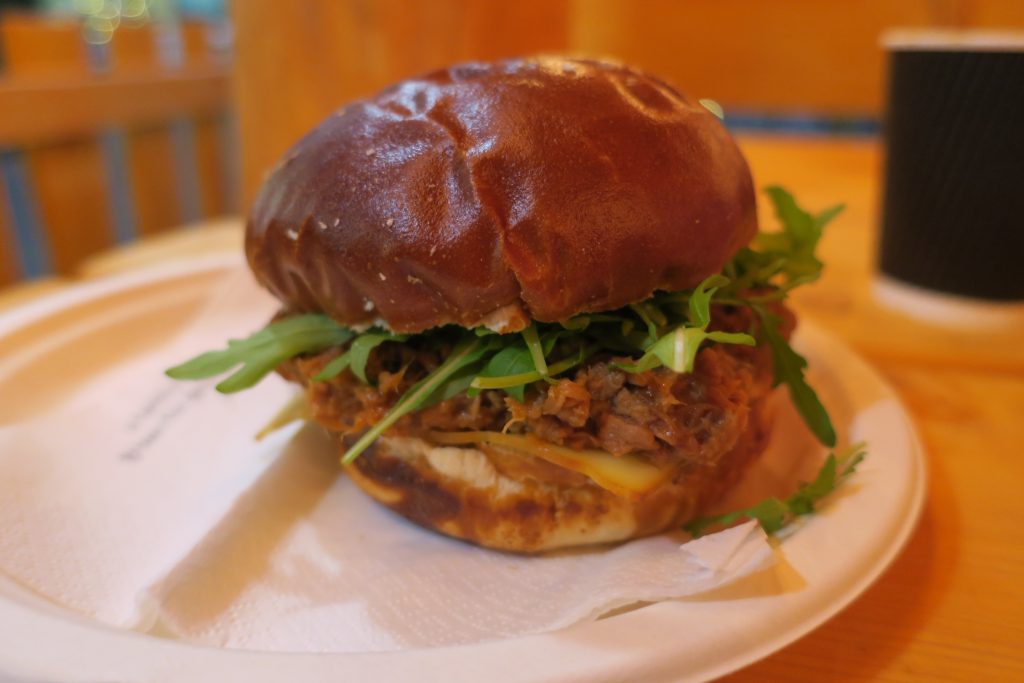 Pulled Pork in a Pretzel bun with cheese and rocket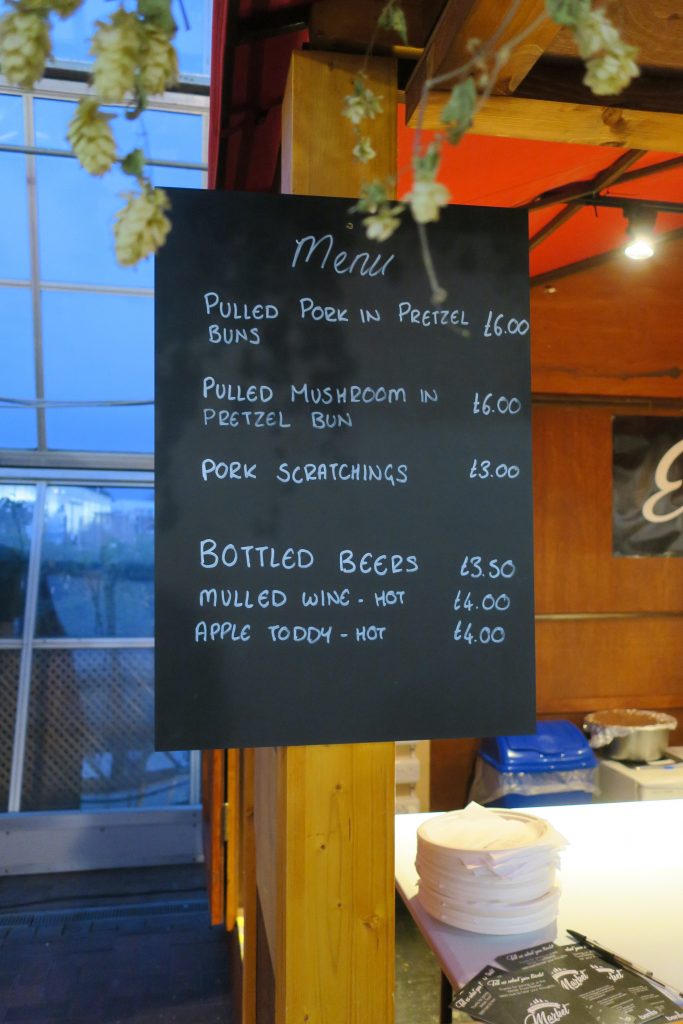 There are two more food huts. The one in the middle sells pancakes, honeycomb and waffles. The last hut sells drinks.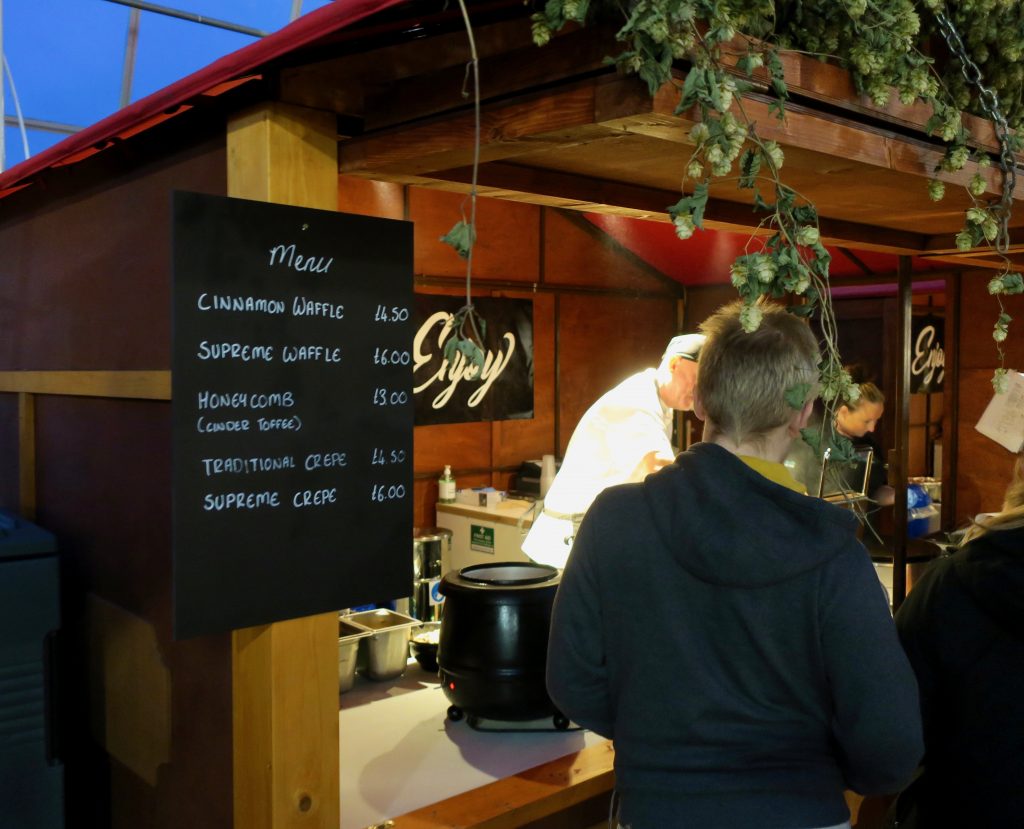 The pancakes were a popular choice!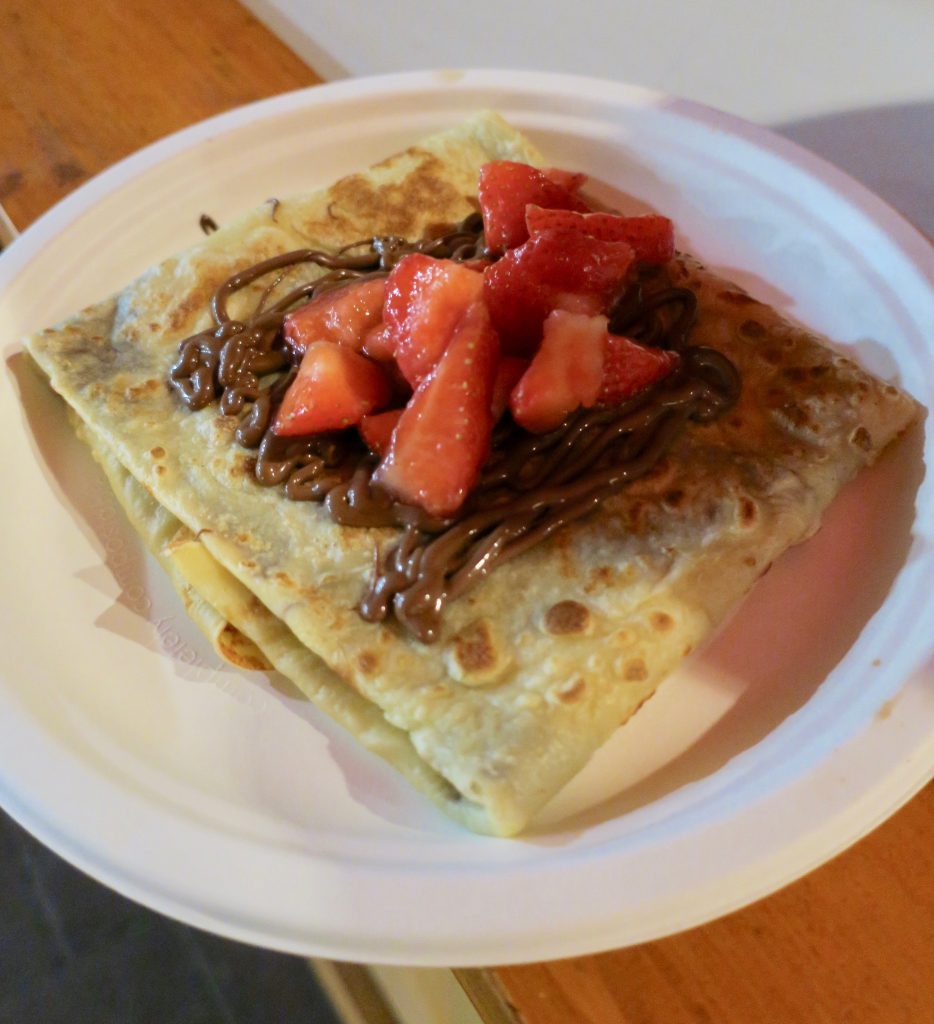 The drinks menu is extensive and sells hot, cold and alcoholic choices. I was told that all the alcoholic choices, bottled bears etc are from Bents very own food hall, so if you taste something you like there's the option to take it away with you too.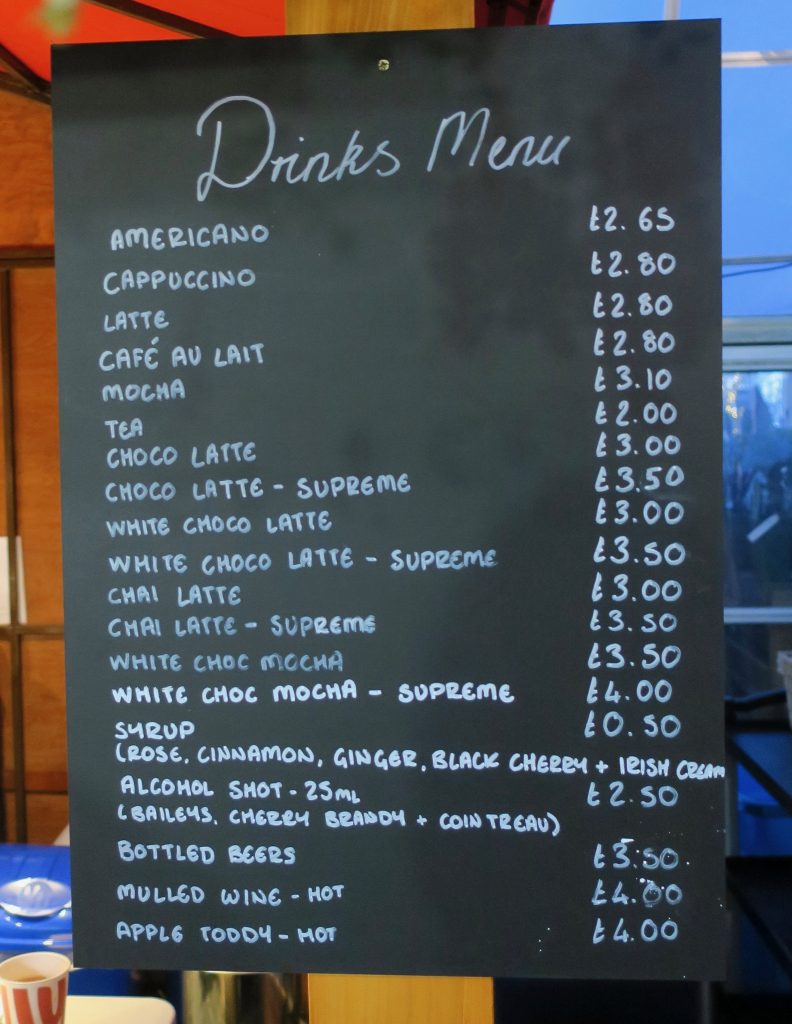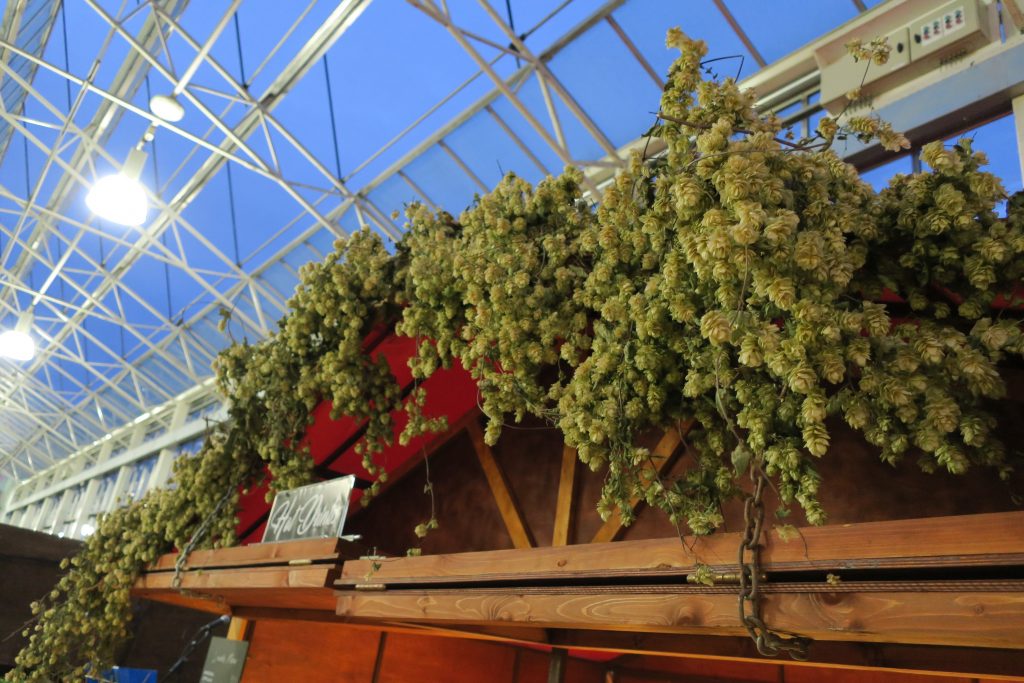 Being pregnant and driving I couldn't really have a drink but I did ask to have a small sample of the hot mulled wine. After all Christmas food markets aren't authentic unless there's a smell of mulled wine and apple toddy in the air. To me mulled wine is Christmas, so I slowly and carefully enjoyed a few tiny sips of the wine. I can tell you it was lovely. Baby is due in 5 weeks now so thankfully I'll be able to go back for a full glass before Christmas once he's arrived!
I'm not sure there's much more I can say about the Winter Food Market at Bents this year. Except if it's not on your list of festive things to do add it now! Its family friendly atmosphere, all-weather ceiling and delicious offerings are upping Bents game once again!