This past weekend I made a trip to the Baby and Toddler Show at Eventcity Manchester with my good friend Jenny from Lets Talk Mommy. I had won tickets in a giveaway on another parenting blog and was looking forward to having a nosey around the various stalls of companies large and small. I have been previously and knew what to expect of the day. I arranged to meet Jenny in Starbucks for breakfast before the show, as usual I was running late so text her as I was leaving to say I'd be there soon. Unfortunately her son had been poorly during the night so she too was running late, we ended up arriving at roughly the same time. I had a pumpkin spiced latte and pumpkin loaf. I love pumpkin spiced lattes but they are an occasional treat for me as I know they are quite calorific so try not to have them all the time. I love autumn and winter time so I know once Starbucks start promoting the PSL its time for the seasons to change!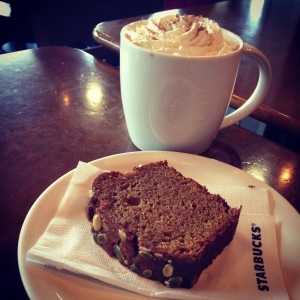 We had breakfast and chatted about the children then headed over to the show. The line to get in was long but moved quickly, once inside we headed straight to the changing area as Flixster was getting grouchy. I didn't bring the boy with me as he'd have been bored and would have a much better time at home with daddy. The changing area was well equipped with complimentary disposable nappies, wipes and Vital Acquaint Sanitising spray. I haven't seen or used this product before so thought I'd give it a go, I used it to wipe down the surface after changing. It certainly seemed to act like water with no sticky residue, I'd definitely be looking out for it in the shops so that I can give it a try around the house. I'm a sucker for cleaning products, especially baby friendly ones! After a quick change we swapped sides and went into the feeding area, as a breastfeeding mummy I love it when comfortable seating is provided for me to feed baby in, I certainly wasn't disappointed at the show, I managed to bag myself a nice rocking chair to feed in. As I was first into the area this was great, I think later on in the day then it may have been harder as there were only two rocking chairs as far as I could see and some other softer seating, so I hope for future shows that they provide a few more comfortable chairs to feed in. After Flixster had finished we headed back into the main show area to begin exploring all the stalls. There were major brands showing there alongside some much smaller companies which was great. I love to see new products and find that getting hands on at show and seeing demonstrations live really helps me to remember them. The show seemed busy but I was able to move around freely which was great. I had Flixster in a baby sling but even the mummies and daddies with prams and pushchairs had room to move which was great. I tried to avoid the large area of prams and buggies on display as I already own three myself and I don't think the hubby would be happy if I told him I wanted another one, I do really enjoy trying new prams though so best to steer clear!
One of the highlights of the show for me personally was seeing the OnetoOne Midwife stand. When I was pregnant with Flixster I referred myself to the fabulous service of OnetoOne midwives as I am very lucky to live in an area that they currently provide services to, free of charge to pregnant ladies. My main midwife wasn't at the show on the day I attended but my secondary midwife was so it was lovely to see her again there. I was on the look out for some new dribble bibs for Flixster at the show and I wasn't disappointed, there were at least two stands selling them but I chose to buy from a company I'd never heard of before called Zippy Bibs as they had a large selection of Christmas bibs and I am absolutely mad for Christmas, it's my absolute favourite time of year, I have fond memories of Christmas as a child and find its even more magical now I have children of my own. So I bought at least 3 Christmas themed bibs in my selection.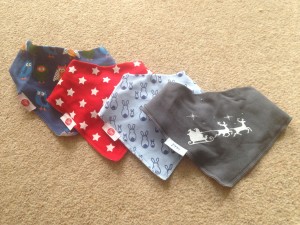 Jenny didn't really have much on her shopping list but did buy a new changing bag or as she would say in her lovely american accent 'Diaper bag' from Mia Tui. Last year I bought a lovely change bag from them at the show so I wasted no time in recommending them to Jenny who does a lot of travelling with her children. Their bags are great for everyday use as a handbag as well as a change bag and are ideal for travelling. I will do a review of mine soon, but as it's in everyday use I'd need to find time to empty it out properly, its like a Tardis! As there's so many lovely colour choices Jenny took her time to decide on a beautiful autumnal coloured one that will go with anything.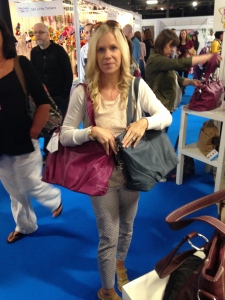 Jenny and I spent quite a lot of time at various stalls and by the time we had finished looking around and shopping our tummies were rumbling so we headed oer to the Trafford centre for some lunch before heading our separate ways to go home.
The baby and toddler show was a fun day out but I'm not sure it would have been worth the £15 price per ticket, in the run up to the show there were lots of ticket offers flying about so if you can get a discount on future shows then I'd highly recommend it to expectant parents and parents of young children. I didn't notice many products for toddlers but I'm sure this may change in future years as it certainly seemed busy this year so I'd hope that in future this would attract even more brands and products to the show. I'm looking forward to visit again in future as Flixster gets older!