As part of a year long celebration of Roald Dahl's 100th Birthday Tatton Park is rounding off the celebrations and saving the best until last with it's Christmas spectacular! To help get the celebrations off to a great start we are giving away one family ticket to Tatton Park which admits two adults and up to 3 children. See the bottom of the post for entry details.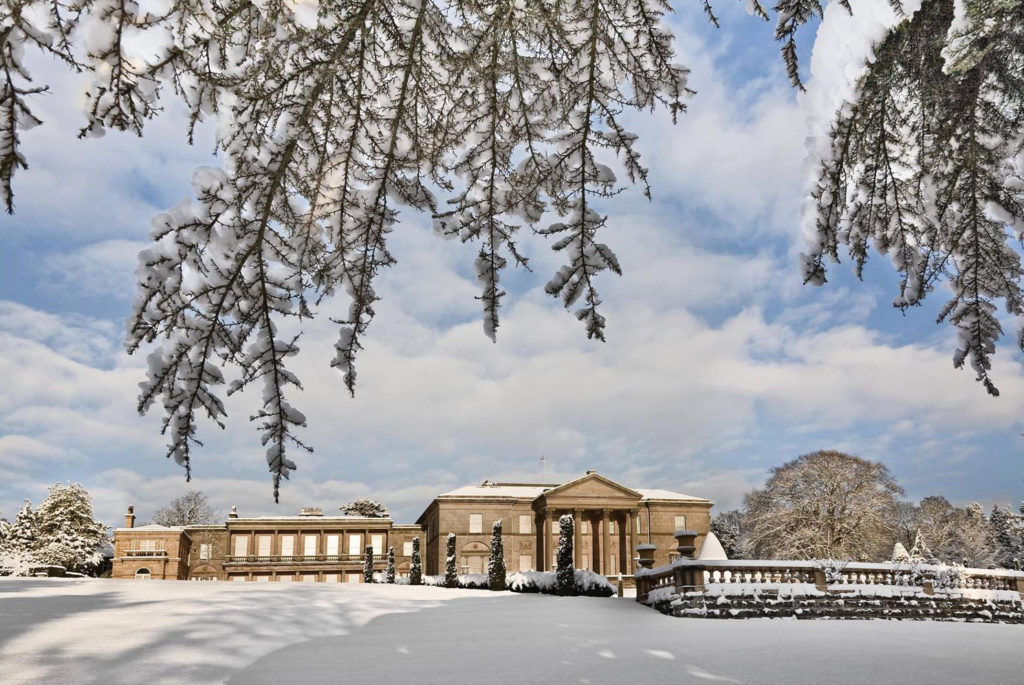 This festive season, experience Christmas in the most magical way as Tatton Park's Mansion takes inspiration from Roald Dahl's greatest stories. For a limited time only from Monday 21 November, enter a festive world where his extraordinary story telling weaves itself through the grand staterooms and in to the bustling servants' quarters.
As part of a year-long programme of events to celebrate 100 years since the beloved author's birth, visitors will be able to access over 13 different rooms in the Mansion – with each room being inspired by a different Roald Dahl tale.
Step inside the grand entrance and enter the purple and gold-coloured world of Charlie and the Chocolate Factory. Inside the yellow drawing room, The Witches take over – with a large bubbling cauldron and a broomstick tree. Listen out and you might hear a very special witches themed Christmas carol.
Mr Fox and all of his woodland friends are feasting in the dining room – expect a Christmas dinner scene like no other! Visitors can accompany The BFG as he visits Buckingham Palace in the drawing and music rooms – and meet bookworm Matilda in the library (and watch out for the dreaded Chokey in the Housekeeper's room).
The Twits, Danny The Champion of the World and George's Marvellous Medicine also have their own special areas – and woven throughout the Mansion is 'Ode to Mother Christmas,' a poem composed by Dahl in 1988 for Great Ormond Street Hospital.
Visitors can also enjoy the Roald Dahl Biography and front covers from around the world displays in the exhibition room, live festive music and family activities. Tatton staff inspired by Roald Dahl's Mother Christmas will be on hand to give out treats and delicacies including a festive treat for all to try.
Tatton is working with three different design agencies, Springbank, Joseph Massie and Flyby to create this magical transformation.
Carolyn Latham, Tatton Park Mansion and Collections Manager, says: "We're so very excited about this year's Christmas attraction. The Roald Dahl theme has given us so much to explore and we were spoilt for choice when it came to selecting the scenes.
"From the Mr Fox family seated around a table enjoying the Christmas feast to an oversized BFG wearing a Christmas hat and slippers (which visitors can walk underneath), it will be an adventure of discovery with plenty of surprises around the corner."
The Christmas Mansion will be open from 11am until 4pm (last entry 3pm) on the following dates:
Monday 21 November – Sunday 4 December
Friday 9 – Sunday 11 December
Friday 16 – Sunday 18 December
Tickets for the Christmas are priced at £9.50 for adults and £5.50 for children (exclusive of car entry, priced at £6). Price also applies to NT members.
For more information visit, www.tattonpark.org.uk/Christmas
More Festive Fun at Tatton Park
In addition to Roald Dahl's Gloriumptious Mansion, there are lots of other festive goings-on for all the family at Tatton Park:
Lantern Parade
On Friday 25 November a charming lantern parade will make its way through the park to welcome Father Christmas as he arrives at Tatton Park with his elves. Visitors can buy a lovely lantern on the night or bring their own, to guide Father Christmas, his reindeer and sleigh. The shops and restaurants will be open to guests and children can post their Christmas lists in a special post box. Free car entry after 5pm. Lantern Parade at 6.30pm
Father Christmas at the Farm
Father Christmas and his reindeer will be spending weekends down at the Farm with all his farmyard friends. You will get chance to meet two of his real reindeers Prancer and Dancer who are in training ready for the big night on Christmas Eve. There is a real nativity with resident donkeys Frosty and Huw, live music and Christmas storytelling each day. There is also Aunty Mary by the fireside in the cottage making salt dough decorations for you to take home. There will be children's entertainers, face painting and not forgetting the hugely popular Reindeer trail, so join us for all the festive fun on the Farm.
All children will receive a gift from Santa to take home.
Father Christmas at the farm is open from 11am until 4pm ( last entry 3pm) on Nov 26 & 27, Dec, 3, 4, 10, 11, 17 & 18. Adult and child tickets £6 (including your gift), car entry £6. Price also applies to NT members.
Stableyard Carols
The festive Stableyard will be welcoming Kind Edward's Musical Society and Choir on Sunday 18 December at 3pm. Guests are invited to sing their favourite carols with friends and family and enjoy warming winter treats in the restaurant.
Christmas Shopping Weekend
For those in search of a Christmas market, a wide range of artisan suppliers offering special gifts, stocking fillers and festive essentials, will be onsite on Friday 25 November (11.30am until 6pm), Saturday 26, and Sunday 27 November (10am until 4pm). Free admission in the Tenant's Hall.
Christmas Dining
The Stables restaurant and the Gardener's Cottage will be calling in the best locally sourced ingredients, including products reared at Tatton Park, to bring a fine selection of homemade festive food and drink. Pre-booking is recommended and can be done via gardenerscottage@cheshireeast.gov.uk.
a Rafflecopter giveaway

Terms and conditions:
The prize is one family ticket admission to Tatton Park including admission to the mansion, farm and gardens. The ticket covers two adults and up to three children. There is no cash alternative.