Artificial Grass on decking right outside the back doors is something I had thought about for a while but until I did it I didn't realise how amazing it would be. I'm always doing jobs around our house, I never feel like I've finished decorating, building or doing. As soon as I finish one job its on to the next. This week I've started project picnic! I had samples sent out of artificial grass to try on the decking before deciding which one to order.
Artificial Grass on Decking – How I did it
For years after we moved into this house I wanted to have a deck outside to sit on and enjoy the south-facing garden for food, drinks and reading. When I was pregnant with the boy, I put plans into place, ordered the materials and my wonderful father in law and husband built it for me. I loved it. It has a rail around the outside and gates so the boys are safe. When the boy was little I'd rock his pram out there and sit out there in the evenings. We never let him crawl out there as I was worried about him getting splinters. This wasn't a problem as he didn't have anyone else to see running in and out. Now that he's bigger its lovely to throw the door open, let the air and sun come in and let him play in and out. I have the issue now though that Flixster is on the move and is moaning like mad and wanting to go outside too, wanting to follow his big brother so I had to solve the problem of splinters and creating a safe play space. A few weeks ago I thought I'd give some anti-slip paint a try so I bought some lovely grey decking paint and set about painting the deck.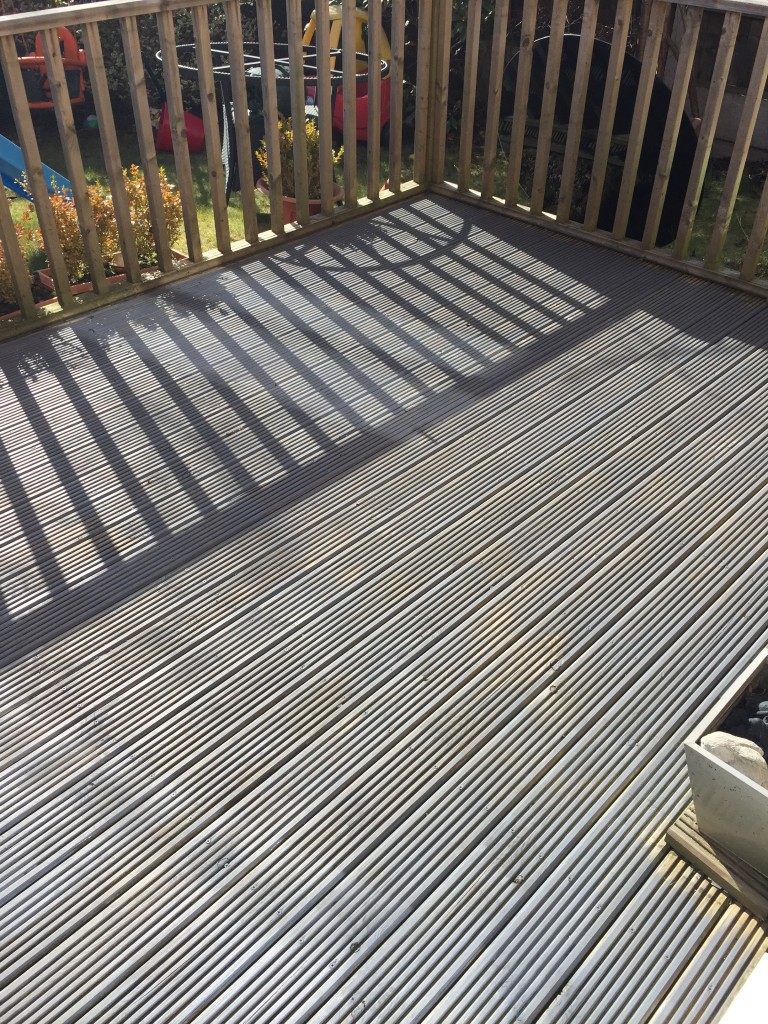 It looked great and with older children I would have probably left it like that after a second coat, but the paint didn't solve the problem. Poor little Flixsters hands and knees were still getting hurt on the wood. So I looked around at various options, mainly on pinterest (which I absolutely love!) and came across the idea of artificial grass. At first I wrote it off as a daft idea, I thought it would look strange. But the more research I did the more the idea was growing on me. I liked the idea of walking straight out of the door onto the soft green grass no matter what the weather was. I shopped around and decided to get some samples to help me choose. I went for a mid priced grass and ordered a 4m x 4m piece large enough to cover the deck. It arrived within 48 hours of the order which was great and delivery was free.
I did my research and found out that to put the artificial grass down on decking boards you just need to make sure the deck is treated and obviously flat. Then all you do is cut to size and screw it down onto the boards using green decking screws.
The boy was excited to stay up and help (which is why he is in his pjs for the photos!) We rolled the grass out (exactly like a carpet) cut it to size with a knife and hubby screwed it down with the boys help.
Just like that within half an hour it was down and looked great, I don't know why I ever doubted that it would look good. I'm so pleased with it and would recommend it to anyone with children who wants a safe non slip alternative on top of decking. Here's hoping for many sunny days where we can picnic out on our forever green grass!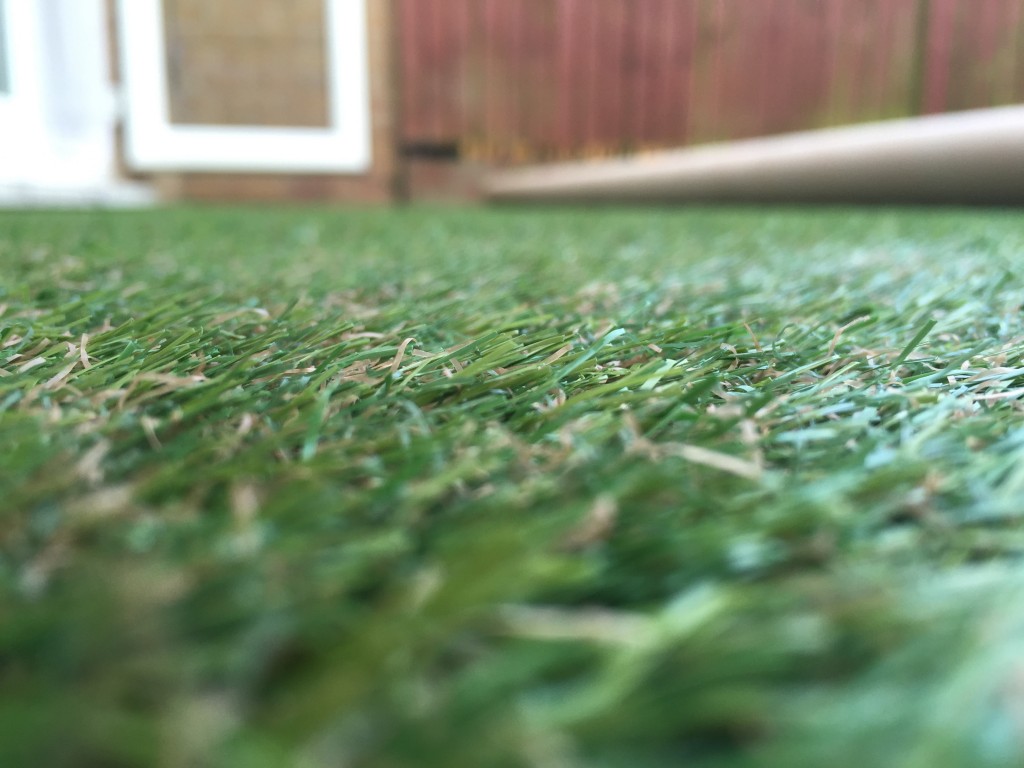 The final thing I want to do is paint the rail around the edge. I've bought some lovely cornflower blue paint which I hope will go well, I just need some nice light dry child free nights to get it all done!