This past weekend we decided to take a trip as a threesome to Blackpool Pleasure Beach (BPB). As Flixster is still so small my mum kindly looked after him while we went to have some fun with just the boy. The boy rarely gets any mummy and daddy alone time so we thought's he'd enjoy the attention.

I subscribe to the BPB newsletter and spotted an offer on tickets so I booked the day before we planned to visit. I booked unlimited ride wristbands for the 3 of us and it came to £51.   I was a little nervous about the weather but as it was the only day we had free this month and rain wasn't forecast for all the day we wrapped up and took our chances with the weather.
I haven't been to BPB in a long time, I have fond memories of days out there during my years growing up. I vaguely remember as a small child going in the fun house that was there with my brother and dad. It lately sadly burnt down.
When we arrived we were directed by one of the many staff outside to the ticket office where we could collect our prepaid tickets. We were attended to very quickly and back outside the main entrance within minutes with a map and ticket receipts in hand ready for a day full of fun!
Once through the turnstiles we headed over to the classic Alice in Wonderland ride. I have many pictures on this very bench over the years and this was my first with my own children! I think its a lovely reminder of the day you go to BPB!

As it was already 11:45 by the time we had been on the Alice ride we made the decision to find some lunch. We are early risers in our house (4:50am in the usual time…yawn!) so an early lunch is normal for us!
A quick look at the map to see what was available and we made our choice to dine at Burger King. The boy has never been to Burger King but just a couple of weeks ago we drove past one and he very reasonably piped up
"Mummy do you have to be a king to eat at Burger King?" I've never told him what its called so he read the sign himself. I was so amused by his question that we promised to take him one day and today seemed like the perfect opportunity.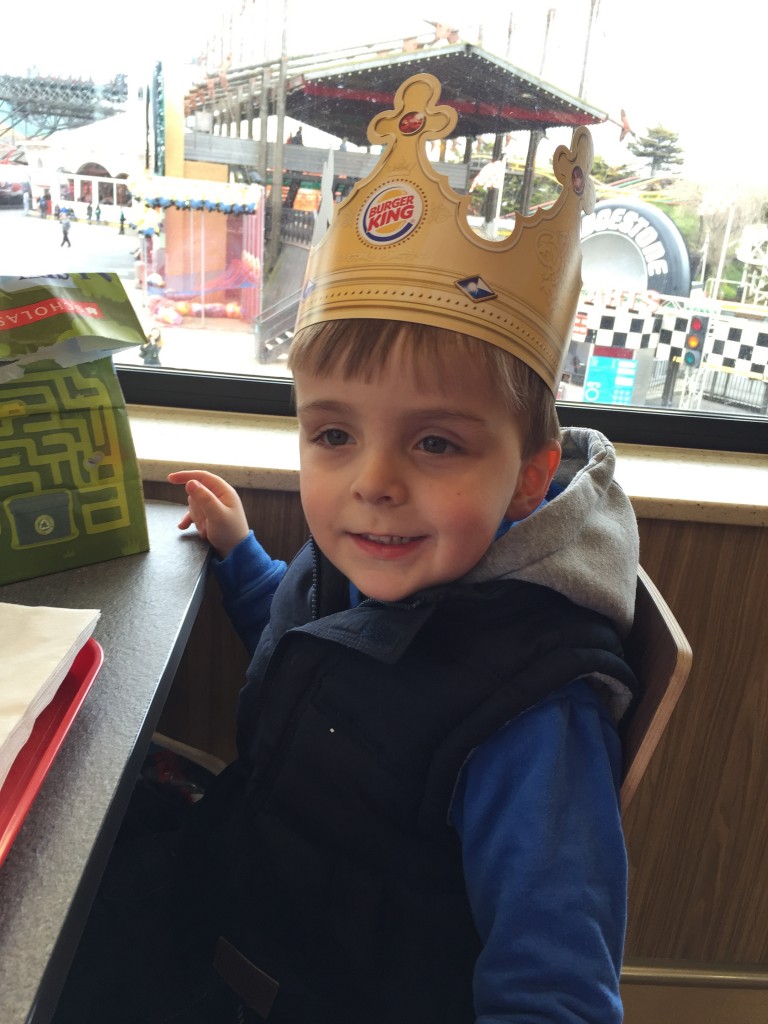 He was thrilled with his cheese burger ,chips and milk, it came with and I spy book so that pleased him as well. We don't do fast food often so it was a nice treat.
After fuelling up we were back on our way to the intended destination of Nickelodeon Land! The first ride we came across was The Backyardigans Pirate Treasure. Its a boat ride that spins quite quickly forwards then backwards. The boats go up and down on a track. We hadn't watched the ride before we jumped on so I told the boy it was slow (he says he doesn't like fast rides). In all honesty I though it would be quite slow……it wasn't.
He loved it.
All was fine! He even went straight back on with Daddy!
The next ride we tried was Diego's Rainforest Rescue. It was little hot air balloons that spin (by hand) and go up in the air. I'm not sure why I don't have any pictures of that ride. It was fun but made us quite dizzy! So what do you do when you're already dizzy? Thats right go on another spinning ride……!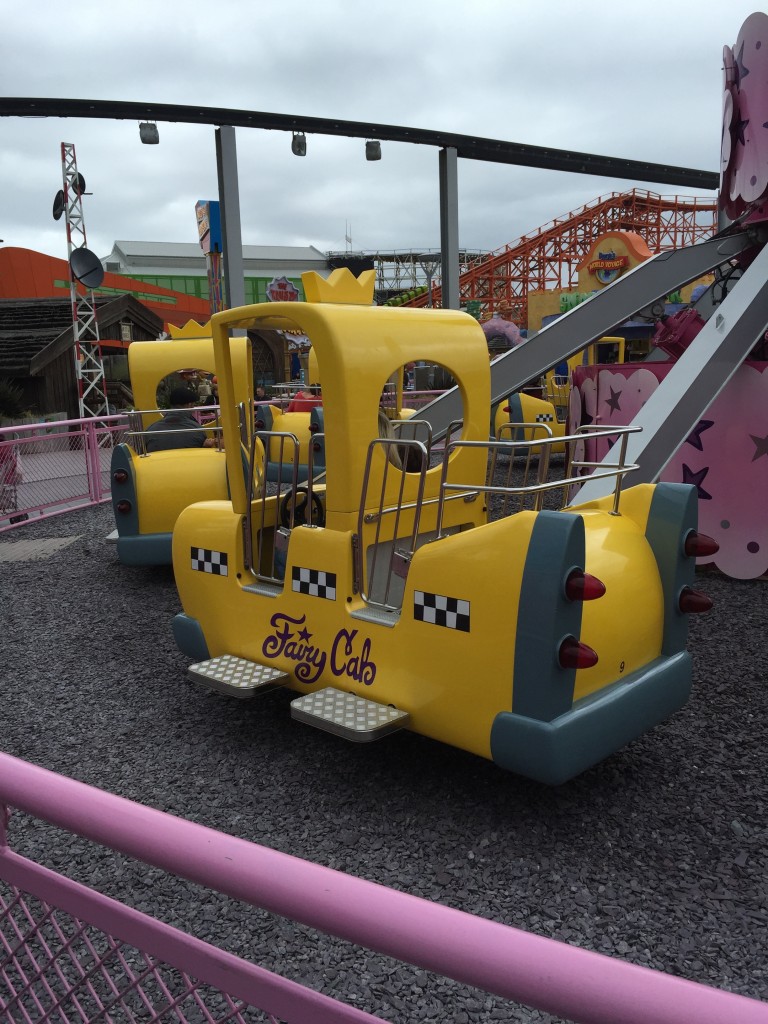 It was the boys choice to go on the Fairy World Taxi Spin next. It had a button which he loved that made the taxi go up and down. After it finshed we were well and truly dizzy and a bit fed up of spinning rides.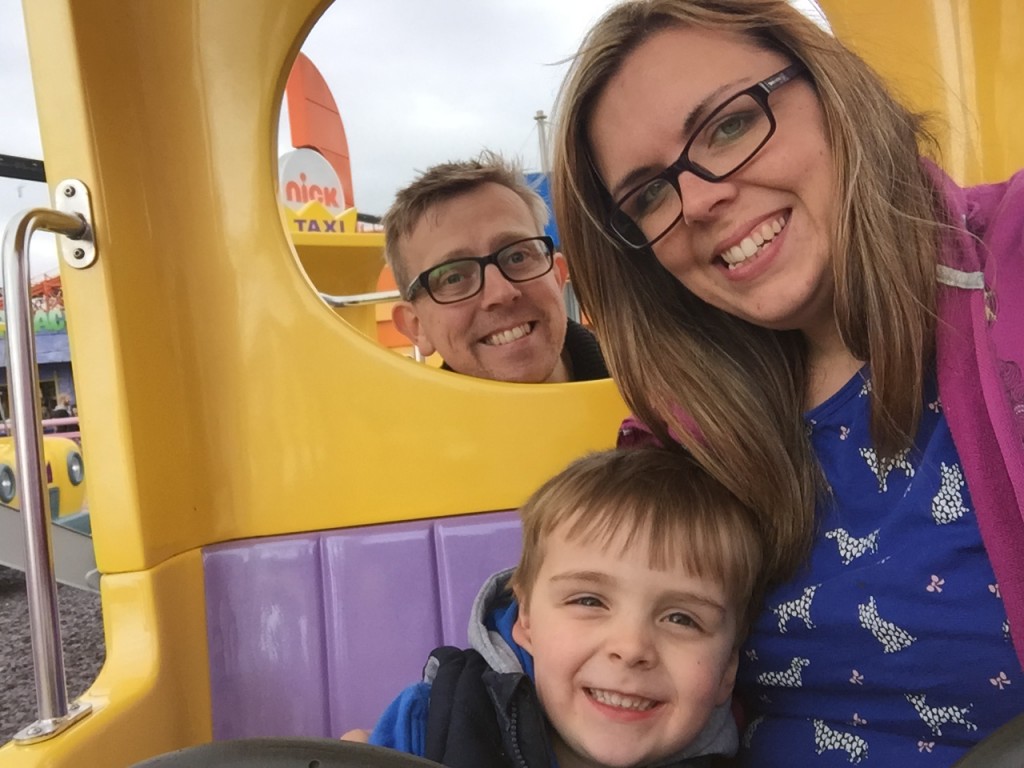 So I took a chance and asked the boy if he fancied the Krusty Krab Order up, its a mini free fall ride. He said he did want to try it. I explained it went up and down quickly about 6 times and it might make his tummy go funny. He was keen to give it a try. I was nervous with this one as he'd been on the frog hopper at Alton Towers last year and didn't like it. We sat down and got strapped in. He seemed to be fine. The ride started and he was looking the other way, I couldn't work out how he was so I kept laughing to reassure him it was fun. It turned out he loved it and wanted to go straight back on with Daddy! It was a roaring success!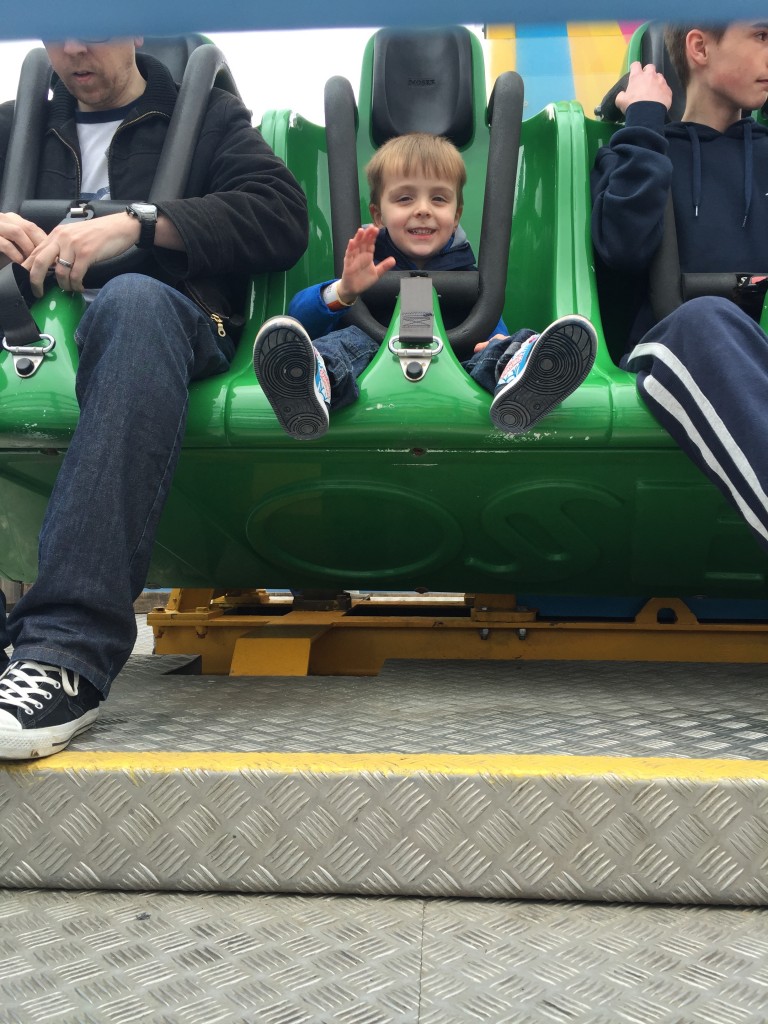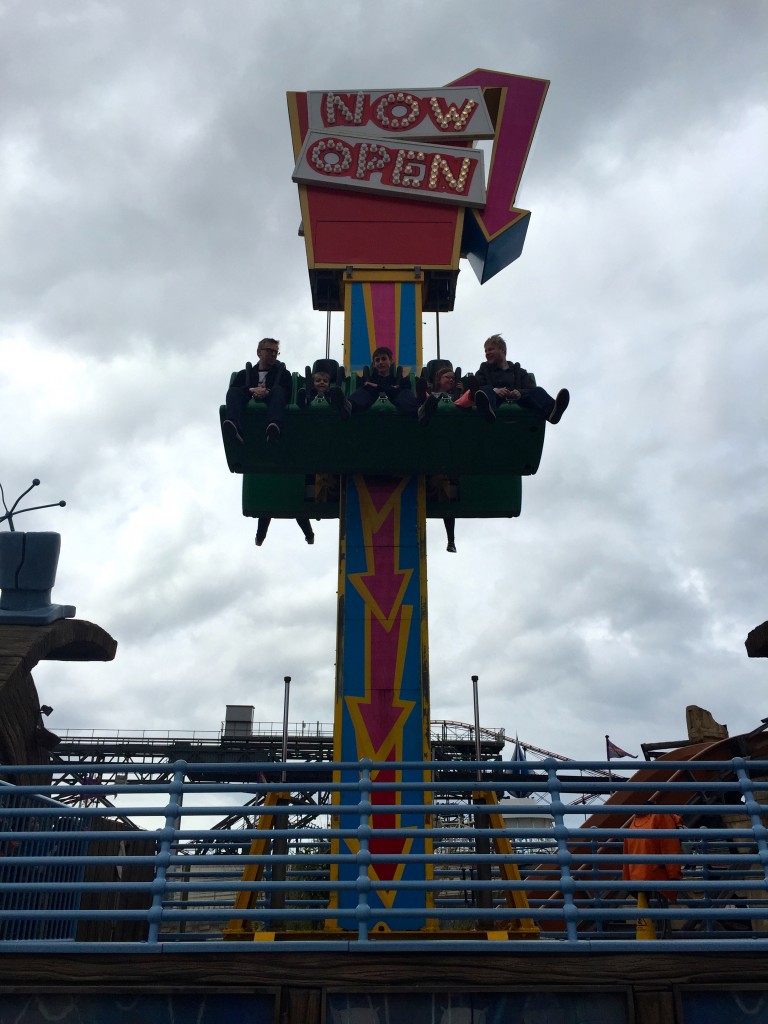 The next thing we tried was Dora's World Voyage, I stayed off this one as I'm not keen on the round boat type rides. Daddy took him on. Daddy came off saying it was a bit boring but the boy seemed to enjoy it.
As we had done most of the rides that we could now in that area we chatted about getting a snack as it had been some time since lunch and we wanted coffee too! What better snack to have at an amusement park than some doughnuts. We went for a wander and on the way stopped to ride the Wonderpets Big Circus Bounce. The boy was giggling away on this because of the way it bounced up and down. I'm not sure daddy was that thrilled but he smiled all the same!

On our quest to find doughnuts we can across the big guy himself and his best pal Patrick, we had to stop for photos!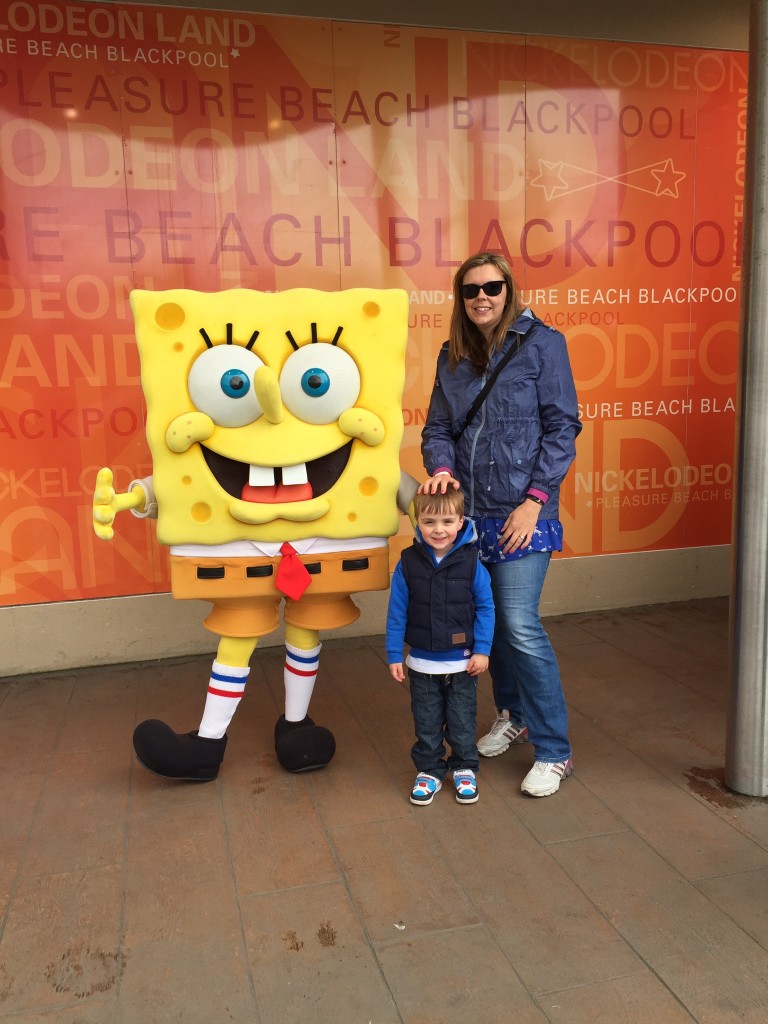 After hunting down some coffee and doughnuts to share (the doughnuts not the coffee!) we set out to explore some more of the park. Since I hadn't been in a very long time (prob over 10 years ago) there have been some changes. There is now a new (well to me anyway) Wallace and Gromit ride. This proved to be a big hit with the boy. The ride vehicles are designed like slippers and you go through various scenes from the Wallace and Gromit shorts and films. It does feel a little disjointed as its not telling a story but the models are well done and theres a few surprises on the way.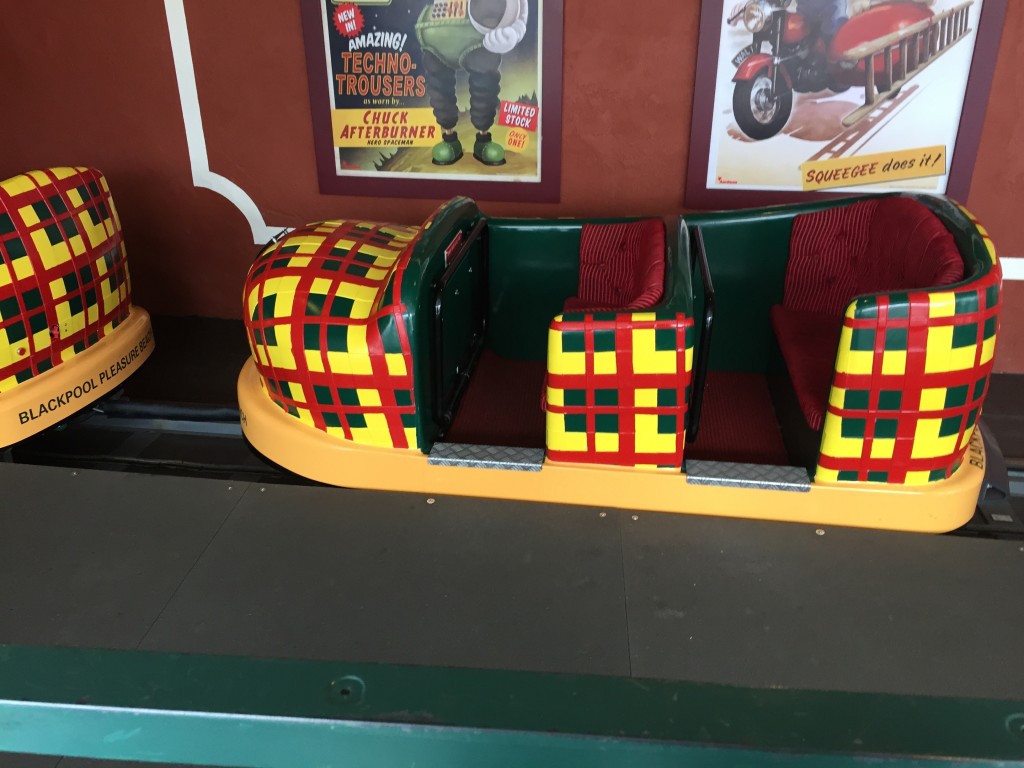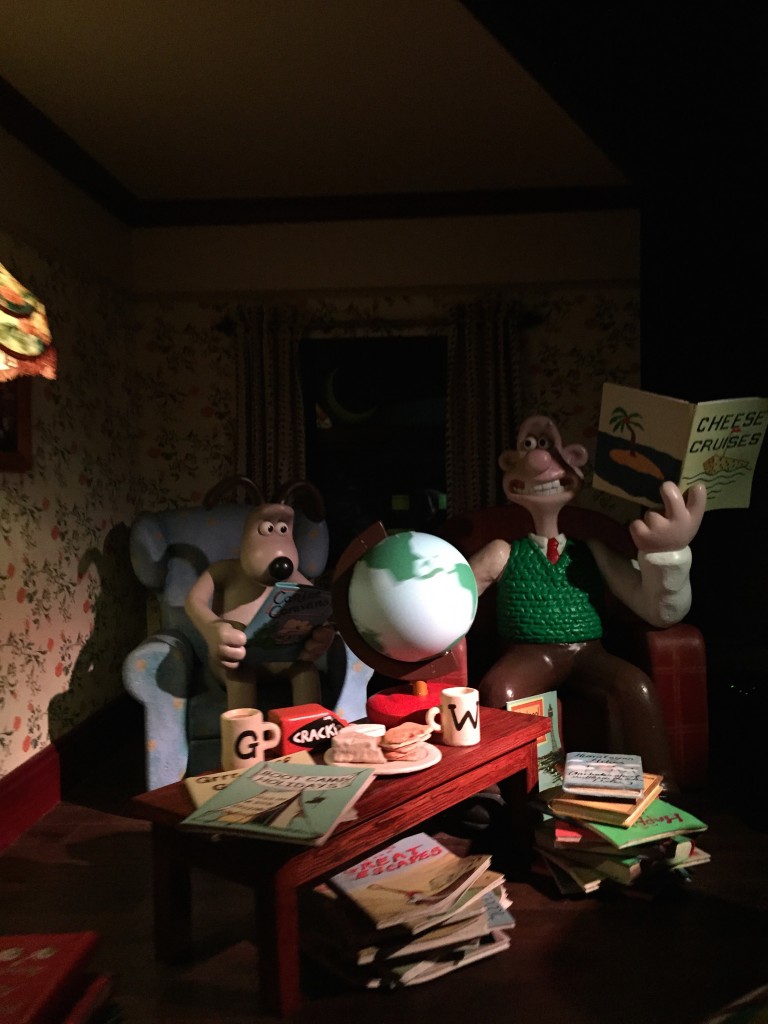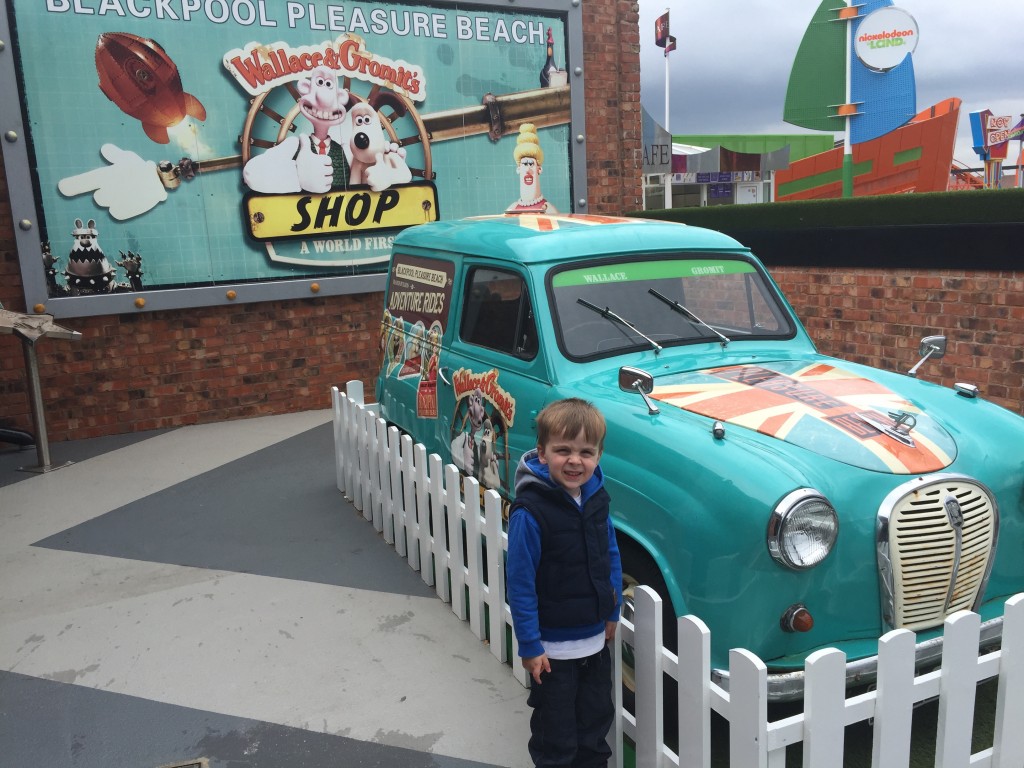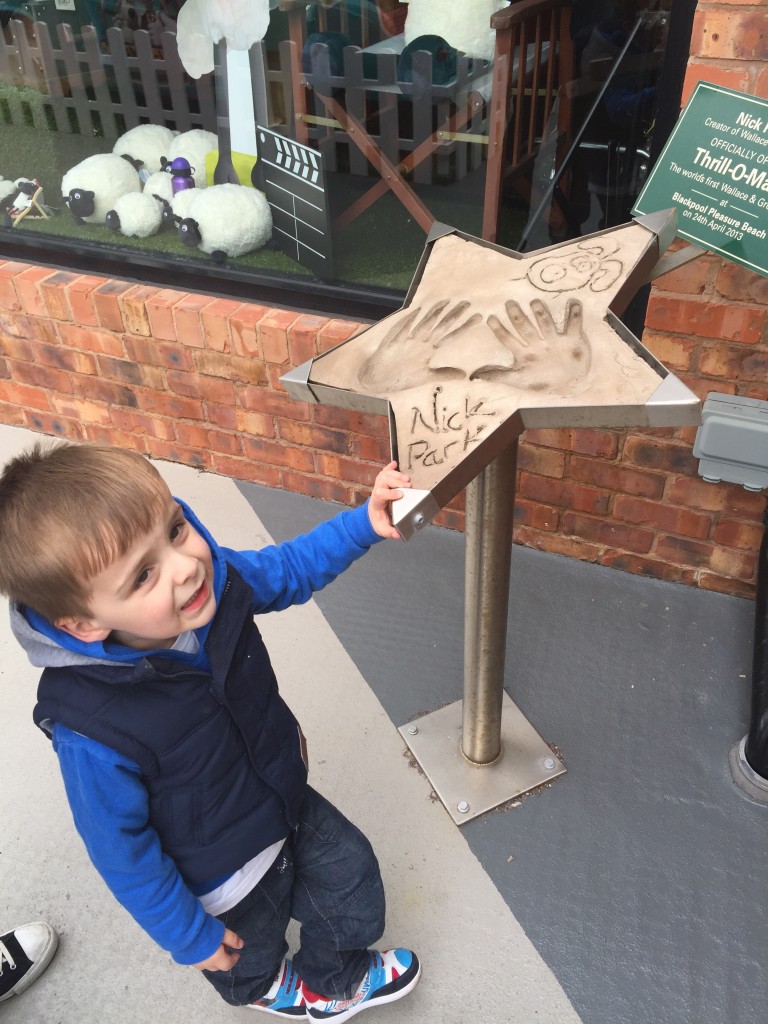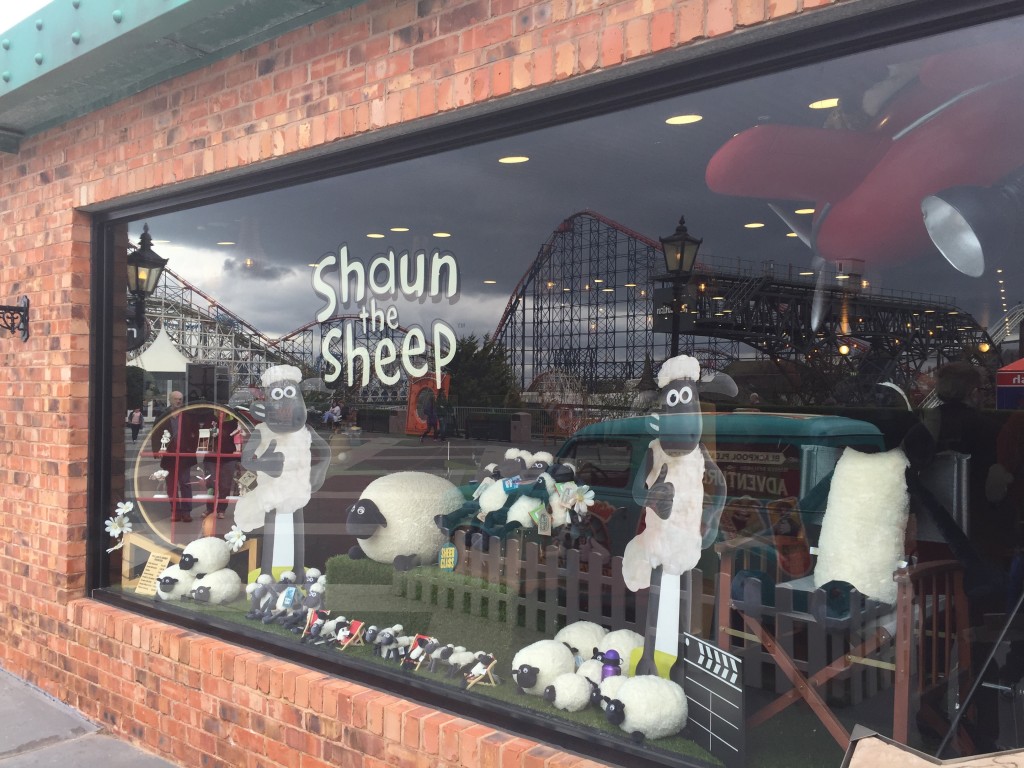 The boy absolutely loved this ride and we ended up going on quite a few times, we even had our picture taken with Gromit outside. He's not seen most of the Wallace and Gromit films but is familiar with Shaun the Sheep (this has since changed and we've watched them all now thanks to Amazon Prime!)
After convincing him to move on, the boys went off to try the cars. The queue seemed short but took ages to get a car as there were only 8 out on the track. I wandered around for a little bit waiting for them to get their turn and returned to watch when they were nearer the front. 
It was nice to watch them out driving together but the boy came back unhappy as there had been some discussion about the pedals or something, that I couldn't understand! So we quickly moved on to another classic ride the river caves. I remember this from when I used to come in my teenage years. The sign says it was originally built in 1904. It predates the pirates of the caribbean ride in Disney thats for sure!!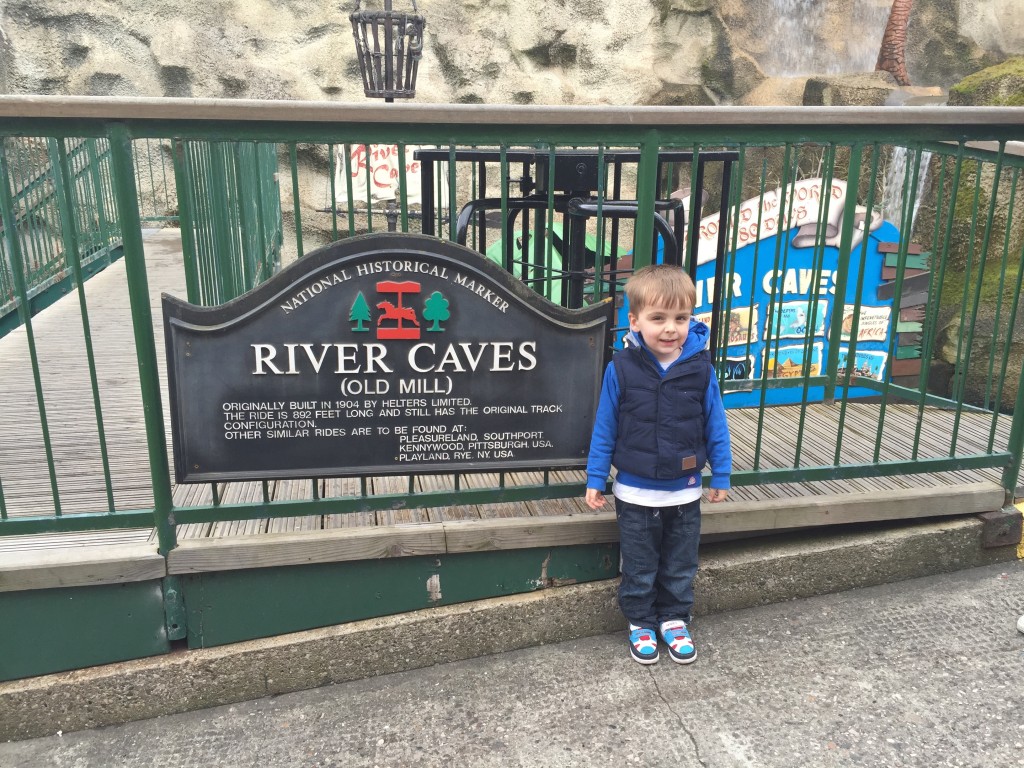 Another hit with the boy and again we went on twice!
By now the day was getting colder again and the park was closing. We went back to see if I could have a ride on the new red arrows ride but it had already closed which was a shame as I wanted to try it but maybe some other time!
There was just time to ride the carousel and make our way back to the car. We'd had a ball and the boys hasn't stopped talking about it since Sunday. He loved it. Anyone who will listen is told about the rides in minute detail. It always surprises me how much he takes on board.
The boy fell asleep in the car on the way home and was pretty much un-wakeable upon arriving home. I had to get him changed and clean his teeth while he was asleep. That is the ultimate sign of a great day out!