Worsley Park Marriott Hotel & Country Club
In a nationwide search which assessed over 175 million reviews, Worsley Park Marriott Hotel & Country Club have been voted to have the best Breakfast in the North West by Hotel search website trivago.co.uk. This weekend we were invited down to taste the award wining breakfast.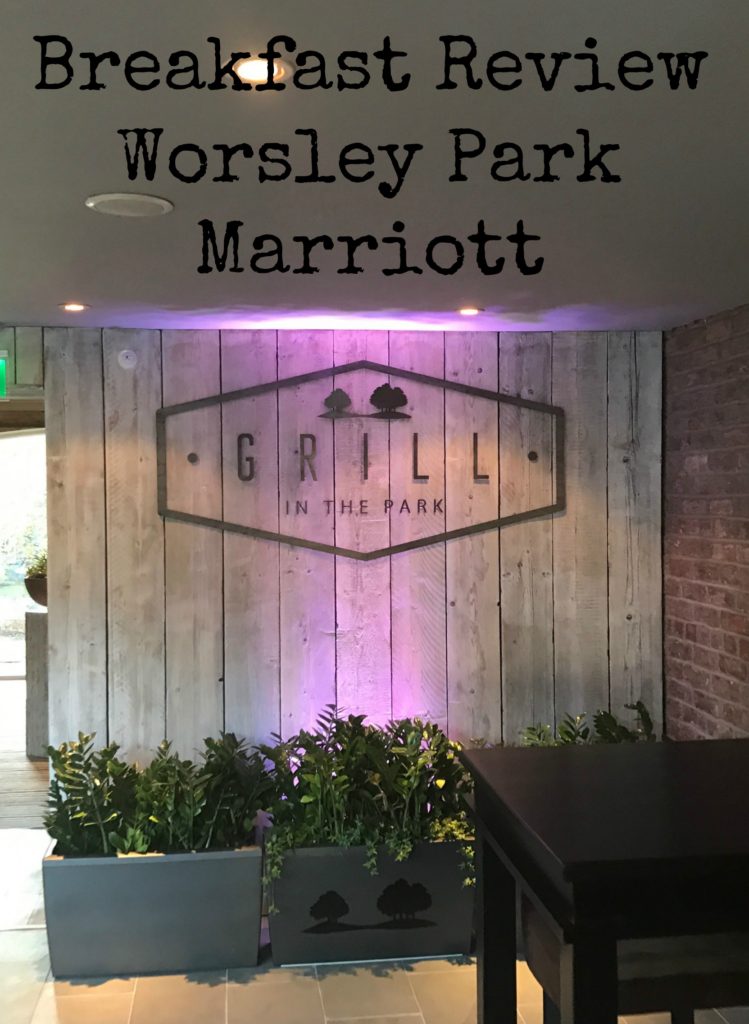 Weekend time is precious time in our home. We like to make the most of our time together. During the week with the rush of work, school and nursery we barely get any time to spend together where we can truly relax. So we were all very much looking forward to a weekend breakfast not far from home.
The Worsley Marriott Hotel & Country Club is set in beautiful grounds and as we arrived on Saturday we were greeted by the stunning sight of the sun rising above the frost covered grounds.
We followed the signs to our destination – The Grill in the Park at the Worsley Park Marriott.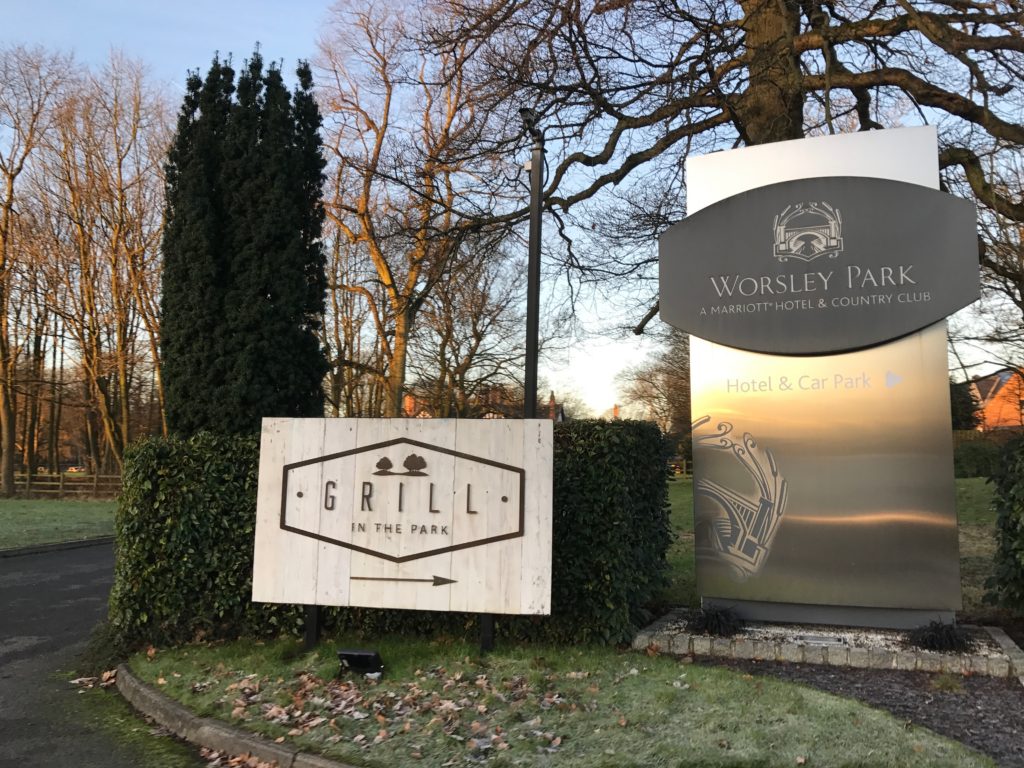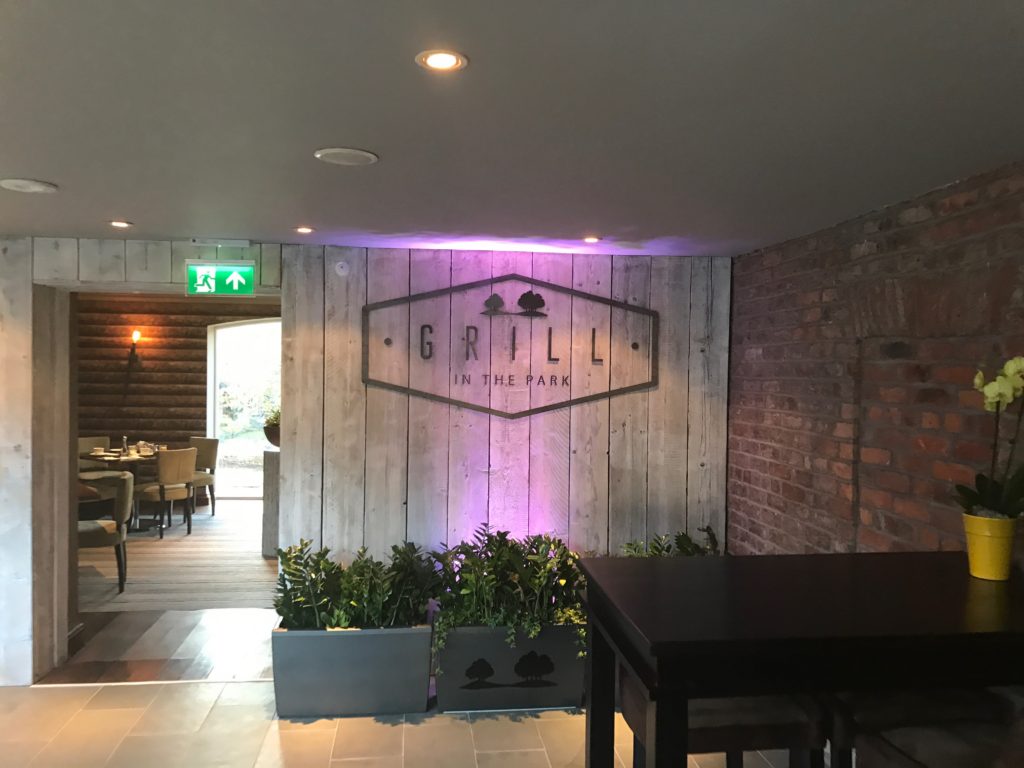 Grill in the Park
Bring in the Grill in the Park is like being in a log cabin, the decor is lovely and the soft wood theme and striped carpets make for a calm and quiet atmosphere. Breakfast at the Grill in the Park is a self service and contains a wide selection of cooked as well as cold options. Priced at £16 per person for the buffet or £12 for continental option. Just £10 if residents add breakfast with a room at check in.
We were shown to our table and offered a hot drink which was brought out to us. If you've read my blog before you'll know we are coffee lovers so there was only one choice for us!
The boys were set on getting cereal to start their breakfast, as a special treat they chose coco pops.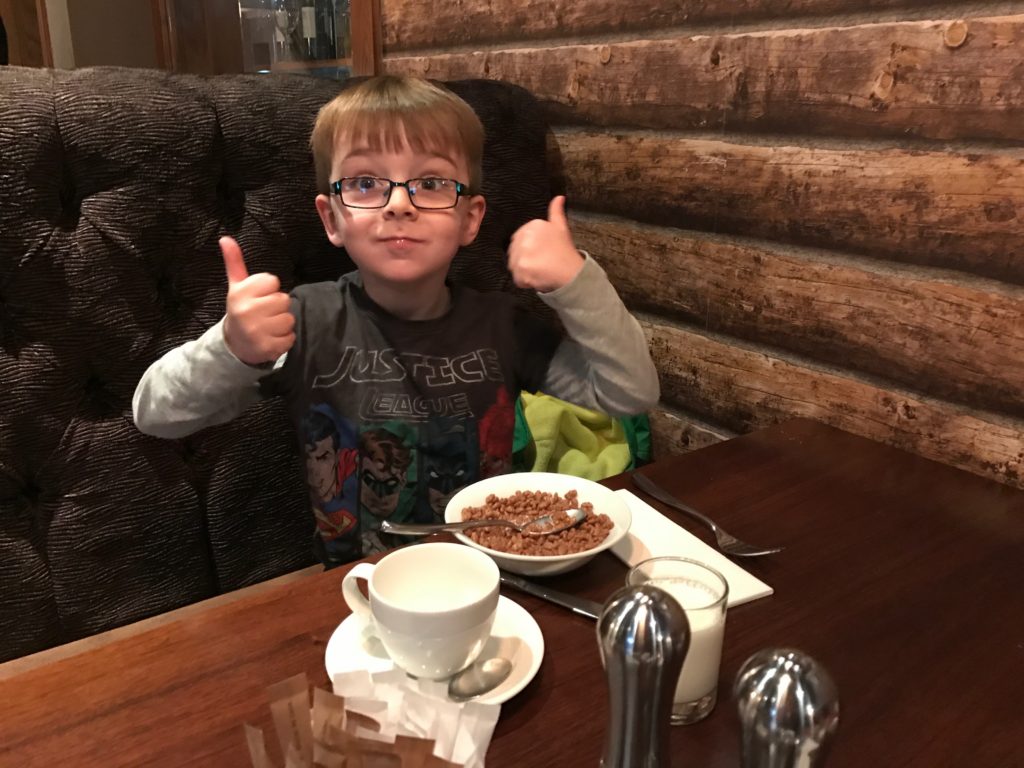 Even at this point Thomas was giving it the two thumbs up.
I went for a walk around all the choices to make sure I knew what was available. I noticed that there was a lovely selection for those people who need to have Gluten free. You don't often see this at breakfasts so I thought it was a really great plus for the Worsley Park Marriott.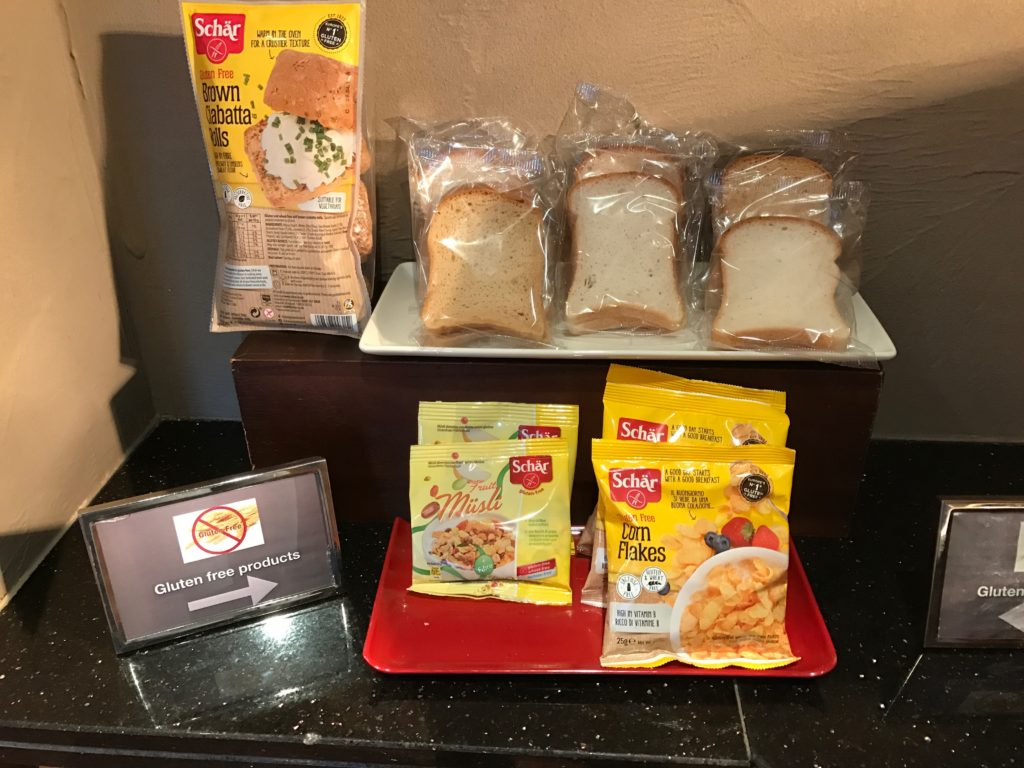 Breakfast Choices
I had a small bowl of steaming hot porridge with some fruit to start. I love having oats in the morning. Followed by some smoked salmon and scrambled egg. The eggs were some of the best I have ever tasted and highly recommended. There was yogurts and fresh fruit as well as sliced ham and cheese. With three choices of fruit juice alongside white and brown bread to toast.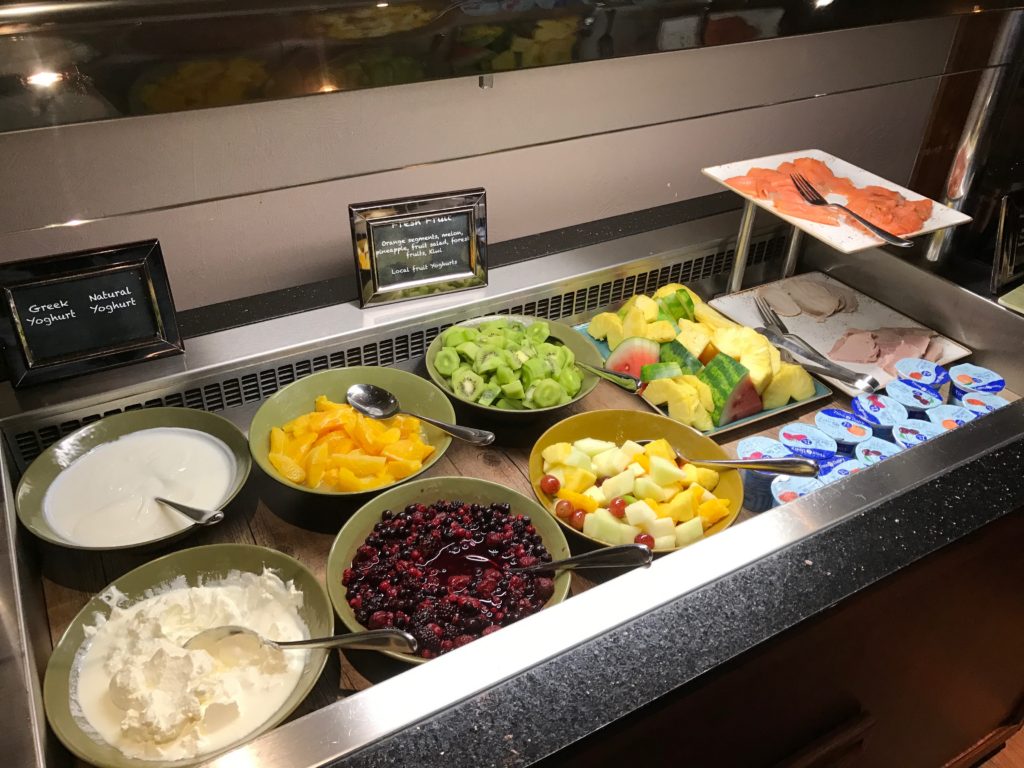 Hubby went straight for the recommended option of an omelette cooked to order by the chef at the hot breakfast selection. You can choose your own fillings and it's cooked right in front of you. He chose Bury black pudding and blue cheese another recommendation.
He said it was really nice. I'm not a fan of black pudding but I did taste the cheese with the omelette and it was very tasty. I did consider having one made with just the cheese but as I was already full I thought I'd save it for next time!
Finishing Breakfast
Whilst at the omelette station he noticed that there was a waffle iron too. Mentioning this to Thomas was a mistake as then he wanted one. He was already on his second course, local back bacon and sausage with a hash brown and scrambled egg. That boy can eat!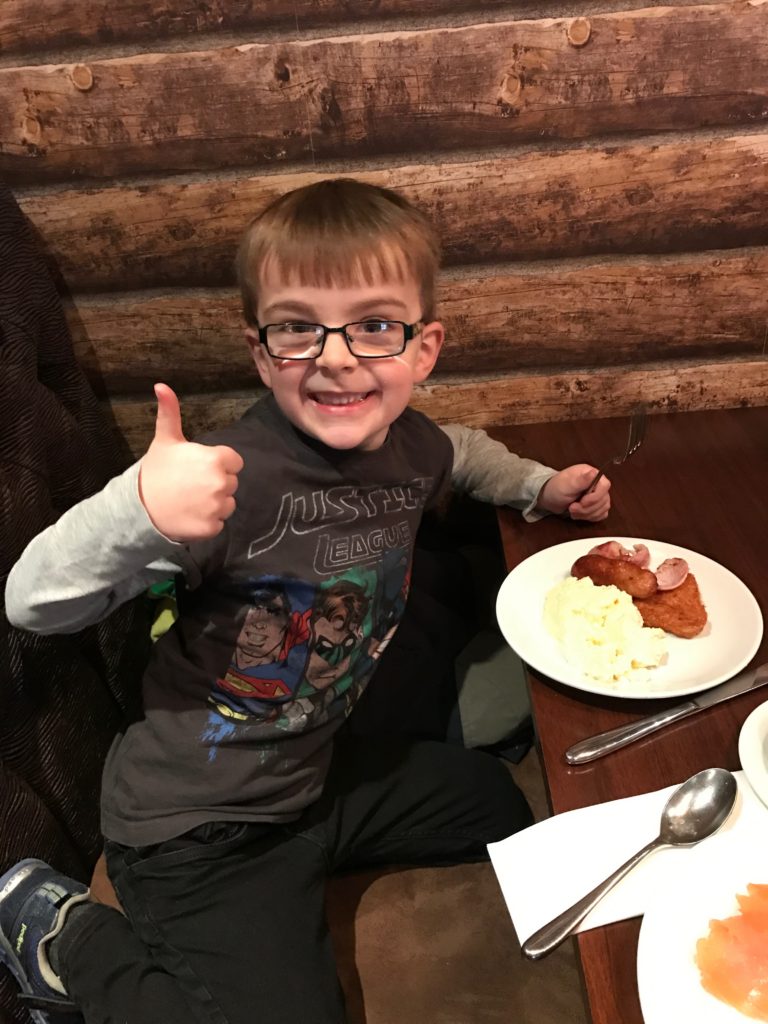 We agreed that if he finished his food we would get a waffle to share. I can't say I was disappointed or surprised when he finished, I wanted to try the waffle too!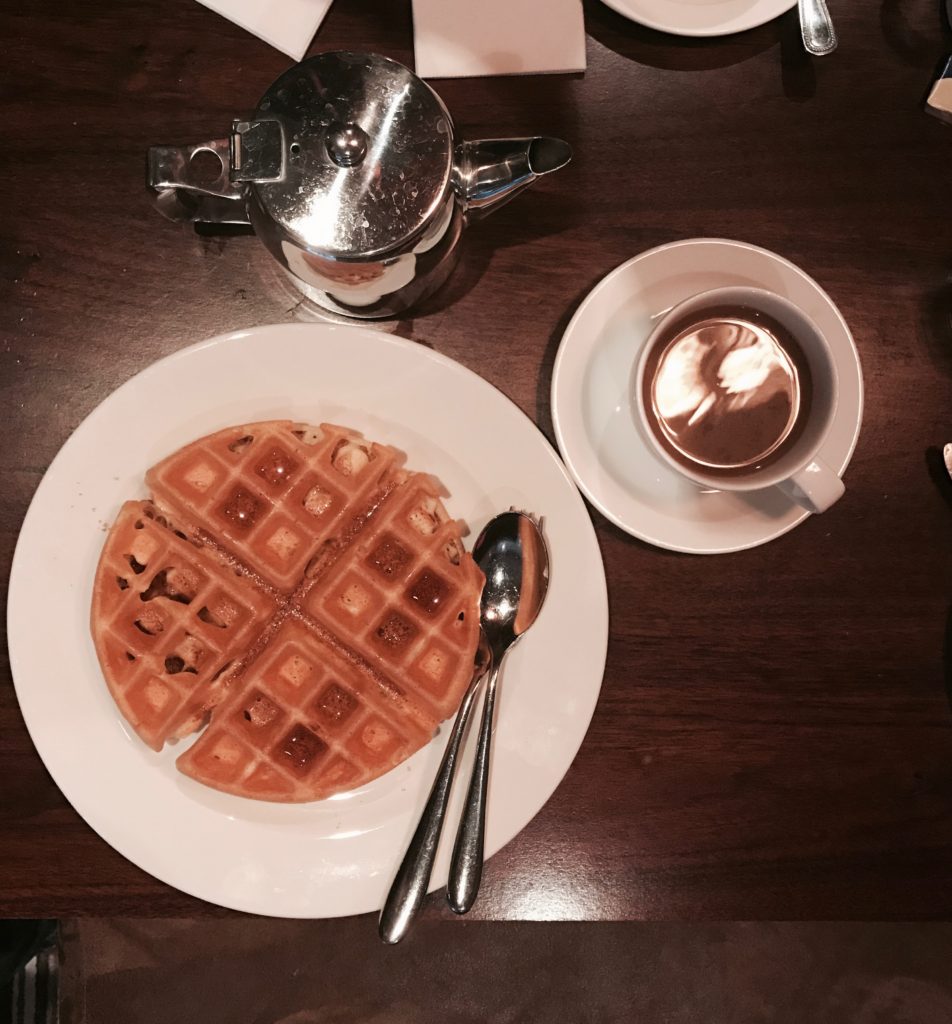 We shared it between the four of us (with syrup on) it was tasty!
With full tummies having enjoyed a tasty start to the day we were finished. It really was delicious and I have to say the lovely serene atmosphere was an added extra. The Worsley Park Marriott is a beautiful hotel set in stunning surroundings. I can understand why it has been voted the best breakfast in the North West. It is by far the best breakfast we've had out as a family for a long time and we have already said we'll return.
Breakfast is the most important meal of the day and there's no better way to start it than with a fabulous breakfast at the Worsley Park Marriott Hotel and Country Club, we can't wait to go back!