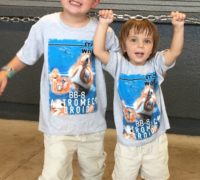 A letter to the stranger at Walt Disney World
Dear stranger,
Thank you.
Thank you for such a kind gesture. I wish I knew who you were so I could return your money. I know you wouldn't give me your number or email so I could send it back to you but I just want to say thank you again.
We were at Walt Disney World. It was 22nd August this year and we'd just found some seats (well the end of a bench) to watch Fantasmic on (its a night time show with fireworks at Disney's Hollywood Studios) it was super busy, the theatre seats up to 6900 guests and they'd just announced that it was now standing room only. It was a hot sticky night and the boys were getting cranky yet there was still half an hour until the show started. I decided to take the boy to get some snacks to keep us occupied and hopefully less cranky whilst daddy stayed with youngest on our bench. We walked all the way up to one of only a couple of snack carts, I didn't take my money as I was just going to charge it to the room on the magic band as I had done so many times before. The queue was quite long so whilst we waited I gave the boy his choices. He really wanted an ice cream, I'd already said no several times but he looked into my eyes and really pleaded. We were on holiday after all, of course I couldn't say no.
By the time we got to the front we knew the show was nearly starting. The boy was getting worried ( he does worry quite a lot about lots of different things) but he was worried we'd miss it. So I quickly ordered and scanned the magic band. It didn't work. I tried again, again it didn't work. I could see the boy getting upset. I had no other way to pay. I told him he had to give his ice cream back, he was already holding it, it wasn't unwrapped but it was in his hand. His face turned down.
It was just then you stepped in and offered to pay. Our total was around $12 which isn't cheap. It was only 3 items but this was disney and I know how much things are there. I said it was ok, I could come back later but you insisted. I didn't know what to do. I said thank you and asked if you'd give me your number so I could send you the money, but you wouldn't allow it.
I think you were from Scotland but couldn't be sure. I'm pretty sure you were form the UK somewhere though. I didn't even get your name. I was just shocked and grateful that you'd paid out of the kindness of your heart for someone else items. So please your reading this and it was you I want to say thank you again. I explained to the boy how kind you'd been, I hope this has given him an example. We also talked about passing the good deed on. As soon as I have the opportunity to I will pay for someone else items.
Since we've got back I have posted on a few of the disney forums in the hope of finding you to properly thank you but nothing so far.
I know that going to Walt Disney World is a luxury and we are grateful that we could go, your kind gesture was one of our highlights that we won't forget.
I just want to say that not only am I grateful but you set a wonderful example to my children. There are so many good people in the world and you are one of them.
I hope that one day you get to read this.
From a very grateful family.