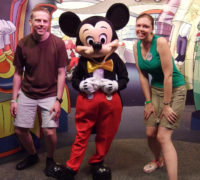 As some people might already know we are a family of Disney lovers and we are very lucky to also be DVC owners (if you don't know what this means in simple terms its a property investment in Disney thats very flexible and suits our family) We love to visit Walt Disney World in Florida and are very lucky to have been quite a few times.
Memories in our Special Place
Walt Disney World hold very many special memories for us as a couple. It was our first holiday together back in 2005 (although I had been before) The place hubby almost proposed……..almost……
We took our honeymoon in Walt Disney World.
Thomas's first holiday abroad holiday was there.
Felix's first holiday was there too.
We've been with friends and family, although I'd still love to be able to take my mum, maybe one day!
Trip Report Introduction
Last year we were lucky enough to be able to spend 3 sun, fun and family filled weeks in the beautiful Walt Disney World resort making incredible memories. Although it was last August it's taken me this long to start writing about it. We stayed one week at Coronado Springs Resort followed by 2 weeks at our DVC home resort Bay Lake Tower. We flew Thomas Cook airline (another first as we have always flown Virgin Atlantic in the past) something I was nervous about as I'd read mixed reviews. I will go into detail about the flight later.
I am going to break up the trip report into parts or it would be too long for one post!
Despite having been to Walt Disney World many times, there were as always lots of 'firsts' on this trip, which I want to write down for the boys. Also lots of familiar things which we have very much missed having not been since 2013.
It's quite hard to explain when you haven't been to Walt Disney World just how magical the place is. The staff (or cast members as they are known) go the extra mile to make you feel welcome. Nothing is too much trouble, they make you feel welcome everywhere you go. The whole resort is clean, and not just clean, spotlessly so (or so I have always found). It's welcoming to everyone, young, old, those with and without children with them. There usually sunshine at some point each day and it's generally warm (I did have to once buy joggers and a blanket, not this trip though!)
So the first part of the report will be travel day. I look forward to sharing our trip with the blog!