We were recently invited to spend a couple of nights away as a family courtesy of Travelodge. It couldn't have come at a better time. With the stress of moving house we were all more than ready to take a break from the boxes piling up around us making us feel quite penned in. Our chosen city was Gateshead, neither of us had been before and after some research and some fabulous tips kindly given by Lindsay from NewcastleFamilyLife we made a plan, packed a bag and set off. We left straight after school on the Friday evening, the journey was not to bad, with a stop at a lovely services for tea we had arrived by 7:30pm to check in.
Arriving at Travelodge
The hotel (Travelodge Gateshead) was very close to the giant metro centre and is easily reached by car. There was lots of available parking so we parked up and headed in. Upon arrival I was a little nervous about our stay.The lobby was full of people who were already enjoying drinks and waiting for taxis, it was pretty noisy and I wasn't expecting it to be quite so full of people who were heading for nights out, as it wasn't in a city centre. Never the less the boy was super excited to be staying in a hotel so we went up to find our room. We had been given a room on the third floor at the very end of the corridor. This was good because it meant we wouldn't have people banging past the room at all hours of the morning and waking up the children. The room itself was as expected, basic but lovely and clean. I'm not sure there's anything that turns my stomach more than a dirty hotel room.
The bathroom was sparkling as were the units, the floor was spotless and the beds looked cosy. I had requested a family room with a bed for the boy and a cot for Flixster. It was just perfect. The cot had even been put up and made, which doesn't always happen when you request one at other hotels. The staff had also thoughtfully put down an extra layer on the cot base to make it soft. The boys got to work exploring every nook and cranny of the room, but we didn't stay up long as it was already past their bedtime and we wanted to get out exploring in the morning without cranky children! But of course they were both excited to be somewhere new. The boys settled quickly because they were tired, so hubby and I read in bed for a bit before hitting the sack ourselves (these 5am wake-ups get to you after a while!)
Flixster sleeps with white noise on so we had that running next to his cot, this thankfully masked most of the noise in the night-time. I heard a few banging doors and some shouting but not enough to wake the children, I'm just a light sleeper.
Exploring the North East – Angel of the North and Beamish
The next morning as usual the boys were up early and raring to go. The hotel had given us a printed sheet of information upon arrival so I knew that the breakfast options were a choice between two different types of breakfast box. As we had two mornings there we decided to try one each day. I left this mornings choice to the boy who accompanied me downstairs at 6am to pick up 4 of the 'Good Morning' boxes which we took back to the room.
They had a rumblers pot (which was cornflakes and milk) a muffin, a nutri-grain bar, a bottle of orange juice, a packet of sugar (which I guess was for the cornflakes if required) and a mento. I thought the mento was a nice touch, especially if you're in a rush and have already left the hotel, it's nice to freshen your breath! The boxes were a massive hit with the boys, the eldest loves packed lunches and so to him to start the day with one was a treat. I think he mainly likes the pick and mix choices. He can be put in charge of his own food choices which he loves!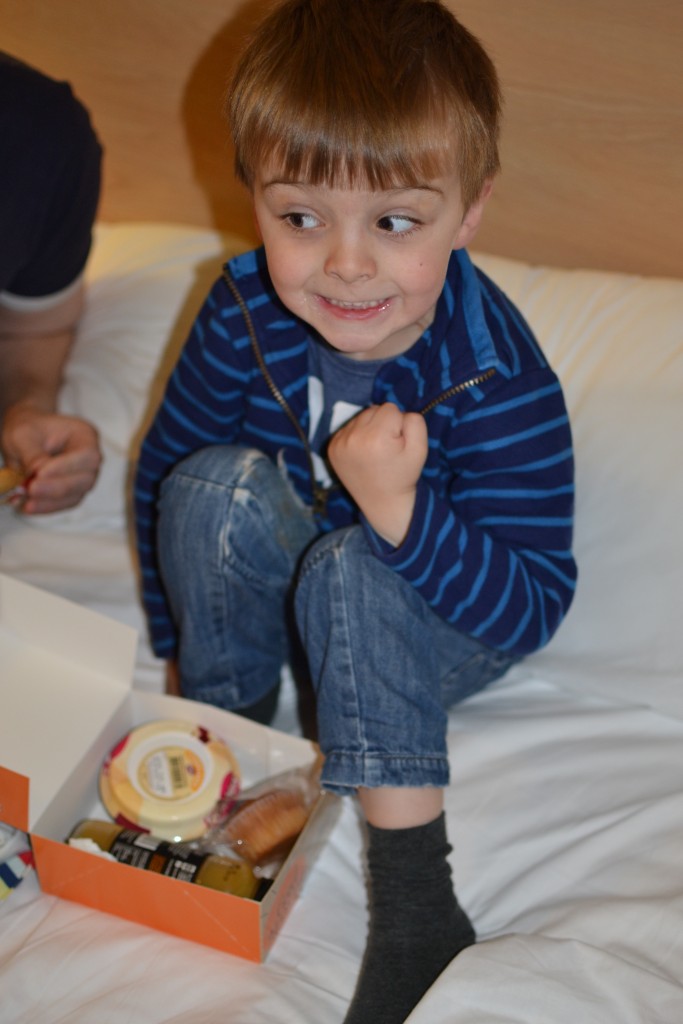 I love a full hotel buffet breakfast but with children this is almost impossible as someone at the table is always popping up and down to fetch things and you just don't get to enjoy it. Plus as anyone with little ones will know as soon as they have finished they want to get down so these boxes were ideal for us. They could eat in the comfort of the room, get down to walk around whenever they wanted and we knew they were safe so we could enjoy ours. The only thing that was lacking for us as grown ups was a really nice coffee. A massive bonus would have been a real coffee machine in the lobby, however we made an instant and enjoyed that with our boxes.
Once we were finished we tidied up and headed out of the day, it was still early so we had lots of time. Our first stop Starbucks (which is super close to the travelodge and a drive thru!) for our coffee hit. Don't judge us we are sleep deprived coffee loving parents! It also warmed us up as even just the walk to the car across the car park from the travelodge had proved to us it would be a bitterly cold day, it had lightly snowed over night so wooly hats, scarves and gloves it would be today!
Our second stop was the Angel of the North, something I've always wanted to see. I was not disappointed. It wasn't far to the Angel and as we got there we discovered that there was some free parking close by which was handy for us. The ice was thick in the car park though so with steady step we made our way over to get close to her. Is 'her' the right way to describe the Angel of the North?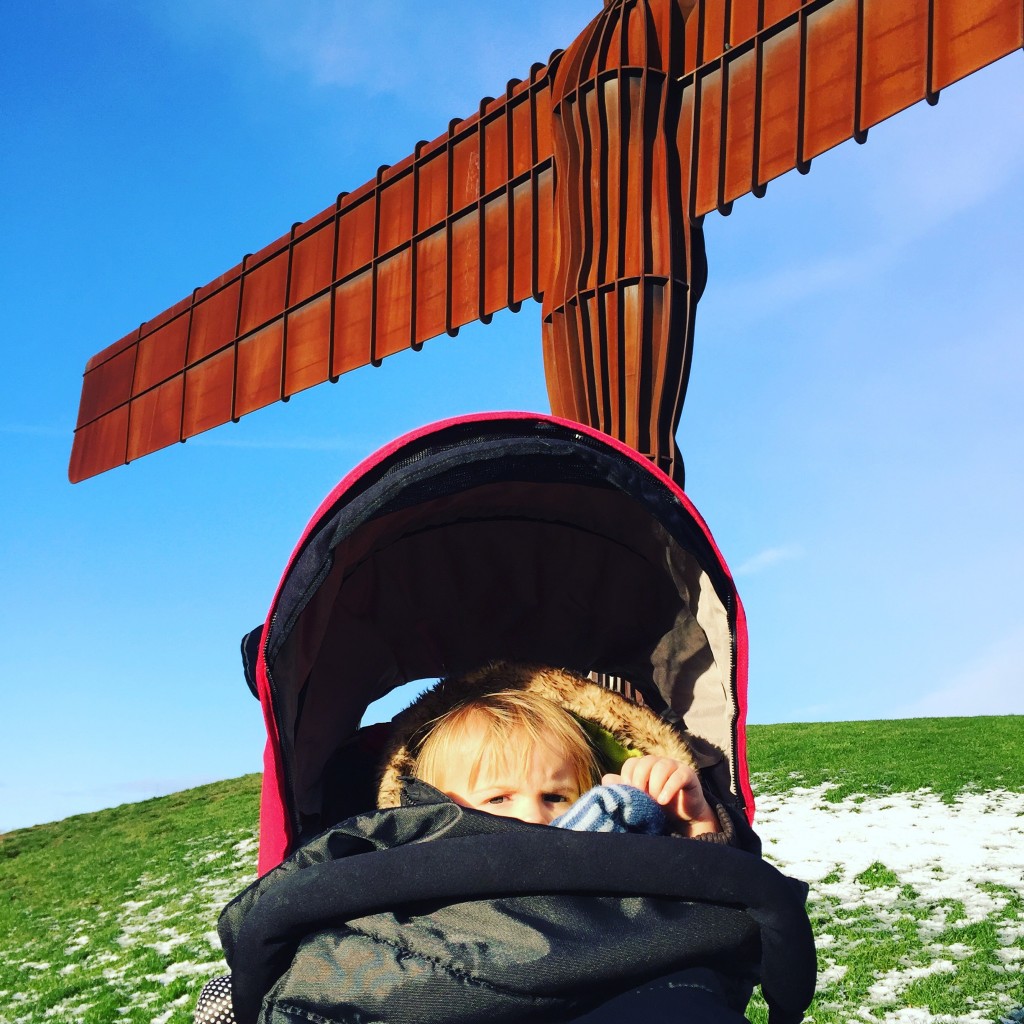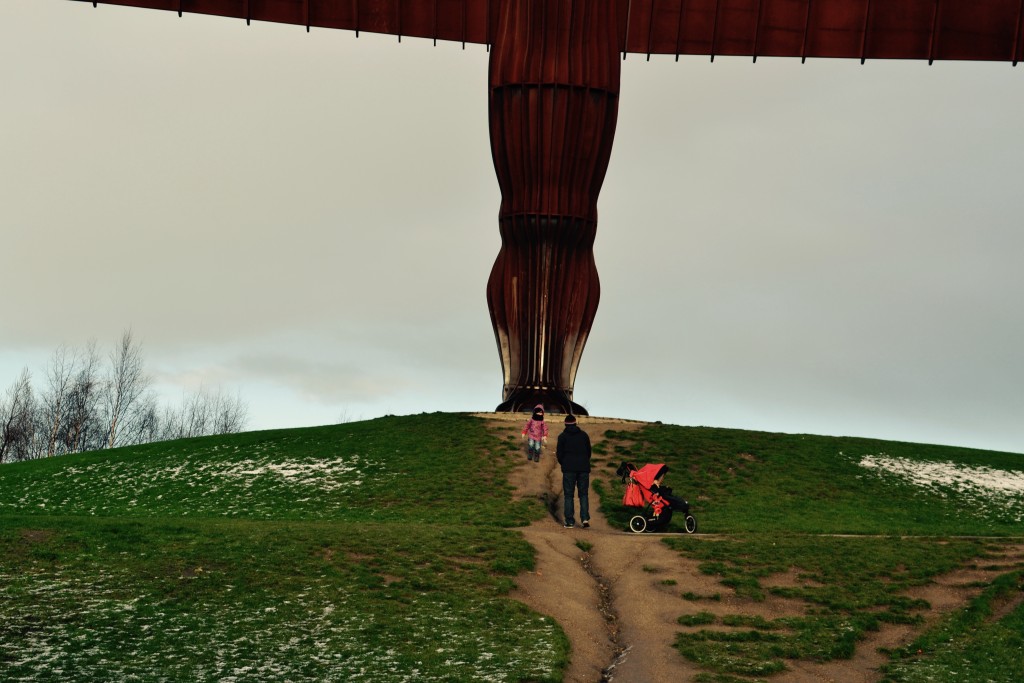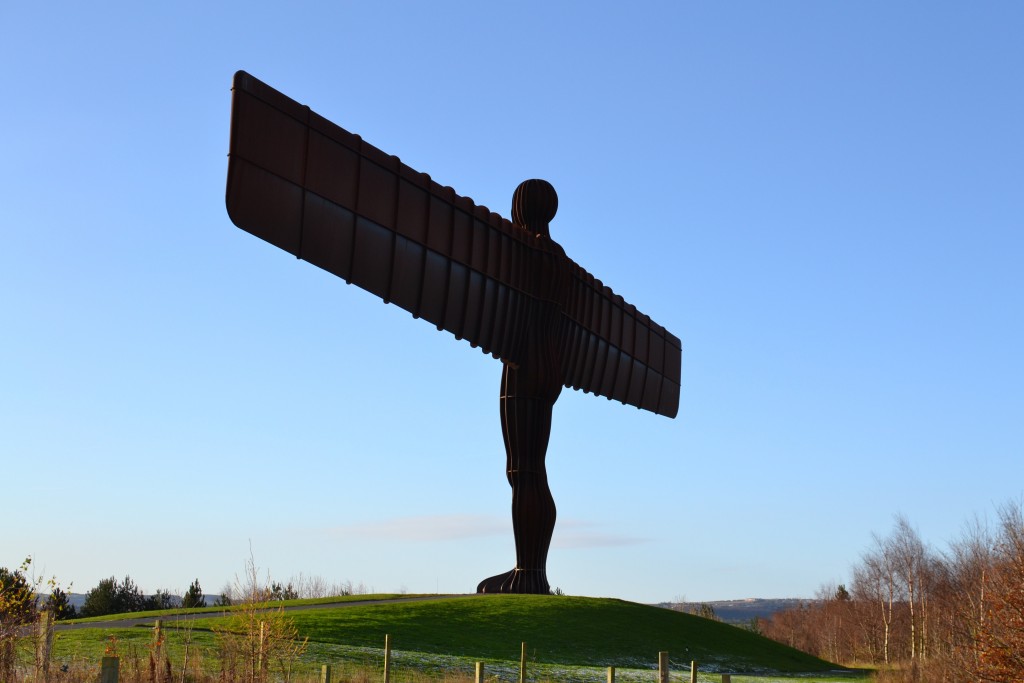 The skies were bright blue as we arrived which made for some beautiful shots but just during the time we spent there (which wasn't long due to the biting cold) the grey snow filled clouds quickly gathered which made half the photos look like another day completely. The moody sky came in so quickly! I was glad we've been though and seen it in real life. I couldn't come all that way and not touch the angel to make a wish. I'm not sure if it's what other people do but to me it seemed like the right thing to do at that time. So wish made we headed back to the car with numb hands and freezing faces!
Our third and final stop for the day was a museum called Beamish, again it was really close by and its something that holds childhood memories for me.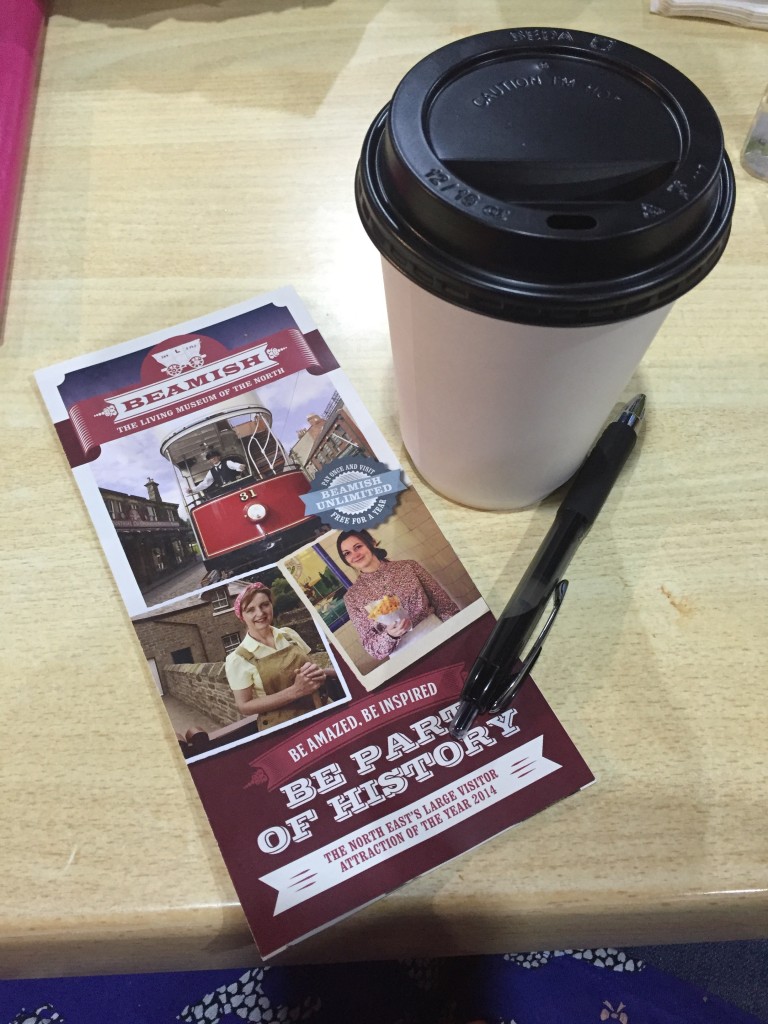 I last went to Beamish when I was about 7 years old and I always remember it. We were on our first ever family holiday to a caravan on the North East coast, my parents took us. I loved it, I don't remember much about it except remembering it was a great day out, so I was excited to return as an adult.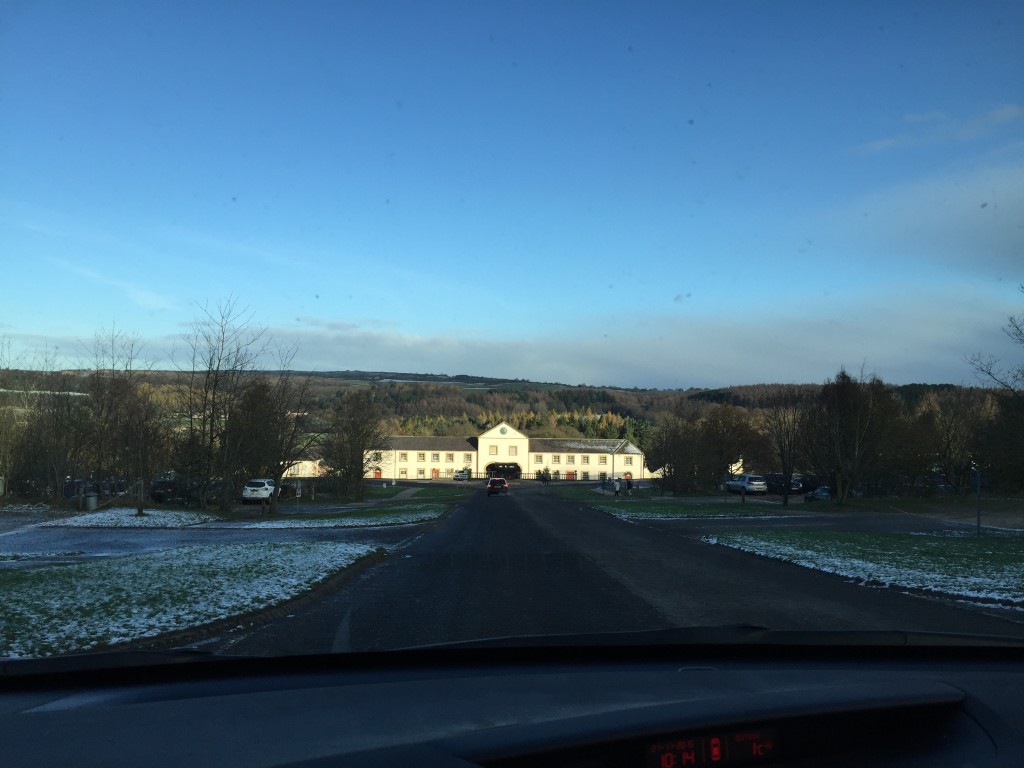 We weren't disappointed, I had read on the website before hand that there would be some festive activities going on. We got to meet Father Christmas which was the first time this year for the boys. I think the boys favourite thing was getting to feed the reindeer. Hubby enjoyed the coal fuelled beef dripping authentic fish and chips. Beamish is advertised as an outdoor museum which tells the story and recreates life in the North East in the 1820's, 1900's and 1940's. It is set out as separate village areas of different era's. There is transport around the various areas although if you take a buggy you will need to fold it up. As Flixster was pretty tired, getting him in and out of the buggy all the time wasn't going to be great for him so one of us walked while the other got the transport (tram, bus etc) around the various areas. It is easy to walk around but the transport was a novelty which the boys loved.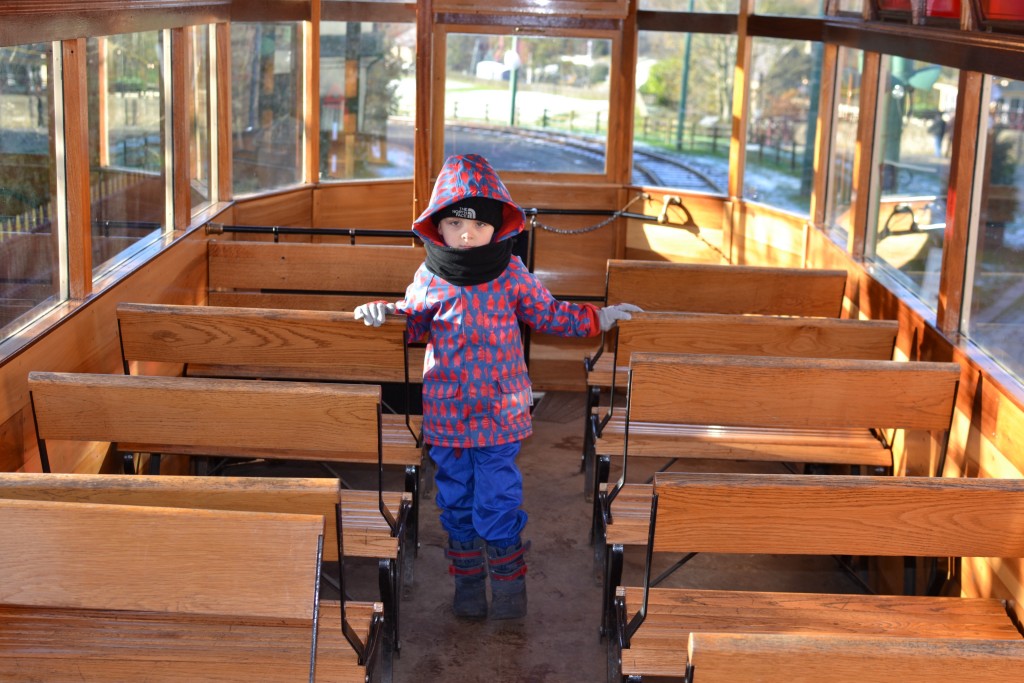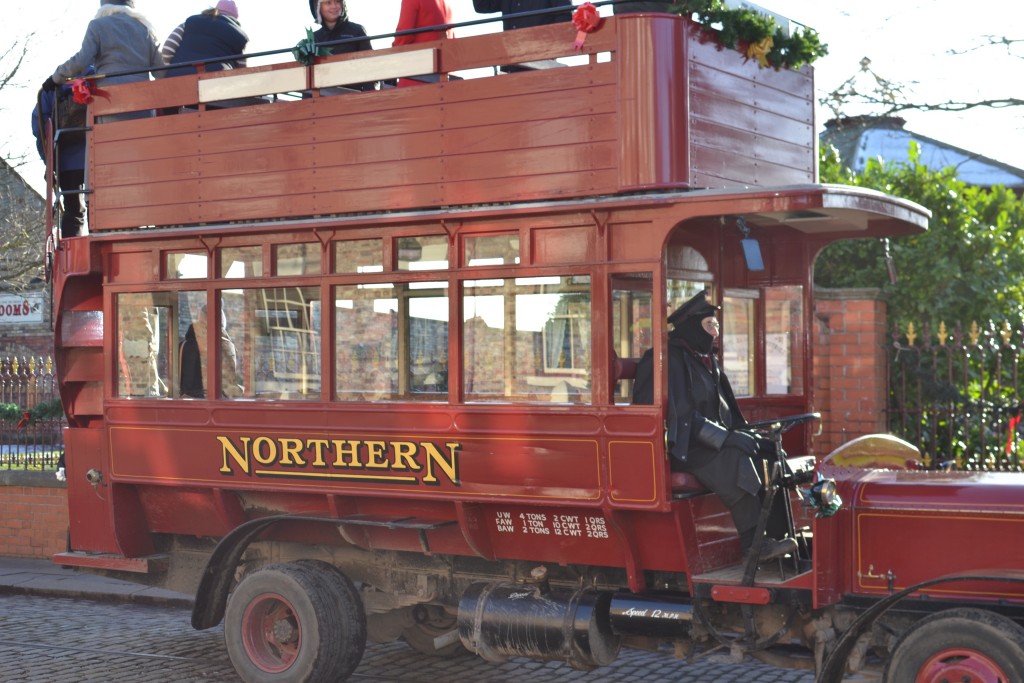 We went over to the 1900's town first on recommendation of one of the drivers. We knew we wouldn't see everything is one day so chose to just see a few things. The good thing was that the tickets we bought are valid for 1 year so we will be going back to explore the rest next year without a doubt.
I loved the town, I loved the festive touches.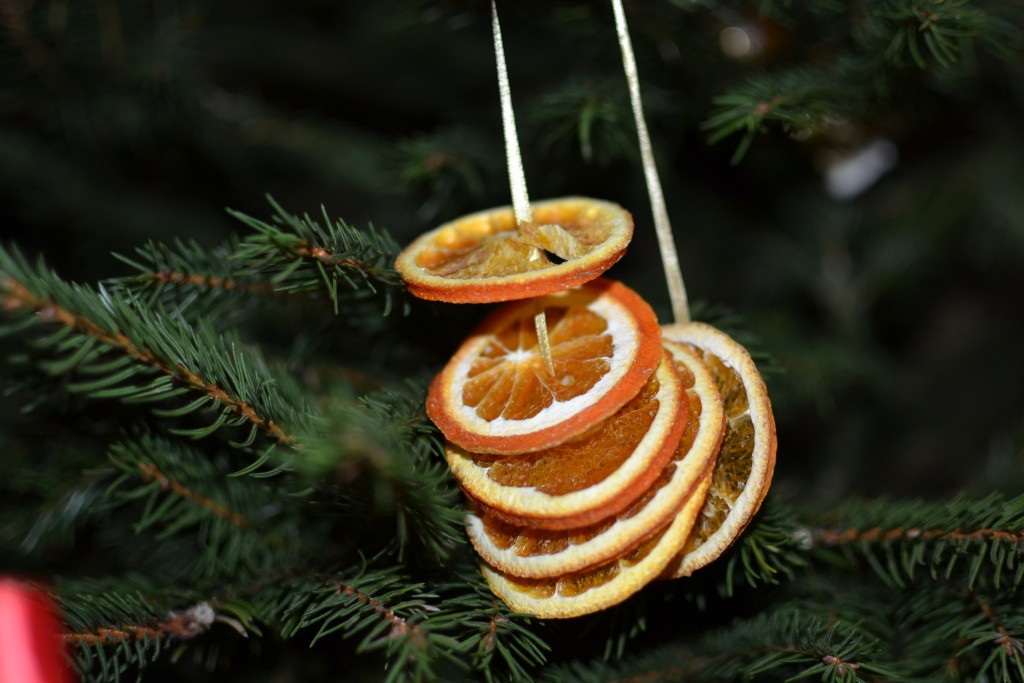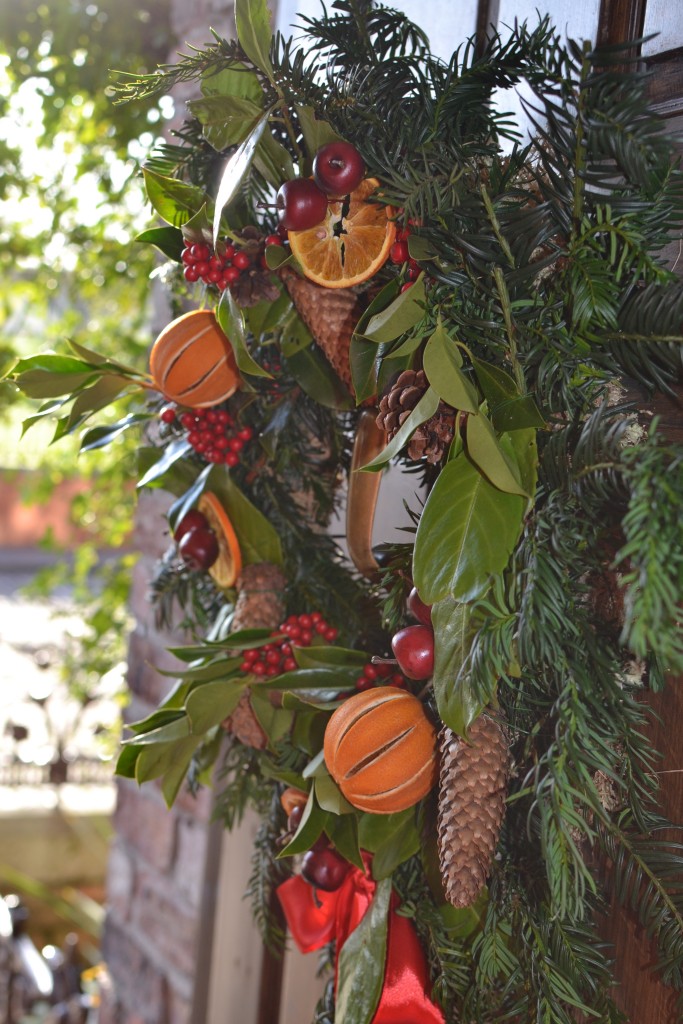 The brass band started playing carols in the park bandstand as we were there which was fabulous. I would have loved more time to explore the village but the boys weren't for looking in detail like I wanted to so I just enjoyed what I did get to see.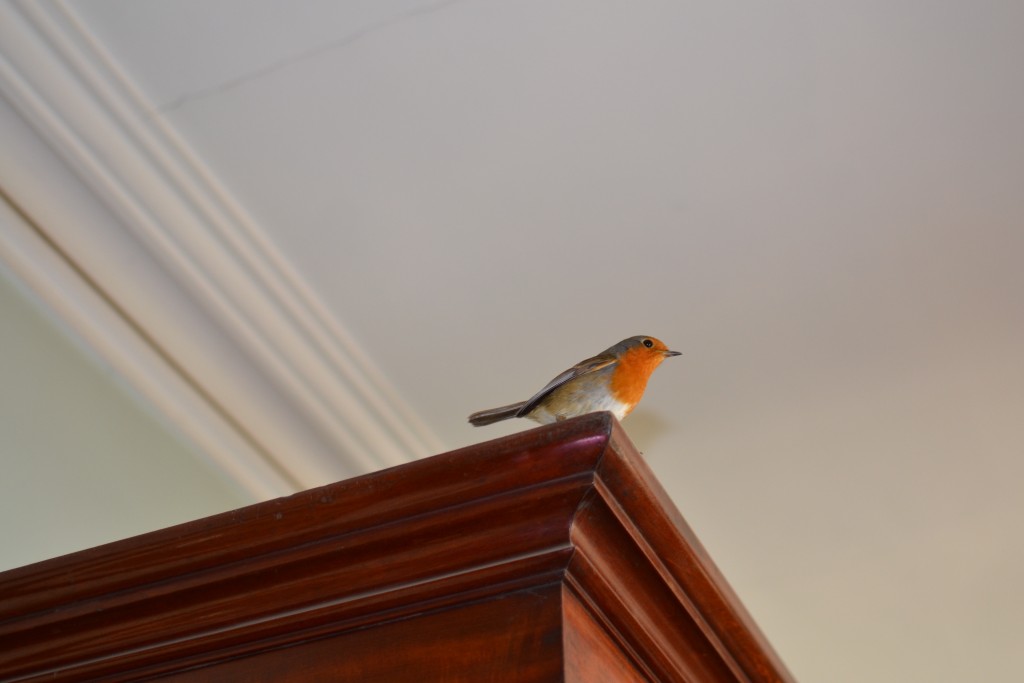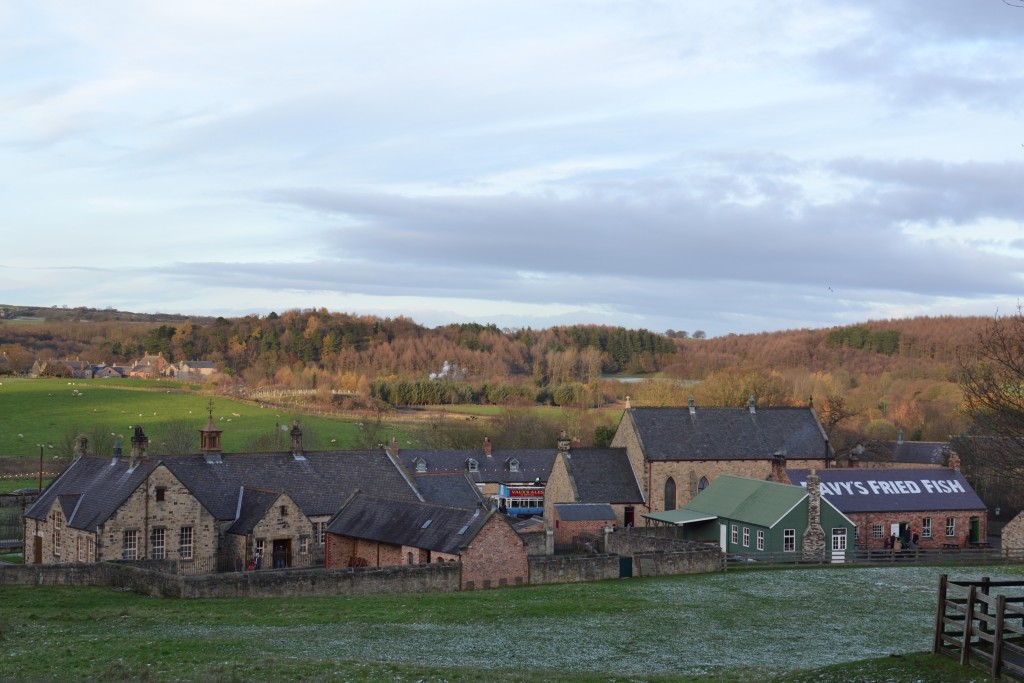 The stop for lunch as I already mentioned was a hit with everyone, everyone gobbled it down and it was a very popular stop with lots of visitors that day.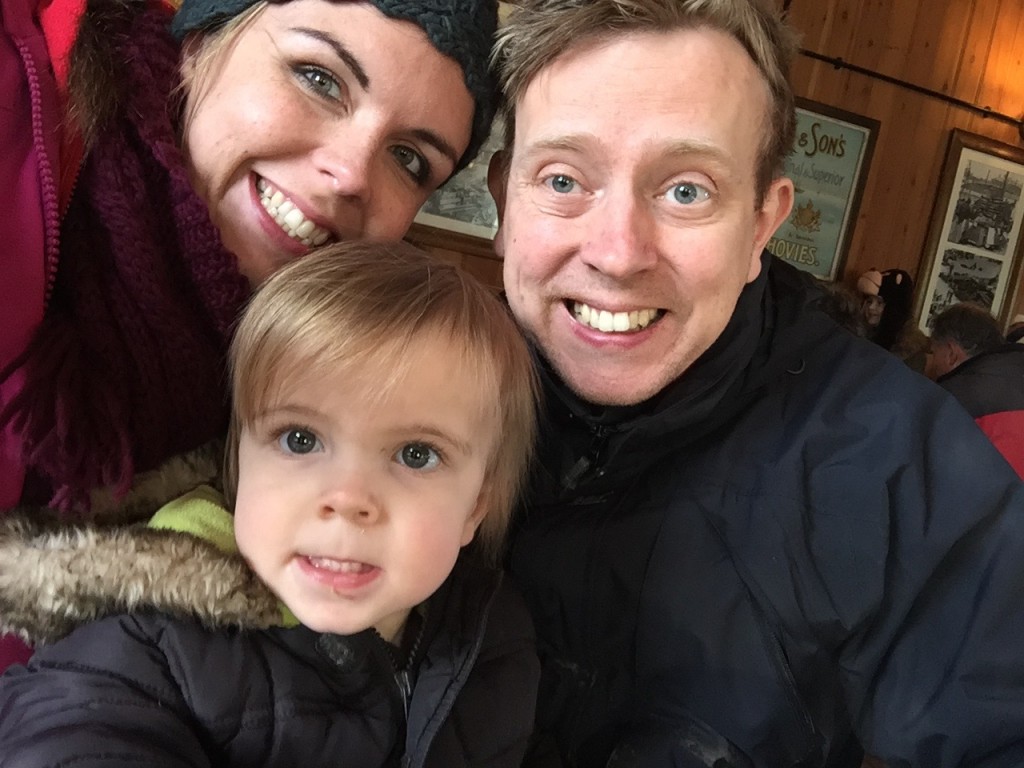 Even Flixster the fussy eater (well for me anyway) probably ate more than I did!
The afternoon was spent exploring the mine area and going to find Father Christmas, I think this with the reindeer food was a massive hit with the boy. I thought he'd be shy once we arrived at the big man himself but he sat on my knee and confidently asked about how he knew we were moving – Father Christmas played along beautifully!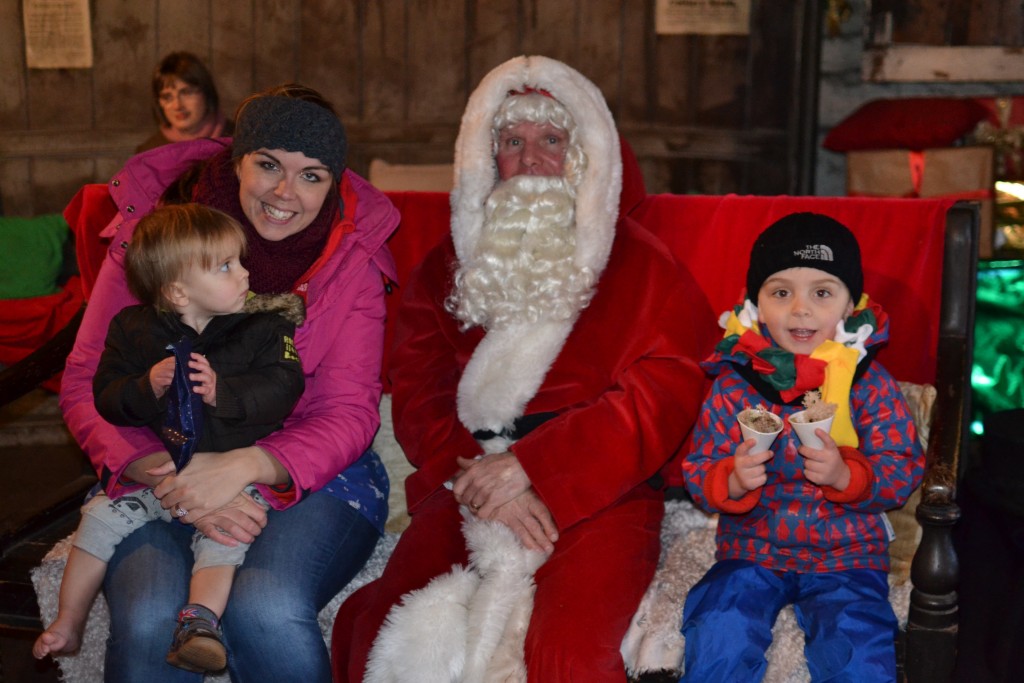 That's the cones of reindeer food in his hand, I love the excitement in his face and the apprehension in Flixsters, who you'll note had taken off his socks and shoes as usual!
After a quick trip to the gift shop we were soon making our way back towards Travelodge to warm back up and get some rest. On the way back we decided to head to the Metro Centre for some tea since it was so close to the Travelodge and Travelodge Gateshead didn't have any meal facilities. The great thing about Travelodge Gateshead is that it is so close to lots of restraints, not only is the metro centre within a few minutes drive there are also a couple of restraints within walking distance. As it had been my birthday on the Friday we went to Pizza Express to celebrate a day late. We know how family friendly Pizza Express is and once again we enjoyed a great meal with good service.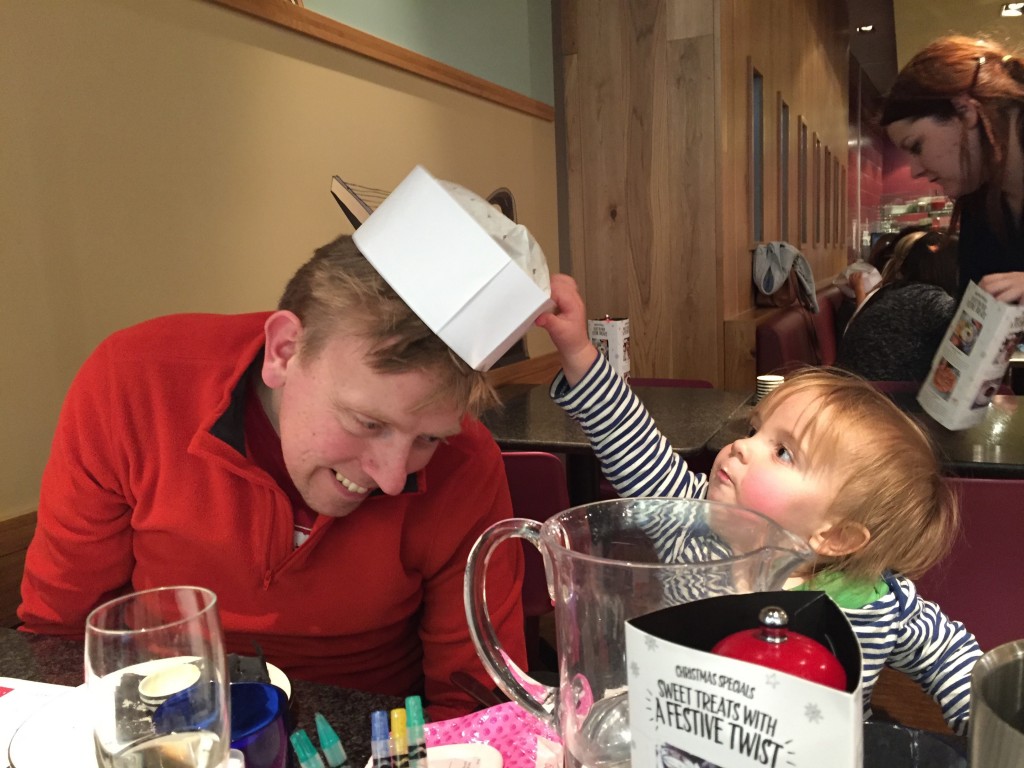 A quick look around a few shops followed before getting back into the car to go back for bedtime.
Sunday morning was again an early rise for the boys (I'm very used to it) and this morning we tried the other breakfast box but this time we took it to the car to eat on the journey as moving day was now only 48 hours away and we had SO much to do. I spoke with the lovely friendly lady on the desk as we checked out from Travelodge as she was asking how our stay had been, she explained as we were chatting that sometimes at the weekend the hotel can be a little louder but they try their very best to separate family groups from people who may be out for a good night out so that everyone is happy. It had certainly worked for us, being on the end had stopped a lot of traffic passing by our room. She said that during the week it tends to be contractors who stay and so for families with younger children a weekday stay is probably a better option. For us that's not possible but despite this we had a good stay at Travelodge.
The way home took longer as part of our route was closed for routine work, on one hand this was frustrating as our journey length was much increased, however the journey was beautiful and we took in some fantastic scenery in the lakes which were covered in snow. We even stopped at a tiny village to take in the scenery.
When we got home, reality really bit, it was now only 36 hours to moving day and we had a lot to do, it was all hands to the pump. Well more like one of us had to coral the children whilst the other attempted to throw some things in a box! We will defiantly be returning to Gateshead and Beamish, we loved it and the two nights away was just what we needed!
For this post we were invited to stay at Travelodge Gateshead and explore the north west area.